MULYADI GOUTAMA: China is My Best Choice for Cancer Treatment
It was so impressive that Mulyadi Goutama and his wife often wore in Tang suit with red horse patterns and always had big smile. The first time that I met this couple was in the Open-Mic singing competition held by Modern Cancer Hospital Guangzhou for patients. Through the performance of a Chinese song --"Teasing the Pheonix", they received praise from all the audience at the spot and won the best Indonesian participants prize.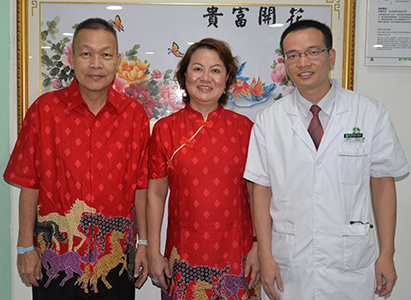 Mulyadi Goutama, his wife and his attending doctor
Mulyadi Goutama, a businessman, was 57 years old. He never liked smoking or drinking. He and his wife were fond of singing. His wife said, "We almost go to karaoke with friends every week." However, a disease broke their peaceful life without any warnings.
Seeking Treatment in Foreign Country for Better Treatment Effect
In August, 2013, Mulyadi Goutama suddenly felt upper abdominal pain, and his skin distinctly became yellow. Considering the limitation of medical technology in Indonesia, the couple decided to go for seeking treatment abroad. His wife said, "The medical equipments and techniques in Indonesian hospital lag behind other countries. There are no other anticancer therapies except for surgery and chemotherapy. What's more, the death rate of surgery is so high." Because their two relatives died for treatment failure in Indonesian local hospital, Mulyadi Goutama's wife was so emotional that she rejected treatment in Indonesian hospital for Mulyadi Goutama. After discussion, they chose Kuala Lumpur as this first place for treatment. After they arrived at Kuala Lumpur hospital, Mulyadi Goutama was diagnosed with well differentiated adenocarcioma of pancreatic head. The doctor there advised him to get removal surgery. His wife explained, "It was a long and hard time. The surgery was conducted from 7 am to 5pm. After it, the doctor told us to go home directly without chemotherapy." Then they went home and ended this anticancer war. However, it was just the beginning.
Cancer Recurrence & Hard Road for Seeking Treatment
In Feburary, 2014, Mulyadi Goutama felt strong abdominal pain again. Then they returned to the Kuala Lumpur hospital. What made them confused was the result of inspection report which showed normal physical condition of Mulyadi Goutama. But his wife was worried about it, and asked for the second inspection to Mulyadi Goutama. The result was the same. Mulyadi Goutama took inspection over and over again. Finally, on April 9, 2014, he was diagnosed with postoperative pancreatic cancer with lung metastasis in another hospital in Kuala Lumpur. However, this hospital refused them because they were not the local people. His wife said, "There was no result but wait. It might miss the best treatment time for him. Besides, the doctor in Kuala Lumpur told us that it was hopeless, which made us angry and painful."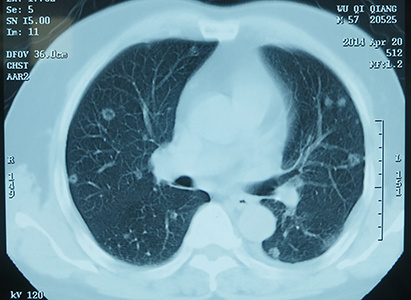 Before treatment
Modern Cancer Hospital Guangzhou – New Hope for Them
As they were anxious about where could offer good treatment, his wife's sister suggested they go to Modern Cancer Hospital after searching on the internet. At that time, Mulyadi Goutama's condition became worse and worse day by day. There was no time to considerate, so the couple went to the Kuala Lumpur office of Modern Cancer Hospital Guangzhou for consultation. Mulyadi Goutama said, "The doctor in the office told me that I could get effective treatment in Modern Cancer Hospital Guangzhou. He introduced minimally invasive therapy for me and some patients' condition before and after getting treatment in the hospital. The nice attitude of the doctor and minimally invasive therapy made me feel confident. So I went to Modern Cancer Hospital Guangzhou."
After Interventional Therapy and Cryotherapy, Tumor Shrank 80%.
On April, 19, 2014, the couple arrived at Modern Cancer Hospital Guangzhou. "Here, the medical staff has never wasted our time. It's very impressive that we get more care and attention from them, and they are so efficient. " Mulyadi Goutama's wife said.
After hospitalization, Mulyadi Goutama was diagnosed with "postoperative well-moderately differentiated adenocarcinoma of head of pancreas with lungs metastases". Rapidly, professional MDT (multidisciplinary team) made comprehensive treatment plans for him. So far, he had received 5 sessions of interventional therapy and one session of cryotherapy. According to his attending doctor Tang Xiang, currently his tumor shrank 80%. He could discharge after the last one session of interventional therapy. As for the treatment process, Mulyadi Goutama said, "Compared with the surgery in Kuala Lumpur hospital, minimally invasive therapy here I took is more comfortable without any pain. I can walk in the day after treatment, and I can sleep and eat normally after the second session of interventional therapy. At present, I feel better and better." Their son in Europe often called them for knowing Mulydadi Goutama's condition. He said, "When my son knows about my better condition, he cannot believe that." The couple laughed happily when talking about this.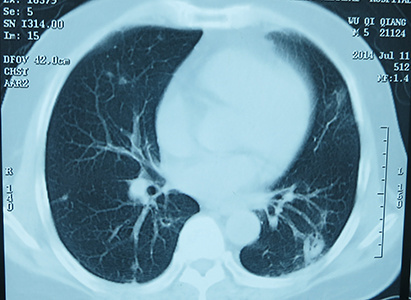 After treatment
They had faith in Taoism, and they believed that disease and suffering could be defeated. Because of this positive attitude, they often took part in various activities that held for patients in Modern Cancer Hospital Guangzhou, including climbing the mountain, travelling, singing competition etc. What's more, they trusted in technology of Modern Cancer Hospital Guangzhou. Though they would leave the hospital soon, his wife was enthusiastic to introduce the hospital to other cancer patients. She said, "I want to spread this advanced anticancer technique here to more cancer patients and hope that they will get rid of cancer through it."
If you have any questions, please contact us via online consultation, email or phone call. If you find our website useful, please follow our FaceBook and YouTube, health information will be updated regularly.
Online Inquiry
CLICK HERE!
Let's Have A Healthy Life!
Video
To show you
what is cancer by
videos
Chatting on Facebook

Become a fan of us!
+Follow
We are waiting for you.