Wong Yik King: Minimally Invasive Treatment Makes Me Reborn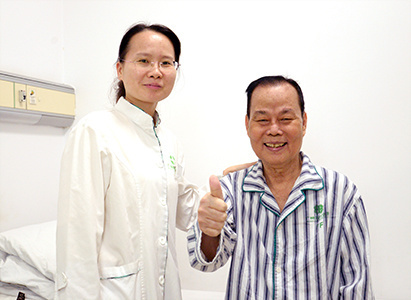 Prostate cancer patient Wong Yik King and his attending doctor Lin Jing
The first time when we saw Wong Yik King, we could not believe that he was born in 1942. As a 72-year-old man, there was no senile plaque on his face, and all we saw was an energetic, warm and talkative old man with short black hair.
Wong Yik King was a Malaysian. He remained single a few years after the death of his ex-wife until he met his current wife. Since then they move to Indonesia and lived here for many years.Wong Yik King used to pay much attention to his health. Every year he would go to the hospital for routine check-up. However, in the physical examination of 2011, he was diagnosed with prostate cancer. He then went to a Malaysian hospital and the doctor here advised him to have a resection. Because he did not want to have surgery, Wong Yik King said to the doctor that he would need one night to consider about it and give the answer the next day. When he learnt from his sister that Modern Cancer Hospital Guangzhou can treat cancer without surgery, he decided to go to Guangzhou for treatment.
Soon Wong Yik King applied his visa and boarded the flight to Guangzhou. It was that 5-hourjourney which made him suffering. Due to frequent micturition and urination difficulty, he had to go to the toilet very often. Recalling that experience, Wong Yik King feel now he is very lucky: Every physical indicator has returned to normal and he has gained about 7kg after the treatment.
As for the integrative treatment plan made by MDT of the hospital, Wong Yik King readily consented to it. "The first treatment I received was radioactive particle implantation. That night I could urinate normally. There was no pain during the treatment, neither any side effect. Later I also had interventional therapy and after that I had no appetite for two or three days and I felt dry mouth also. But there was no other side effect. Compared with the chemo in Indonesia, there is neither nausea nor vomit in an interventional therapy. More importantly, one will not lose his hair."
Wong Yik King and his current wife have a child only in his teens. After being diagnosed with cancer, he really worried about the future of the family, so he was stressed out and became very unhappy. At that moment, his attending doctor Lin Jing would comfort him and encourage him to be strong. When mentioned Dr. Lin, Wong Yik King couldn't help shedding tears, he said that in the past few years, Dr. Lin was always concerned about him. Last time when he finished the CT examination, Dr. Lin ran to tell him the result. She said excitedly to him that his PSA level has decreased to 0.0ng/ml, which was incredible.
Wong Yik King was very satisfied with his curative effect: PSA Levels has decreased and there is no metastasis in CT examination. He said during the three years in Modern Cancer Hospital Guangzhou, he has witnessed the treatment effect of some cancer patients. And because his curative effect is also very good, he has great confidence in the hospital. "I had once written a letter to Dr. Peng Xiaochi in your hospital, in which I said: There is Baiyun Mountain in Guangzhou. At the feet of the mountain, there is Modern Cancer Hospital Guangzhou. I am here. And it is Modern Cancer Hospital Guangzhou which makes me what I am today. That cancer hospital makes me reborn." Wong Yik King gushed, "I hope the hospital will keep developing and achieve more success."
If you have any questions, please contact us via online consultation, email or phone call. If you find our website useful, please follow our FaceBook and YouTube, health information will be updated regularly.
Online Inquiry
CLICK HERE!
Let's Have A Healthy Life!
Video
To show you
what is cancer by
videos
Chatting on Facebook

Become a fan of us!
+Follow
We are waiting for you.