Bastari: To Drive away the Darkness in Your Life, Light has Dawned
"After the condition being controlled, I want to go travelling and become a volunteer to help more cancer patients."<24px> 24px>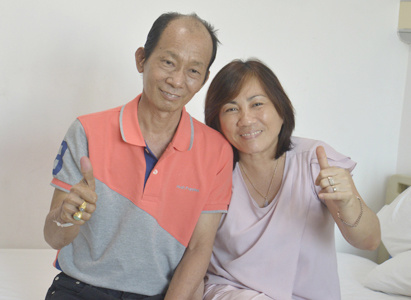 Bastari & His Wife
Bastari, 53 years old, from Jakarta, Indonesia, is a stomach cancer patient. In January, 2015, he had some discomfort in his stomach and felt painful, especially before diet. After diet, he felt better but this symptom had lasted for a long time. Bastari thought there might be some problems in his stomach so he went to Malaysia for inspection.
The result showed that Bastari had stomach cancer and it had deteriorated to stage Ⅲ. He was very shocked and can't accept this result. He had thought there was something wrong in his stomach, but he never thought that cancer stroke to him. The news was so unexpected that not only he but his wife and son caught their breath from shock. However, his wife and son had to keep calm and tried their best to comfort Bastari.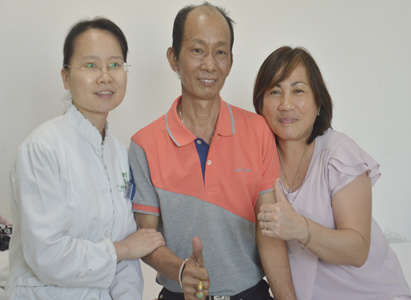 Dr. Lin Jing & Mr. Bastari & His Wife
The condition was so serious. Once the doctor got the result, the doctor suggested him taking resection operation and chemotherapy. However, Bastari refused. He knew cancer treatment had a certain difficulty and the traditional surgery and chemotherapy brought a great deal of damage to the body so he hesitated. With the encouragement and company of wife and son, he became positive and tried their best to find other cancer treatment.
The Old Friend Recommended Him to MCHG
When Bastari and his families looked for good cancer treatment, Bastari's old friend brought him a good news. His friend, also a cancer patient, who had a good therapeutic effect in Modern Cancer Hospital Guangzhou, found Bastari in the agony of cancer so he recommended him Modern Cancer Hospital Guangzhou. The experience of the friend strengthened his confidence. On January 24th, 2015, Bastari with his wife arrived at Modern Cancer Hospital Guangzhou.
After Bastari taking the careful body check, MDT (Multidisplinary Team) quickly made an individualized therapeutic regimen for him. From the day on which he hospitalized to August 25th, his condition was under good control and the tumor was shrunk by 80%. In the process of treatment, he did not show side effects; the appetite and sleeping were good. What impressed him was that he had stayed in the darkness for 15 days because he can be exposed to light after taking photodynamic therapy. The doctor told him that it was important to maintain good attitude so he did not think a lot. Finally, the darkness was driven away and the light was dawned.
After going this thrilling experience, Bastari now expresses great gratitude to life. He thanked you Dr. Lin Jing for here thoughtful care and thought highly of hospital's environment and service. In the future, he hopes to go around the world with his wife and wishes to help more cancer patients
Soonly, Bastari will take the second session of photodynamic therapy. Hope this therapy can diminish the residual 20% of tumor. Best wishes to him having a happy and healthy life.
If you have any questions, please contact us via online consultation, email or phone call. If you find our website useful, please follow our FaceBook and YouTube, health information will be updated regularly.
Online Inquiry
CLICK HERE!
Let's Have A Healthy Life!
Video
To show you
what is cancer by
videos
Chatting on Facebook

Become a fan of us!
+Follow
We are waiting for you.