Conformal Radiotherapy Kills Cancer Precisely
Big damage of tradition radiotherapy
Radiotherapy is one of the three traditional cancer treatments. There is about 60-70% cancer patients need radiotherapy, showed in domestic and foreign statistic. The principle of radiotherapy is using radiation to kill cancerous cells. However, since the cancerous cells grow in the healthy tissue and have irregular shapes, traditional radiotherapy should widen the radiation range so as not to omit any cancer cell. As a result, there must be many healthy tissues exposing to the unnecessary radiation, causing more side effects. In turn the failure increase of further radiation doses cannot achieve treatments effect. As a local treatment, its ideal effect is to kill maximum cancer cells while to assure greatest protection for surrounding healthy tissues and organs. The best radiotherapy is like modern precision-guided missile which shoots the target as it aims at, without harming innocent.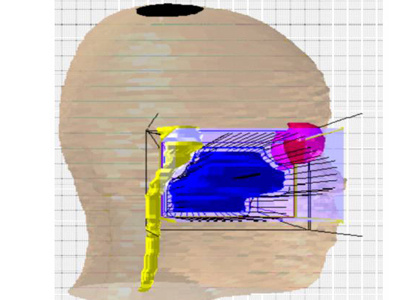 Conformal radiotherapy precisely kills cancer
Three-dimensional conformal radiotherapy is a kind of high-accuracy radiotherapy. Compared to traditional radiotherapy, it can irradiate the target cancer tumor with high doses while lower radiation to healthy tissues, ensuring the high accuracy during entire process. Here is how it works - it creates a 3-D picture of cancer tumor based on the CT imaging scan, adopts a conformal lead block matching the shape of cancer and sets up a series of beams from different direction, then make sure the high-doses region is consistent with the targeted area in three-dimensional direction, and limit the radiation exposure to nearby healthy tissue.
Modern Cancer Hospital Guangzhou has brought in the high-end conformal radiotherapy system with a linear accelerator – a major medical equipment of radiotherapy, which can precisely irradiate based on the optimization of treatment method, enable photon knife and gamma knife to fully realize the conformal precise radiation. With the advanced treatment planning system, digital accelerator and doctor's adept operating skills, conformal radiotherapy is able to radiate on cancer area properly and spare the surrounding healthy organ. It effectively controls the local lesion while decreasing the complications of healthy tissue and improving post-treatment patients' life quality. With extensive clinical experience, experts of Modern Cancer Hospital Guangzhou can basically practice the radiotherapy in any site by any way with whatever dose it requires.
Nasopharyngeal cancer patient was given a new lease of life
Indonesian patient Mr. Ruan unfortunately suffers from nasopharyngeal cancer. He underwent radiotherapy in local hospital but was forced to cease due to its strong side effect and great damage for body. Most nasopharyngeal cancer patients are sensitive to radiotherapy which currently is the first option to treat nasopharyngeal cancer with good treatment effect and longer lifespan. However as cancer grows, it shapes like a horseshoe structure due to the complexity of nasopharynx, which is surrounded by multiple concentrated tissues and organs, conventional radiotherapy cannot avoid or protect healthy organ nor improve patients' life quality after treatment. Mr. Ruan then came to Modern Cancer Hospital Guangzhou for conformal radiotherapy by which the radiation exposure in salivary glands and temporomandibular joint and high doses area were obviously decreased compared to conventional radiotherapy. Side effects like dry lips, sore throat, and difficulty to open mouth or to swallow were also eased greatly. The conformal radiotherapy of Modern Cancer Hospital Guangzhou has found the way of protection for important organs that surrounded tumor such as parotid gland, visual organs and auditory organ, etc.
  Indications of conformal radiotherapy:
  1. nervous system cancers: gliomas , pituitary tumors, meningiomas , brain metastases , etc.
  2. head and neck cancers: nasopharyngeal cancer, laryngeal cancer, sinus cancer , oral cancer, etc.
  3. chest cancers: esophageal cancer, lung cancer, mediastinal cancer, breast cancer, etc.
  4. abdominal cancers : pancreatic cancer, liver cancer, cholangiocarcinoma , etc.
  5. urogenital cancers : prostate cancer, kidney cancer, etc
  6. bone tumors: osteosarcoma, chondrosarcoma, etc
  7. others: hemangioma
  General procedure before performing conformal radiotherapy:
  1. Fixation, keep patient unmovable with various special fixtures.
  2. Position the cancer tumor and the range by CT or MRI test. Doctor should make sure the accuracy of the target area, otherwise patient can't get the treatment effect.
  3. Confirm the tissue or organ that needs prior protection, such as spinal cord, parotid gland, eyes, lungs, liver, kidneys, etc.
  4. Verify treatment plan: make sure that all the cancer cells will be subject to the highest dose irradiation and important tissue and organ achieve greatest protection when undergoing conformal radiotherapy.
Online Inquiry
CLICK HERE!
Let's Have A Healthy Life!
Video
To show you
what is cancer by
videos
Chatting on Facebook

Become a fan of us!
+Follow
We are waiting for you.