Focusing on the Medical Frontier and Seeking Medical Development
-Delegation of the Vice Governor of BULACAN,the Philippines visits MCHG
On June 25, 2018, RAMIREZ CESAR, Vice Governor of BULACAN, along with judge DE LA CRUZ Percyveranda and several doctors visited St. Stamford Modern Cancer Hospital Guangzhou. Accordingly, the visit aims at strengthening Sino-Philippine cooperation and exchange on advanced medical technology, further promoting the development of medical and health care and achieving win-win cooperation.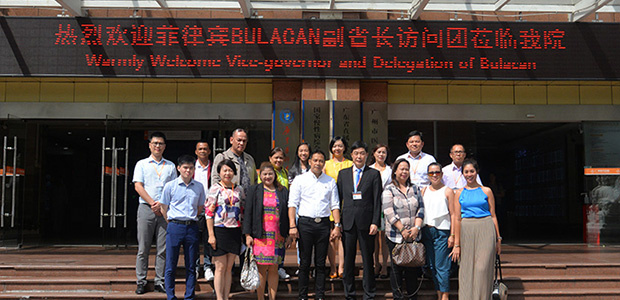 Leadership of MCHG with Mr. CESAR and his delegation
In the morning, Leadership of St. Stamford Modern Cancer Hospital Guangzhou extended a warm reception for the delegation. Mr. Lin Shaohua, president of operation of MCHG, said: "Since the establishment of MCHG 13 years ago, we have been keeping close pace with the development of the times and exploring and practicing world's top-notch medical science and technology. we have been adhering to the concept of technological as priority, attentive services, and patient-oriented. "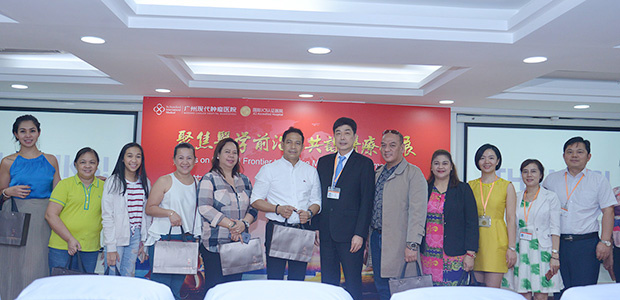 Mr. Lin Shaohua, President of Operation, presenting a souvenir to Vice Governor Mr. CESAR
" With advanced minimally invasive therapy and professional MDT(Multidisciplinary Team), MCHG has attracted numerous patients from countries worldwide, more than 40,000 patients from United States, Canada, Australia, Philippines, Malaysia, Indonesia, Thailand, Cambodia, Vietnam, Laos, Myanmar, Bangladesh, India, Tunisia, Saudi Arabia, received treatment here. Over 30,000 cases of minimally invasive surgery with high success rate of more than 90% was conducted in MCHG. In 2014, MCHG passed JCI accreditation with high scores respectively in 2014 and 2017, which was a convincing testimony of our medical standard, service quality, and management model, and also the trust and recognition we gained internationally. We will make unremitting efforts to develop cancer treatment for wellbeing of more cancer patients."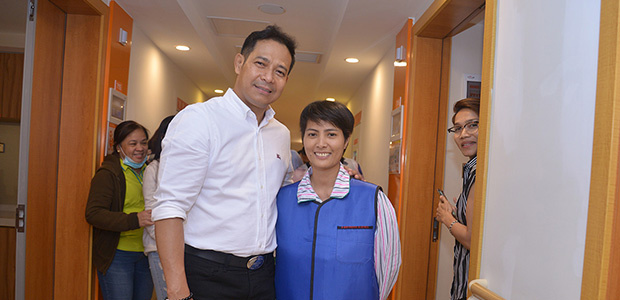 Vice Governor Mr. CESAR shows sincere concern to Filipino cancer patients in MCHG
Mr. CESAR, Vice Governor of BULACAN, the Philippines, stated: "BULACAN and St. Stamford Modern Cancer Hospital Guangzhou has been interacting with each other frequently and established a deep friendship. Nowadays, the visit is recognition of the medical technology of MCHG. Advanced minimally invasive treatment offers cancer patients new options. Whether in medical technology, medical team, or patient services, MCHG has achieved remarkable progress. I just met a Filipino patient today and he shared with me his treatment in Guangzhou Modern Hospital. I'm so glad that he got access to advanced treatments in your hospital. In the Philippines, especially in BULACAN, advanced medical technology is not available, so many patients are tortured by diseases in the Philippines and now it's time to grasp this opportunity to promote cooperation with MCHG and develop advanced medical technology. I sincerely hope that these advanced technologies can benefit more Filipino citizens in the coming days. I'll try my best to strengthen mutual cooperation and development in medical course."
Vice Governor Mr. CESAR expresses high praise of the hospital's medical equipments and services
Accompanied by the leadership of MCHG, Mr. CESAR took a tour around the hospital and visited Remote Consultation Center, VIP ward, and public kitchen for patients. At the same time, he also visited the Filipino inpatients with best wishes for their quick recovery. In the end of the visit, Vice Governor Mr. CESAR expressed high praise and recognition of the hospital's medical equipments and services.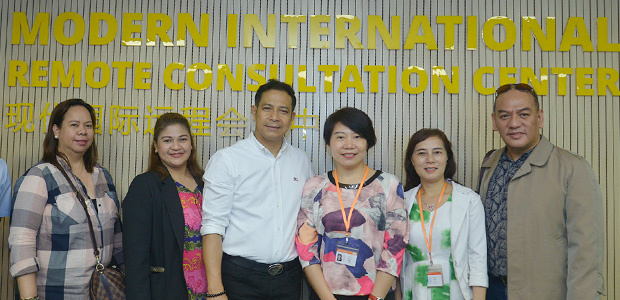 Vice Governor Mr. CESAR visiting the Remote Consultation Center of MCHG
In recent years, leadership of China and the Philippines are far-sighted and look forward to working together to build a community of human destiny. Based on the implementation of the Belt and Road Initiative, MCHG and the Philippines have also conducted frequent exchanges and communications and built a bridge of friendship for medical cooperation. The visit of Vice Governor Mr. CESAR and his delegation not only promoted the friendly relations between China and the Philippines, but also laid a solid foundation for further medical cooperation. It is believed that through in-depth exchange, the two sides will work hand in hand to provide cutting-edge technology and high-quality medical services for more patients and help them regain health and happiness.
*Surgery, in addition to the appropriate chemotherapy and radiotherapy, are effective in treating early cancer, but certain patients in late stage of cancer may not be tolerate surgery well as they can be relatively weak. A combination of carefully planned minimally invasive therapy, chemotherapy or radiotherapy can effectively reduce the side effects and discomfort of treatment and may help patient get better efficacy.