Live with Gratitude, Advance with Love--Celebrating Thanksgiving Day and Loy Krathong Festival Celebration in Guangzhou
Thanksgiving Day fell on the fourth Thursday of November, and it was on Nov.22, 2018, which happened to be Thai Loy Krathong Festival. Celebration was held at the international meeting room in the ninth floor of St. Stamford Modern Cancer Hospital Guangzhou, cancer patients from Thailand, Malaysia, Indonesia, the Philippines and Vietnam were there to celebrate the holidays together.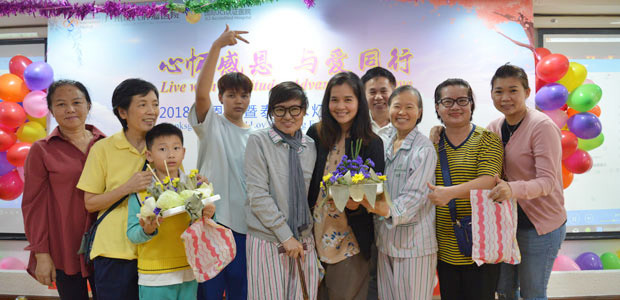 Group photo from the event site
Talking of the initial intent of this celebration, president of the hospital mentioned that, "Since the establishment, we always adhere to the principle of patient-oriented; our doctors, nurses or interpreters and other medical staffs devote themselves to providing cancer patients with humanized, all-around and high-quality medical services. And we receive many thank-you notes and gifts from the patients. In such a special holiday, I want to thank them for their trust and support, and thank medical staffs for their care and devotion. "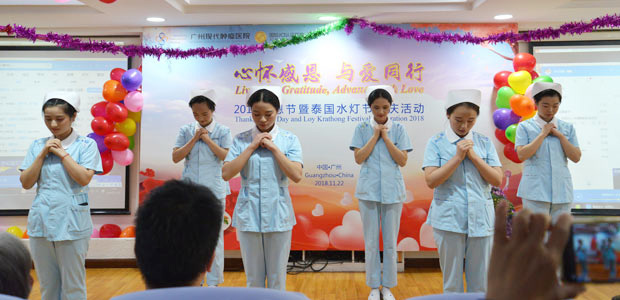 A Thankful Heart presented by nurses
Many patients expressed their gratitude to medical staffs for their help and care during the hospitalization before the celebration, some tried to cook a special cuisine for their attending doctors and nurses, the other wrote down a thank-you note or prepared a bunch of flowers.
TWYLA, a Canadian endometrial cancer patient who wrote down her gratitude on pieces of paper, was in her serious tears when she read out her words in front of her doctor.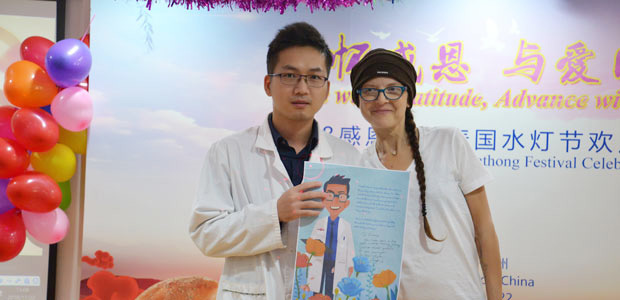 TWYLA with her attending doctor
On the 22nd, it was also Loy Krathong Festival of Thailand. Many Thai friends were present in the event. A cancer patient performed a dance for the attendees. Who would've thought of him being a cancer patient? He said, "For most people, cancer may mean the end of the world, being diagnosed with cancer is just like being sentenced to death. I'm also a cancer patient, yet I cherish hope for my future and I got plans about my life. It is a long way to battle against cancer, why don't we spend the days with a good mood? Most importantly, I strongly believe that I will be given the best treatment in St. Stamford Modern Cancer Hospital Guangzhou and I will have chance to accomplish my plans about life.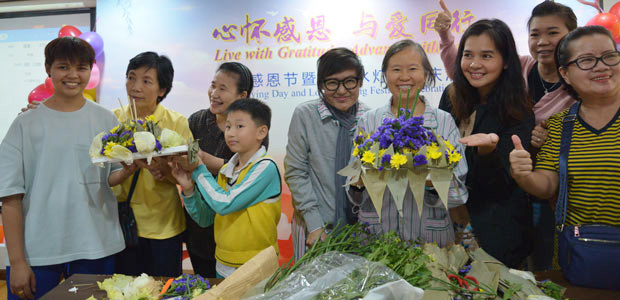 Thai patients and their family are making Krathong
Loy Krathong is a traditional festival in Thailand. According to the Thai custom, Thai people make Krathong (a kind of lantern made of vegetables and fruits) and put it into the river, expressing good wishes to family and friends. At the event, Thai patients and their family invited patients from other countries to make water lanterns and celebrate the festival. The water lanterns made of all kinds of vegetables and flowers are dedicated to their longing for a better life.
Celebrating the festivals, delicate food, roasted turkey and various fruits were also served. All patients attended enjoyed a great time in the event and from their heartfelt smile, we're so relieved that the event entertains the patients and their family, meanwhile, strengthen their confidence in the battle against cancer. All members of St. Stamford Modern Cancer Hospital Guangzhou send festive greetings and also best wishes to all cancer patients for their quick recovery.
*Surgery, in addition to the appropriate chemotherapy and radiotherapy, are effective in treating early cancer, but certain patients in late stage of cancer may not be tolerate surgery well as they can be relatively weak. A combination of carefully planned minimally invasive therapy, chemotherapy or radiotherapy can effectively reduce the side effects and discomfort of treatment and may help patient get better efficacy.