A Delegation of Aung Yadana Hospital from Myanmar Visits St. Stamford Modern Cancer Hospital Guangzhou
On the morning of Dec. 24, a delegation of Aung Yadana Hospital, led by the Dean Aung Thein, arrived at St. Stamford Modern Cancer Hospital Guangzhou for visit and exchange. Mr. Tu Xiaoming, the general manager of St. Stamford MCHG extended a warm reception to the delegation.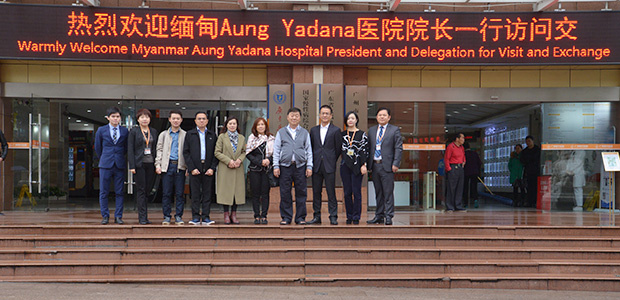 The leadership of St. Stamford MCHG with the members of the delegation
Mr. Tu noted: "With the development in medical field, we've come to the era of precision medicine. I hope that through this visit, mutual information sharing could be achieved, experience exchanged, cooperation deepened, common improvement made and innovative medical care promoted. Therefore cancer patients in China and Myanmar could have access to more advanced cancer treatment."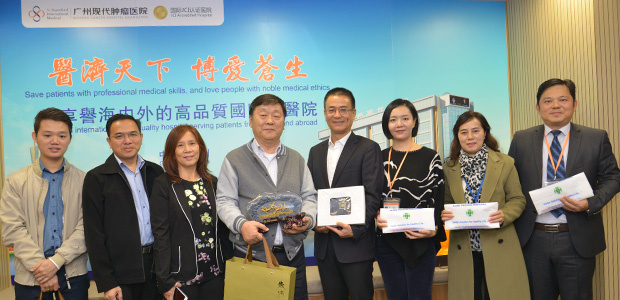 Presenting souvenir
Dean Aung Thein of Aung Yadana Hospital expressed his heartfelt gratitude to the hospitality of leadership of St. Stamford MCHG and introduced the basic situation of medical in Aung Yadana Hospital, Myanmar. Dean Aung Thein said: "In Myanmar, surgery, radiotherapy and chemotherapy are still the main treatment technologies of most cancer hospitals. I hope that through the visit, I will have the opportunity to learn more about advanced treatment technology and strengthen the medical cooperation between China and Myanmar. Many Burmese patients can have access to internationally cutting-edge minimally invasive anticancer technology and get better result."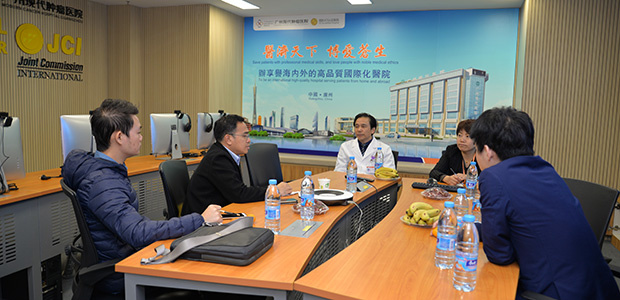 Doctors from Myanmar and Prof. Peng conduct discussion on medical field
Later, the delegation also watched live operation of interventional therapy and cryotherapy, on which, Dean Aung Thein and members of the delegation conducted an in-depth discussion with Prof. Peng Xiaochi, the leading expert on minimally invasive cancer therapy in St. Stamford MCHG. Professor Peng made a brief introduction of the minimally invasive therapy, MDT(Multidisciplinary Team) and advanced facility of the hospital, for which, Dean Aung Thein and accompanying doctors greatly praised.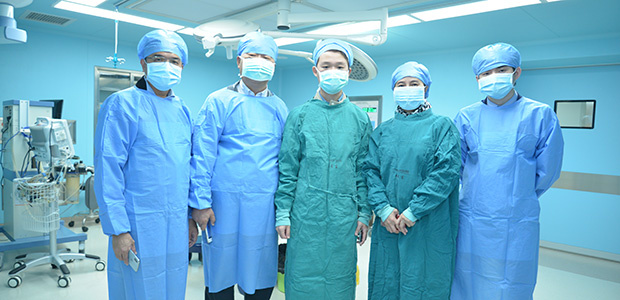 Dean Aung Thein visits operating theater of St. Stamford MCHG
Dean Aung Thein also said: "Every member of the delegation benefits much from the visit. It offers a precious opportunity to exchange ideas with excellent medical experts in China. The JCI-accredited management model and the leading anticancer technology worldwide in St. Stamford MCHG are worth learning. I hope that the exchange will deepen the friendship between the two sides, accelerate the process of medical cooperation, and enable advanced minimally invasive anticancer technology to benefit more Myanmar cancer patients.
*Surgery, in addition to the appropriate chemotherapy and radiotherapy, are effective in treating early cancer, but certain patients in late stage of cancer may not be tolerate surgery well as they can be relatively weak. A combination of carefully planned minimally invasive therapy, chemotherapy or radiotherapy can effectively reduce the side effects and discomfort of treatment and may help patient get better efficacy.