Cancer Treatment without Borders, Health Care without Harm
A special event for providing volunteer service and celebrating the Lantern Festival held in
St. Stamford Modern Cancer Hospital Guangzhou
On February 18th, right at the beginning of the Chinese New Year, the volunteer team of St. Stamford Modern Cancer Hospital Guangzhou provided special services and held an activity to celebrate the Lantern Festival.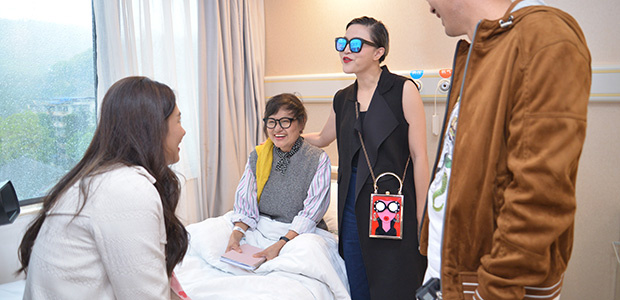 Visit KANTAT(breast cancer patient)
MISSRAMIDA PRAPASANOBON and MR.LOUIS SCOTT, famous actress and actor from Thailand, together with a delegation, made a special trip to St. Stamford Modern Cancer Hospital Guangzhou and participated in the event. As star volunteers, they also visited cancer patients in the hospital and sent festive greetings and sincere wishes for their quick recovery.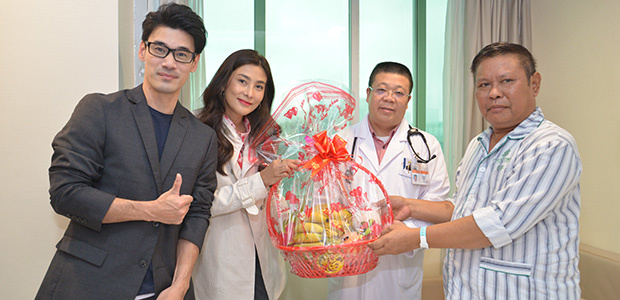 Visit cancer patients in the hospital
To express great concern and encouragement to cancer patients, the star volunteers, along with the delegation, extended conversation about the patients' case and inspired them to fight against cancer.
Later that day, the star volunteers visited the painting exhibition of KANTAT, a breast cancer patient from Thailand. Several Thai media also reported on the event. KANTAT ERKULWARAWAT, 50 years old, was unfortunately diagnosed with breast cancer in 2010. After taking treatment in local hospital, she suffered recurrence then she resorted to St. Stamford MCHG. During the hospitalization, KANTAT still insisted on painting. After learning that she has the desire to hold an exhibition of her works, the volunteer team helped her.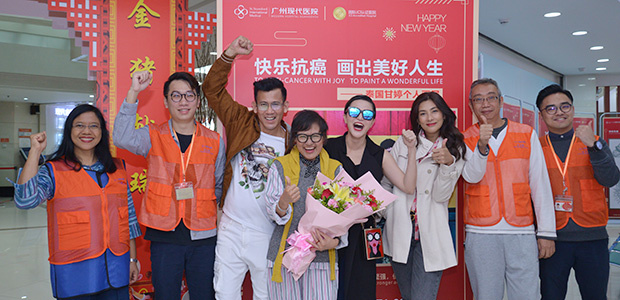 Volunteer Team with KANTAT
More than 20 pieces of her works were exhibited, which attracted many patients and their family. KANTAT said: "I can't walk without crutch. After the treatment, I can walk normally now. I gained good physical and mental condition. I didn't expect that I could hold my own exhibition. I am very grateful to St. Stamford Modern Cancer Hospital Guangzhou. I hope that my work can bring luck and hope to other cancer patients and enhance their confidence of winning the battle against cancer."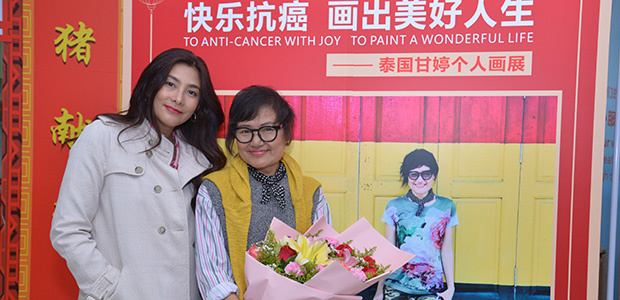 MISS RAMIDA PRAPASANOBON with KANTAT
As MISS RAMIDA PRAPASANOBON commented, "All these paintings speak for her desire for better life and bright future. Through her works, we can feel great vitality and creativeness. Her spirit is worth learning for everyone."
In the afternoon, the star volunteers participated in the Lantern Festival celebration organized by the volunteer team. The star volunteers, together with and the patients in the hospital , made Tangyuan, small dumpling balls made of small dumpling balls made of glutinous rice flour with rose petals, sesame, bean paste, jujube paste, walnut, dried fruit, sugar and edible oil as filling.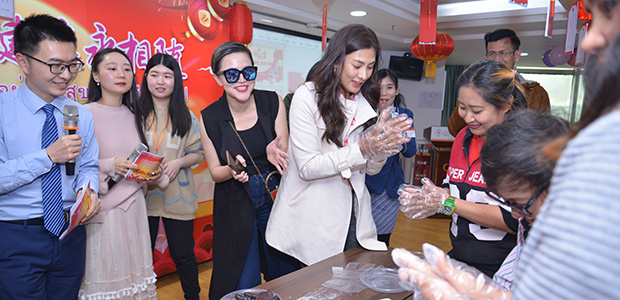 Making Tangyuan
Every attendee was actively involved in the guessing lantern riddle game. Laughter and deafening applause filled the house. Patients from all over the world and the star volunteers gathered here and enjoyed a great time, all wearing beautiful smiles.
In the event, MISS RAMIDA PRAPASANOBON said, my mother is also a cancer patient. That's why I show great concern over the people who also suffer cancer. As she has gained good efficacy after treatment in St. Stamford MCHG, I'd like to express my gratitude to the hospital and meanwhile, I wish more cancer patients in Thailand benefit from the cutting-edge minimally invasive therapy. With new technology, cancer can be conquered. As long as we all have faith and never give up."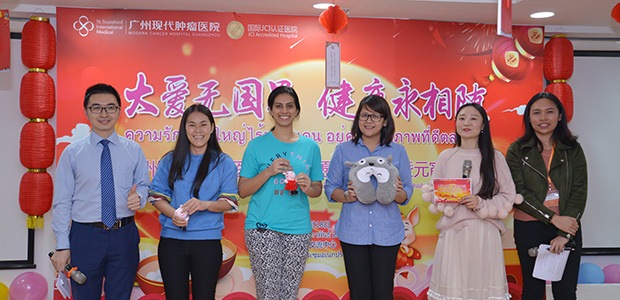 Winners in the game
In the event, the director of customer service department of St. Stamford MCHG, Yi Qinghua noted:""In the hospital, we always advocate to fight cancer with positive and happy mood. Therefore, we provide value-added services to all cancer patients to cheer them up in the cancer journey and help them to get through it. A good mood has good impact on the patients' recuperation. Patients from all over the world know each other, help each other, and be like family here, sharing determination against cancer and the version of a better life.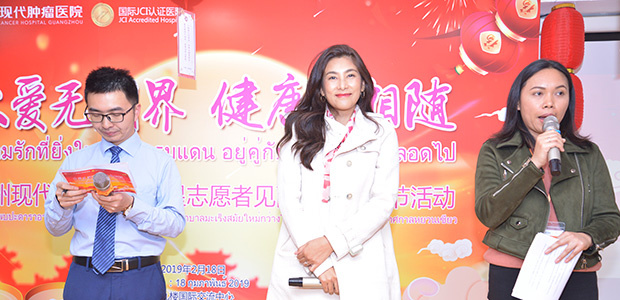 MISS RAMIDA PRAPASANOBON gives a speech to encourage cancer patients
The Volunteer Team of St. Stamford MCHG, consists of cancer patients, patients' family and people with kind heart, exists for special reasons. All members devote to help cancer patients in the fight against cancer and regain their relief. They show the newly admitted patients around the hospital, they hold birthday party for cancer patient, they make delicious food and share it with patients. They hold celebrations in special days and help other cancer patients in need. Through all kinds of activities, they help cancer patients develop positive attitude and encourage them to win the battle against cancer.
*Surgery, in addition to the appropriate chemotherapy and radiotherapy, are effective in treating early cancer, but certain patients in late stage of cancer may not be tolerate surgery well as they can be relatively weak. A combination of carefully planned minimally invasive therapy, chemotherapy or radiotherapy can effectively reduce the side effects and discomfort of treatment and may help patient get better efficacy.