The First Option of Minimally Invasive Treatment for Cancer, New Hope for Middle and Late Stage Cancer Patients
2019 Thai Media Delegation Paid Observational Visit to St. Stamford Modern Cancer Hospital Guangzhou
On the morning of February 16, 2019, a delegation of well-known Thai media presenters and reporters from CH 7, CH 5, CH 3, DAILI NEWS, NATION TV and THAIRAT NEWS paid their observational visits to St. Stamford Modern Cancer Hospital Guangzhou. General Manager Mr. Tu Xiaoming and Operational Dean Mr. Lin Shaohua of the hospital extended their warm welcome to the media delegation. The main purpose of this trip was to deepen the medical and cultural exchanges and cooperation between China and Thailand; understand China's advanced minimally invasive targeted anti-cancer technology and disseminate anti-cancer frontier technology in Thailand, to benefit cancer patients and give them hope.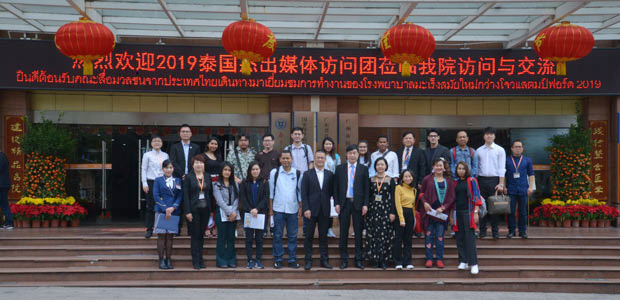 Leadership of the hospital and Thai Media delegation
The exchange conference was held in the international conference center in the ninth floor of the hospital building. Operational Dean of the hospital, Mr. Lin Shaohua gave his welcoming speech first and expressed his gratitude to the delegation for their concerns and support. In his speech, he mentioned that as the first Sino-Singapore JCI Cancer Hospital in China, all staff in St. Stamford Modern Cancer Hospital Guangzhou has been working hard to provide the most convenient and intimate high-quality medical services for patients at home and abroad since its establishment. Our hospital is known as its special cancer treatment mode by combing minimally invasive therapy with unique traditional Chinese medicine, providing a most effective and least painful treatment plan based on every individual condition. Each treatment plan was tailored out after discussion and consultation among doctors and experts of the Multidisciplinary Team (MDT), they have devoted themselves to improving cancer patients' lives and well-being, and some cancer patients have even reached a clinical cure.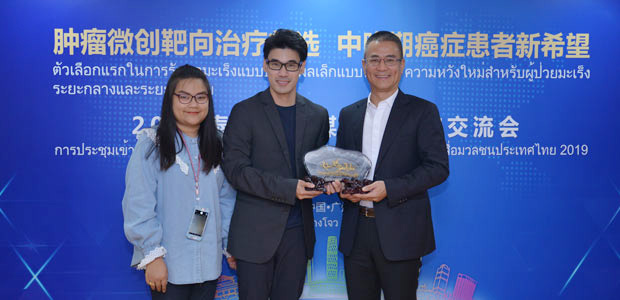 Souvenir presenting to the representative of the media delegation
"We are so grateful for the warm reception received in your hospital and so impressed to witness such advanced cancer treatment technology here, we hope in this visit we can know more about minimally invasive therapy and bring it back to Thailand, to give cancer patients in Thailand hope." said Thai media representatives. In order to help the delegation have a better knowledge of minimally invasive targeted therapy technology, we arranged a live interventional surgery and the delegation were invited to have an observation. In addition, we also invited Professor Peng Xiaochi, the chief oncologist of our hospital, to answer the questions raised by everyone upon minimally invasive therapy after the conference. After the interview, Thai media reporter fully affirmed the achievements of our hospital in the field of minimally invasive targeted anti-cancer technology, and expressed his admiration for Professor Peng Xiaochi's professional explanation.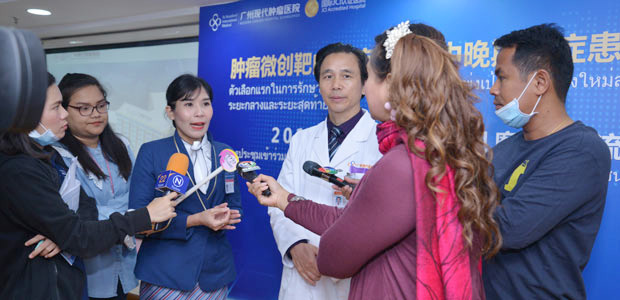 CH 7, CH 5, CH 3 is having an interview with Prof. Peng Xiaochi
Thai media gave blessings to TWYLA DAWN WOLOSHYN (endometrial cancer)
In the afternoon, the delegation visited the patient from Canada, TWYLA DAWN WOLOSHYN, and presented a fruit basket to express concerns and blessings. The Thai reporters had a cordial conversation with TWYLA and asked about her condition and wished her a speedy recovery.
It is reported that TWYLA DAWN WOLOSHYN is 41 years old and she suffers from endometrial cancer. When she was admitted to the hospital she suffered serious abdominal swelling. A lump measuring about 2 cm was seen on the umbilicus. After confirmation she was diagnosed with endometrial cancer. Speaking of the condition, TWYLA said with emotion, "I felt very good after the first interventional therapy in St. Stamford Modern Cancer Hospital Guangzhou. I was excited then and I even cried out loudly. When I was in Canada, the doctor told me no treatment effective for me and asked me to give up, but thanks God I saw hope here. After five sessions of interventional therapy and one operation, I feel very good now and my body is gradually recovering. I feel grateful for the doctor's help and the advanced minimally invasive therapy and all care for me."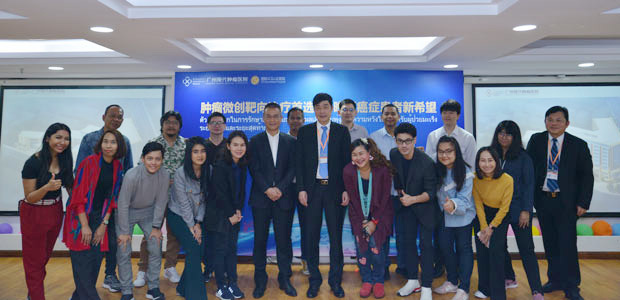 Leadership of the hospital and media delegation
The experience of TWYLA DAWN WOLOSHYN deeply impressed Thai media delegation. and after a deep understanding of the medical technology and environment in the hospital, many of them mentioned, "The medical technology in your hospital has not been heard before. We hope that we can further strengthen communication with your hospital in the future, and spread these world-leading minimally invasive targeted anti-cancer technologies and new anti-cancer concepts to Thailand to deliver positive energy and benefit more cancer patients. We are willing to establish a bridge of communication and trust between hospitals and cancer patients. "
*Surgery, in addition to the appropriate chemotherapy and radiotherapy, are effective in treating early cancer, but certain patients in late stage of cancer may not be tolerate surgery well as they can be relatively weak. A combination of carefully planned minimally invasive therapy, chemotherapy or radiotherapy can effectively reduce the side effects and discomfort of treatment and may help patient get better efficacy.