Making Lanterns and Praying for Blessings
Loy Krathong Festival Celebrated in St. Stamford Modern Cancer Hospital Guangzhou
The Loy Krathong Festival, with mythology as its background, is the most meaningful folk festival in Thailand. According to traditional Thai customs, Thai people celebrate the special day by making water lanterns, sky lanterns, worshipping Buddha and praying for blessings among other activities.
In order to shower Thai patients with the festive atmosphere and entertain them and their caregivers, a themed celebration "Making Lanterns and Praying for Blessings" was organized on the occasion of Loy Krathong festival.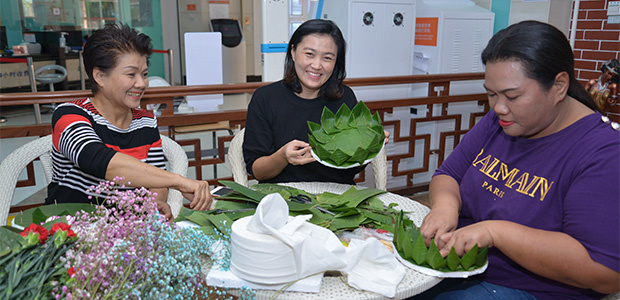 Making lanterns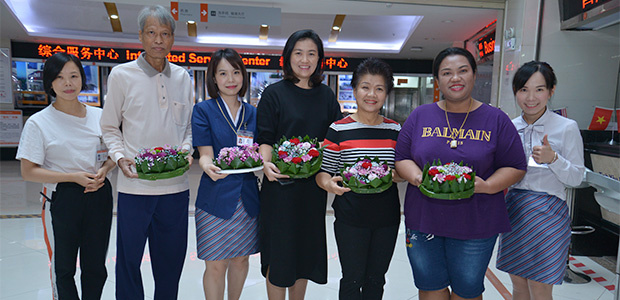 Thai patients with interpreters

On the same day, staff of the hospital prepared the materials needed to make the water lantern in advance, and the patients and their family dependents were gathered at the coffee bar to make lanterns. With their ingenuity, delicate water lanterns were presented in short period. Creative Thai people always make beautiful artwork out of simple materials.
In the afternoon, Thai patients took the bus to the Lotus Hill, one of the key scenic spots in Guangdong Province. As is known to all, Thailand is the world's most heavily Buddhist country. Buddhism, as a religious belief and also a lifestyle, has enriched the lives of the Thais in all aspects has become an indispensable part of it.
Enjoying a great time in Lotus Hill
In Lotus Hill, Thai patients and their families stood straight in front of statue of Sea Goddess of Mercy, with their fingers crossed and heads bowed, praying for blessings. The statue of Sea Goddess of Mercy is made of 120 tons of copper, 40.88 meters high, with gold foil attached. As the world's best foil gold-attached copper statue of Goddess of Mercy, it is looked dazzling from afar, spectacular from near. The imposing atmosphere never fails to arouse a sense of awe.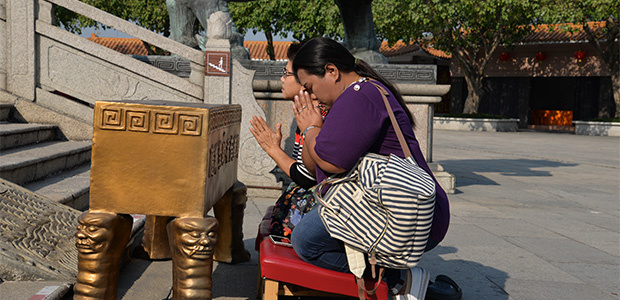 Praying for blessings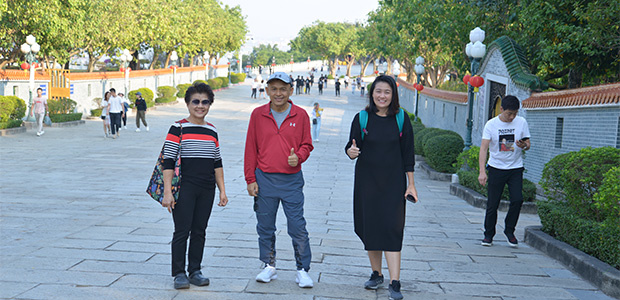 Thai patients with their families
After praying, Thai patients and their families began to enjoy sightseeing in the Lotus Hill. The beautiful scenery was such a treat for the eye. Pavilions appear right between the green hills and blue waters. With waterfalls, lakes, ponds, and gardens of colorful flowers, an oil painting of landscape in spring is presented to Thai patients and their families.
One patient told the staff: "Great thanks to the hospital staff for giving us the opportunity to celebrate Thai festival in China. It's considerate of you to organize the event of Loy Krathong Festival, at which we make water lanterns, worship Buddha and pray for blessings along with other cancer patients. Today I pray for health. I have the confidence that with the help of the doctors at St. Stamford Modern Cancer Hospital Guangzhou, we can all regain health in the near future."
*Surgery, in addition to the appropriate chemotherapy and radiotherapy, are effective in treating early cancer, but certain patients in late stage of cancer may not be tolerate surgery well as they can be relatively weak. A combination of carefully planned minimally invasive therapy, chemotherapy or radiotherapy can effectively reduce the side effects and discomfort of treatment and may help patient get better efficacy.