Happy celebration for Eid-al-Fitr, a warm journey with friends
Eid al-Fitr (Lesser Bairam) is one of the most important Islamic festivals and its liveliness is comparable to the Chinese Spring Festival. "Thinking about loved ones every festive season", emotions and feelings of human beings are connected regardless of country border. In order to comfort and relieve the homesickness of all foreign patients, St.Stamford Modern Cancer Hospital Guangzhou has prepared a series of activities. The leaders of hospital hope all the guests could feel at home, enjoy the present, relax their body and mind and wish them a happy Eid regardless of being in a foreign country.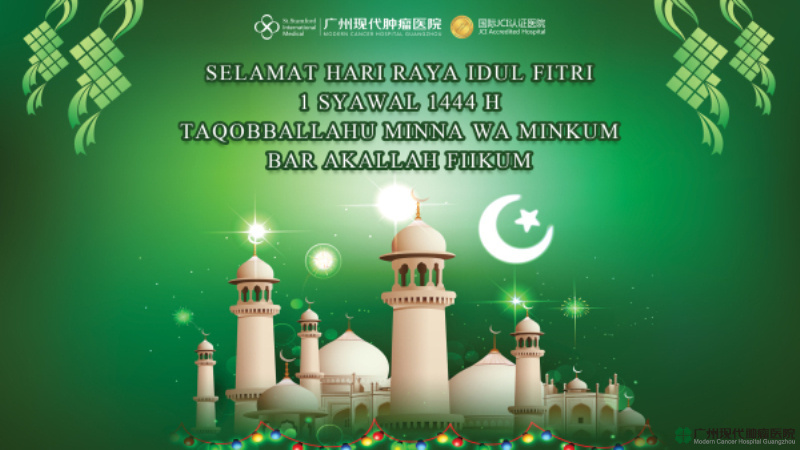 On April 21th, Ms. Liu Yansheng, Director Assistant of International Affairs, gave her holiday wishes and speech to all patients. She said that, the three-year epidemic has had a profound impact on international exchanges, forcing many countries to close their doors and blocking the way for patients to seek for medical treatment. Therefore, some lives have fallen. Today, we gather here and celebrate Eid al-Fitr together, which shows that everyone is blessed by Allah. Fighting cancer is a protracted battle fought in the darkness. No matter what situation we are in, we must bear hope in mind, believe in Allah and fight bravely with cancer. At the same time, our hospital will continue to carry out the mission of "providing the most convenient and considerate high-quality medical services for human beings", and work together with everyone to fight cancer.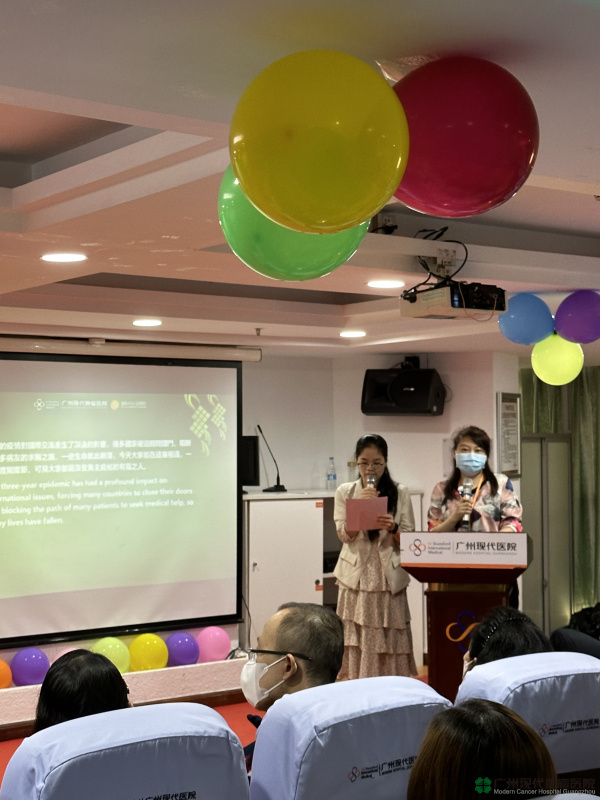 Ms. Liu Yansheng, Director Assistant of International Affairs, gave a speech
Singing songs, dancing with friends, enjoying a warm and lively gathering, which are always the ways we celebrate holidays. Songs are like spiritual food of human beings which provide us with comfort. We were happy to invite two patients from Indonesia, Ms. Henny Chandra and Ms. Fie Ling, sang songs for the audience. Each song expressed the feelings of singer. The song "Tomorrow will be better" sung by everyone expressed patients' optimism for the future, appreciation for technologies and medical services of our hospital and even showed the spirit of human beings when fighting against cancer.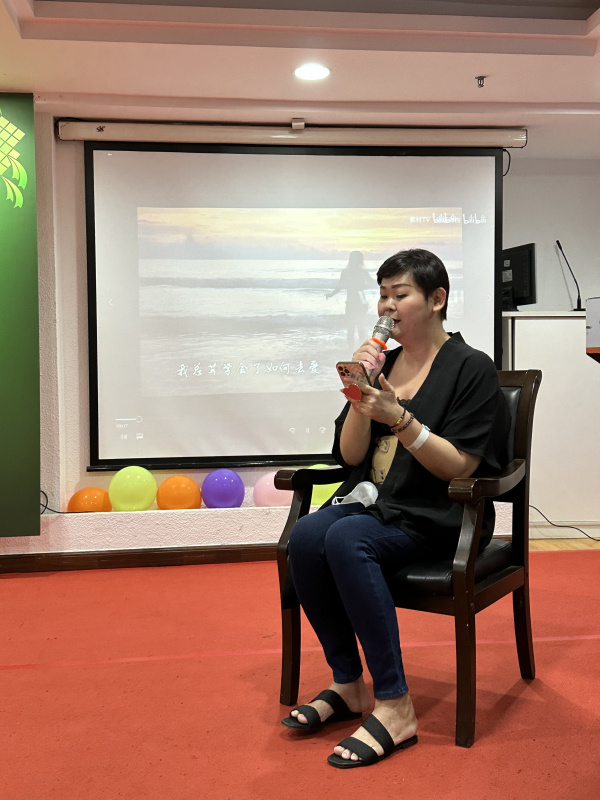 Ms. Fie Ling from Indonesia sang a song in the celebration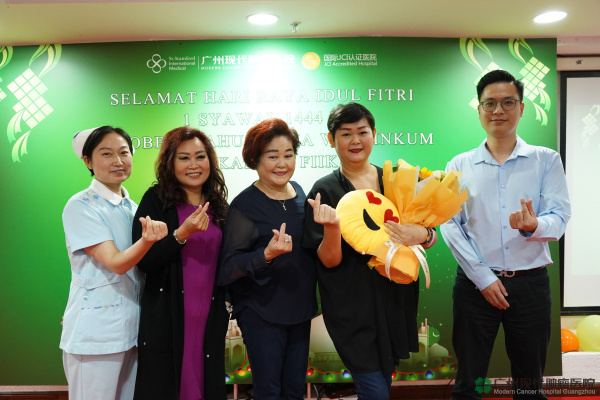 Ms. Fie Ling and her family sang a song for the celebration
Fighting against cancer is like running a marathon alone in the darkness. In order to encourage the patients, we invited Mr. Hendra Haksap and Ms. Ng Ai Tjiu from Indonesia to share their experience of fighting cancer. Mr. Hendra Haksap is a intestinal cancer fighter from Indonesia. He has underwent 26 sessions of chemotherapy and experienced both mental and physical torture. After arrived at St.Stamford Modern Cancer Hospital Guangzhou, he has received precise treatment plan and considerate care. He showed his gratitude for the medical staff and said that this Eid was special and meaningful for him. On the journey of anti-cancer, he no longer feel afraid and lonely.
Ms. Ng Ai Tjiu, a lung cancer patient from Indonesia, also showed her gratitude for the hospital. She said that she felt the warmth of family here with a great help from medical staff during admission and her condition was greatly relieved. She will face with live positively same as usual.
International Network Department Director Mr. Qiu Chang gave his gift to patients
In the end, the patients and their families took photos with nurses and interpreters of hospital. They were served with delicious food for holiday by the working staff, eating, chatting and smiling, everyone was enjoying the pleasant and lively atmosphere of the holiday. Even though the patients were in a foreign land, there was no street party for Eid and without the company of friends, but this celebration warmed their heart and kindness stayed in their memory.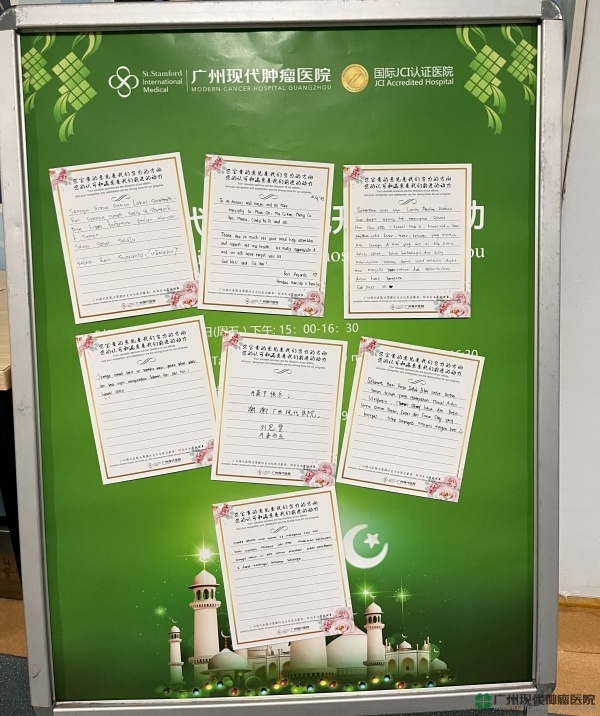 Muslim patients wrote cards to express their feelings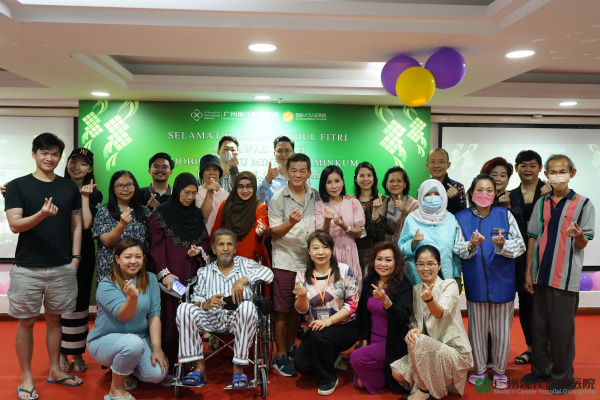 Group photo by all the participants
*Surgery, in addition to the appropriate chemotherapy and radiotherapy, are effective in treating early cancer, but certain patients in late stage of cancer may not be tolerate surgery well as they can be relatively weak. A combination of carefully planned minimally invasive therapy, chemotherapy or radiotherapy can effectively reduce the side effects and discomfort of treatment and may help patient get better efficacy.