St. Stamford Modern Cancer Hospital Guangzhou Kuala Lumpur Office Re-opened
On May 19, 2023, the opening ceremony of the office of St. Stamford Modern Cancer Hospital Guangzhou in Kuala Lumpur, Malaysia was grandly held. The event was attended by representatives of Malaysian politics, famous figures in medicine, representatives of hospital leaders, the press corps, and other guests from various parties.
On the day of the event, Mr. Yew Jia Haur, the Local Councilor of MPAJ, Mr. Yap Chin Woon, the Vice President of Country Heights Holdings Berhad, Dato' Tan Liong Seng, the Chairman of the Penang Anti-Cancer Association, Dato' Yeo Wee Hiong, the President of the Malaysian Chinese Medical Association and Melaka Counseling Center, attended the ceremony together with Mr. He Lang Bing, the Deputy General Manager of St. Stamford Modern Cancer Hospital Guangzhou, and Prof. Pang Xiao Chi, the Chief Specialist and Director of Oncology Department, as the ribbon cutting guests.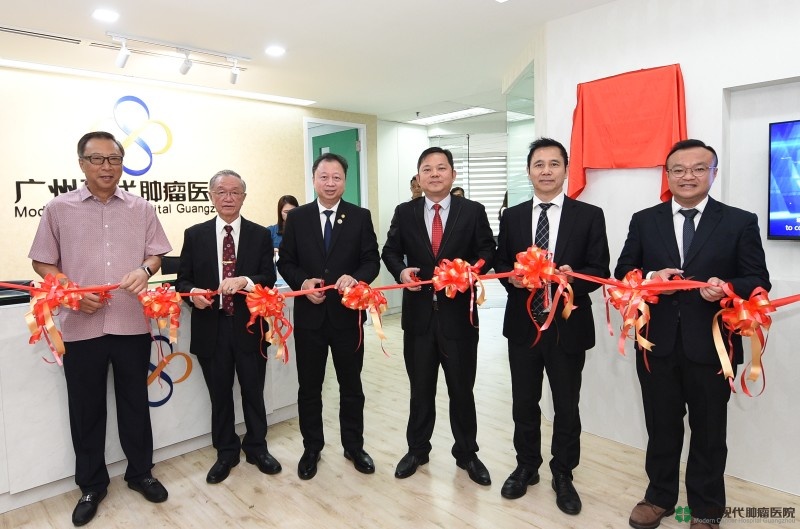 (the ribbon-cutting ceremony)
Before the ribbon-cutting ceremony, the general manager of the Kuala Lumpur office, Mr. Yang Zhihong, delivered a congratulatory speech on behalf of the office, and then, the congratulatory speech was delivered by Mr. Yew Jia Haur, the Local Councilor of MPAJ. According to the report of the World Health Organization, there will be 49,000 new cancer cases in Malaysia in 2020. The establishment of St. Stamford Modern Cancer Hospital Guangzhou office in Kuala Lumpur not only meets the needs of Malaysian people in fighting cancer but also establishes an important consultation and service center in the region, which will positively promote the development of Malaysian medical career in fighting cancer. Mr. Yew is convinced that the successful experience and strong strength accumulated by the hospital over the years, will definitely provide new development experience for the medical and health care of Kuala Lumpur city and benefit more people in the surrounding areas.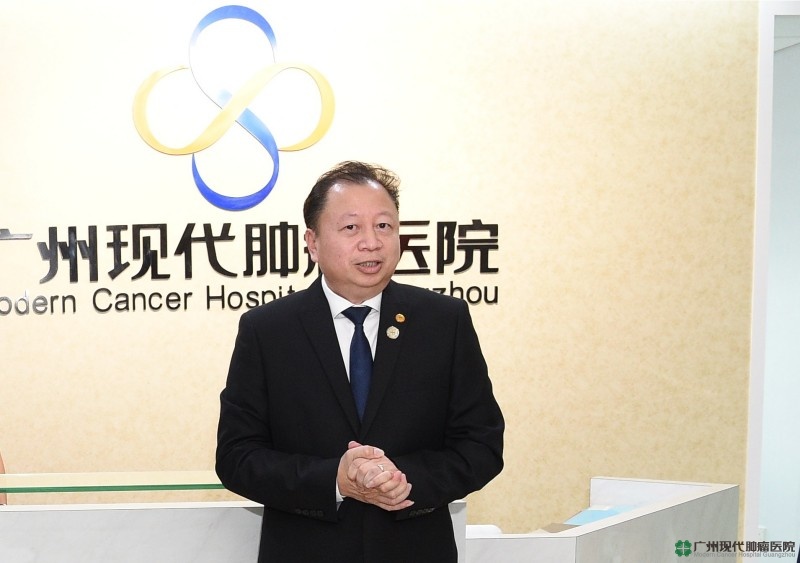 (General manager of the Kuala Lumpur office, Mr. Yang Zhihong)
(Mr. Yew Jia Haur, the Local Councilor of MPAJ)
Then, Vice General Manager Mr. He Langbing delivered a congratulatory speech on behalf of the hospital. He said that the hospital has always adhered to the belief of "Love for the people and medical care without borders". In the future, the hospital will continue to do its best to contribute to the prevention and treatment of cancer in Malaysia. In addition to regularly inviting international oncologists to Malaysia to hold cancer health-sharing sessions, the hospital will also reopen its cancer rehabilitation assistance center in Malaysia to help those in need with cancer prevention, detection, and treatment. Finally, he announced that the hospital will set up an RM1 million assistance fund in 2023 to subsidize cancer treatment for Malaysian oncology patients with financial difficulties, hoping to work together with all sectors in Malaysia to make a positive contribution to the health of the Malaysian people.
(Vice General Manager Mr. He Langbing)
Afterward, the ribbon-cutting guests stood on the ribbon-cutting platform together to cut the ribbon and send blessings for the opening of the office of St. Stamford Modern Cancer Hospital Guangzhou in Kuala Lumpur, Malaysia. Under the flashing lights of many media, the ribbon-cutting ceremony was successfully held, which also marked the official reopening of the Kuala Lumpur office.
In the subsequent Sino-Malaysian media communication meeting, the media delegation from China Daily, Kwong Wah Yit Poh, Guangming Daily, and Sin Chew Daily interviewed the attending guests with enthusiasm and confidence in the reopening of the Kuala Lumpur office. After the visit, the Kuala Lumpur office hosted a grand reception for the visiting guests, who gathered together to offer their advice and suggestions for future cooperation between China and Malaysia in the fight against cancer.
Keeping up with the times and iterating on leading minimally invasive technologies
Compared with traditional surgery, radiotherapy, and chemotherapy, minimally invasive treatment technology has the advantages of precise positioning, less trauma, less toxic side effects, and better efficacy, which can avoid the damage to tumor patients' organism and body immunity to the greatest extent and prolong their survival cycle and improve the quality of life.
After 18 years of clinical practice, St. Stamford Modern Cancer Hospital Guangzhou has brought together 18 advanced minimally invasive treatment technologies, including Nano-knife, interventional therapy, iodine particle implantation, Argon-Helium Knife Cryotherapy, Photodynamic Therapy, microwave ablation, etc., which provide better treatment options for patients with intermediate and advanced cancer who are intolerant to surgery, radiotherapy, and chemotherapy.
On the long road of medicine, there is no end to exploration. In the past two years, St. Stamford Modern Cancer Hospital Guangzhou has been introducing the latest and advanced minimally invasive treatment technologies in the world, keeping abreast of the times in terms of technology updates and achieving fruitful results:
The hospital introduces the AI Epic Co-Ablation System, which is the only type of tumor ablation treatment that is not affected by human-implanted pacemakers; introduces drug-carrying microspheres, which can adsorb and carry anti-tumor drugs in interventional treatment to achieve the effect of slow release, providing better efficacy for patients with liver cancer and other solid tumors; The introduction of intracranial particle implantation creates new opportunities for the treatment of difficult brain cancer and brings hope to patients with intracranial tumors; green immunotherapy is used to avoid harm and enhance patients' immunity to improve the efficacy of anti-tumor therapy.
In early 2022, St. Stamford Modern Cancer Hospital Guangzhou become one of the first batches of hospitals that can apply the "Hong Kong and Macao Drug and Equipment Connect" policy, after being approved by the Health Commission of Guangdong Province. Since then, the hospital has rapidly put into clinical use the world's advanced oral anti-cancer drugs, such as "Entratinib", "Lorlatinib" and "Capmatinib", which has greatly strengthened the hospital's oncology treatment, allowing patients to enjoy more advanced drug treatment and fighting against cancer.
Service upgrade, all patient-centered
In May 2023, after careful preparations, the 6th floor of St. Stamford Modern Cancer Hospital Guangzhou made a new appearance as a new international oncology ward. The hospital has not only upgraded its wards and hardware facilities but also equipped it with elite medical and nursing teams. At present, the new international oncology ward includes two types of rooms: general wards and VIP wards, family-style warm wards, equipped with central air conditioning, intelligent call system, wireless network, sofa, TV, bathroom, refrigerator, and other living facilities, which greatly meet the needs of international oncology patients and their families in their daily lives.
With the aim of being "patient-centered", the hospital continues to integrate humanistic care into its service programs and detailed experiences, for example, the flowery sky garden on the 4th floor has become a resting place for patients' daily walks, and the public kitchen can be used by family members to cook hometown-style dishes for patients seeking medical treatment in foreign countries. In order to facilitate the daily life and recreation of patients and their families, the hospital provides more than 60 VIP value-added services, including multilingual interpretation, airport transfer, full medical guidance, traditional holiday celebrations, religious services, escorted shopping trips, clothing, food, housing, and transportation, etc., fully respecting the cultural concepts and values of international patients, allowing them to be free from daily chores during hospitalization, ensuring sufficient rest and a happy and full They are able to fight against tumors with a happy and full state of mind.
Sincere charity, helping the needy
Since the opening of the hospital in 2005, St. Stamford Modern Cancer Hospital Guangzhou has been on the road of public welfare for nearly 20 years, continuously supporting the public welfare with love and actions. It not only saves patients medically and helps the poor financially, but also forms and drives a socialized and normalized public welfare mechanism through its own action demonstration, and unites people from all walks of life to help more people: the hospital continues to conduct health surveys in Southeast Asian countries, popularizes national health education, holds more than 6,000 activities such as free medical consultations and health lectures, and spreads health knowledge and screens for health hazards for hundreds of thousands of people in various countries. The hospital has initiated and participated in hundreds of large-scale public welfare activities, such as "To raise donations and reduce medical expenses for Xiao Duoduo, a 4-year-old tumor patient in Vietnam" "A dream come true for Xiao Jingwen, a 9-year-old leukemia patient" "Blue Ribbon Charity activities" "Anti-cancer millions Charity Fund", etc., bringing health and hope to tens of thousands of disadvantaged groups ......
During the three-year-long epidemic, St. Stamford Modern Cancer Hospital Guangzhou has accomplished the task of fighting the epidemic many times, sent staff to the front line of epidemic prevention in many batches, organized hospital volunteers to help the affected patients, and generously donated epidemic prevention materials, bravely undertaking social responsibility and mission.
Despite the numerous accolades, the hospital has always been committed to helping cancer patients in need. This time, the hospital has set up a support fund of RM1 million in Malaysia, hoping to provide more timely assistance to Malaysian cancer patients in financial difficulties.
With the reopening of the Kuala Lumpur office of St. Stamford Modern Cancer Hospital Guangzhou and the continuous updating and upgrading of the hospital's technology and services, more overseas cancer patients will be benefited and led to a better tomorrow!
*Surgery, in addition to the appropriate chemotherapy and radiotherapy, are effective in treating early cancer, but certain patients in late stage of cancer may not be tolerate surgery well as they can be relatively weak. A combination of carefully planned minimally invasive therapy, chemotherapy or radiotherapy can effectively reduce the side effects and discomfort of treatment and may help patient get better efficacy.