Stage IV Bladder Cancer Patient SUSON: MCHG is a HOME away from home!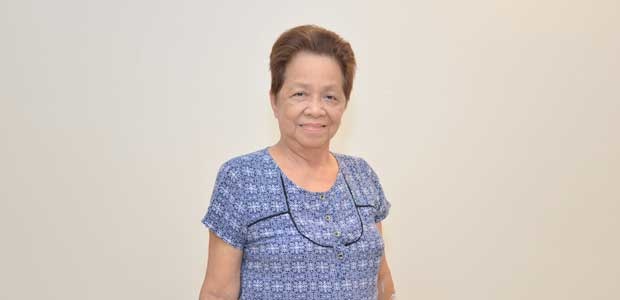 NORINA SUSON
NORINA SUSON, a 72-year old bladder cancer patient from the Philippines.
On a March day in 2018, NORINA SUSON suddenly found there was blood in her urine. After a cystoscope in a local hospital in the Philippines, she was confirmed to have bladder cancer and was given a treatment plan of surgery to remove her bladder, ovarian and urethra. NORINA SUSON could not live without a conduit once she took the surgery. Considering her old age and medical history of diabetics and hypertension, SUSON's family refused the local doctor's suggestion of surgery and decided to look for better treatment with fewer side effects.
When they searching for a better hospital and bladder cancer treatment on the internet, St. Stamford Modern Cancer Hospital Guangzhou, a JCI accredited international cancer hospital with 18 minimally invasive therapies, captured their attention. Then the whole family went to its Cebu Satellite Office for a remote expert consultation. After a detailed analysis of the medical reports, the multidisciplinary team (MDT) confirmed that SUSON has stage IV bladder cancer and recommended her minimally invasive therapy which is non-surgical and of small side effects. Compared to traditional bladder cancer treatment like surgery, chemotherapy, and radiotherapy, minimally invasive therapy has the advantages of smaller trauma, fewer toxic side effects and quicker recovery and better efficacy. For patients who cannot take surgery, has chemotherapy and radiotherapy intolerance, or in a late-stage with a rather weak condition, minimally invasive effectively reduces the side effects and discomforts of treatment and helps patient get better efficacy. Minimally invasive therapy is no doubt the most appropriate treatment for NORINA SUSON. After a short consideration, NORINA SUSON decided to come to St. Stamford Modern Cancer Hospital Guangzhou for bladder cancer treatment.
Accompanied by her nephew, NORINA SUSON started her anti-cancer journey in St. Stamford Modern Cancer Hospital Guangzhou in July 2018. The MDT conducted a joint consultation soon after her admission, found that the tumor was highly aggressive. The tumor became much bigger within a month, also with metastasis to other tissues and organs. Therefore, early treatment is needed to prevent the condition from getting worse.
Since NORINA SUSON is too old to take chemotherapy and its great side effects, she was first given interventional therapy to shrink the tumor. Compared to traditional chemotherapy, interventional therapy has 3 breakthroughs; the first breakthrough is that it cuts off the nutrition supply to the tumor, inhibits the growth of tumor; the second breakthrough is that interventional therapy is of small trauma and few side effects because drugs are directly given to the tumor, last, interventional therapy precisely kills cancer cells, and lowers the risk of metastasis. After the first session of interventional therapy, her symptom of bloody urine disappeared. Photodynamic therapy was given next considering the complicated location of the tumor. Photodynamic therapy (PDT), is a form of phototherapy involving light and a photosensitizing chemical substance, used in conjunction with molecular oxygen to elicit cell death (phototoxicity). Photodynamic therapy's advantages lessen the need for delicate surgery and lengthy recuperation and minimal formation of scar tissue and disfigurement. Except for interventional therapy and photodynamic therapy, NORINA SUSON was also given natural therapy to improve her immunity, so as to better fight against cancer. After 4-month minimally invasive treatment, she took an examination again in Jan 2019, whose result showed that the tumor inside her body has already gone!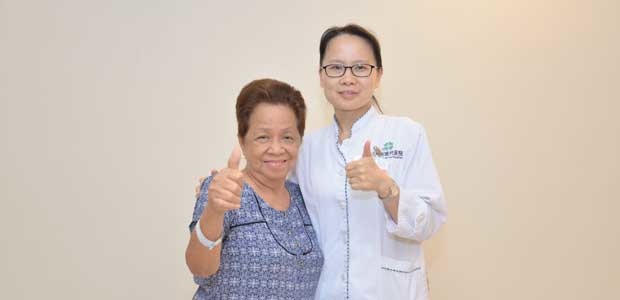 SUSON with Attending Doctor Lin Jing
Expect for slight platelet decline caused by the anti-cancer drugs, NORINA SUSON suffered no side effects, and the platelet decline was under well-controlled and treatment. More happily, the tumor disappeared. They were very glad when first heard the good news on Jan. 2019, but SUSON's attending doctor, Dr. LinJing gave SUSON a kindly reminder: "It's really good that the tumor has gone, but cancer cells are of strong vitality and fertility, so please keep taking medicine and take examinations once every three months." Luckily, both the results of examinations that respectively done in May and August showed that there was no evidence of recurrence.
NORINA SUSON looked back on her anticancer journey with mixed feelings. She was disheartened when first got the diagnosis of bladder cancer, she knew that plenty of cancer patients still lost their life though they have taken lots of treatments. It's really lucky that she found an appropriate cancer hospital and cancer treatment: "I knew St. Stamford Modern Cancer Hospital Guangzhou is a good cancer hospital before I come here because it has not only cutting-edge anti-cancer technologies but also rich experience in treating cancer. Actually, I'm a bit suspicious about whether it can help me, but every inpatient here gave me certain answers. They told me that MCHG is a very good hospital and I will regain my health as long as I follow the doctor's treatment and advice. I'm very satisfied with the treatment efficacy!"
NORINA SUSON shared her anti-cancer as well as her gratitude to the hospital:" Fighting cancer is such a long process that we must follow doctors' suggestions and be patient. If you got cancer, just come to St. Stamford Modern Cancer Hospital Guangzhou, and you will find hope here even you are in a bad condition. The medical staff here are really nice, they always take good care of my nephew and me, I have a happy time here. I want to say THANK YOU to Doctor Lin Jing, Director Wu Qingkai, interpreters, nurses and everyone I met here. Though St. Stamford Modern Cancer Hospital Guangzhou is far away from the Philippines, it's a home away from home!"
*Surgery, in addition to the appropriate chemotherapy and radiotherapy, are effective in treating early cancer, but certain patients in late stage of cancer may not be tolerate surgery well as they can be relatively weak. A combination of carefully planned minimally invasive therapy, chemotherapy or radiotherapy can effectively reduce the side effects and discomfort of treatment and may help patient get better efficacy.