Minimally Invasive Therapy Benefit A Malaysian Gallbladder Cancer Patient in His Seventies*
ONG LEE SING, comes from Malaysia. In January, 2018, he noticed pain in upper abdomen. He thought it was stomachache and took gastric endoscopy in local hospital. The initial diagnosis was chronic gastritis, for which the doctor suggested further examination. Finally, a CT scans revealed that there's tumor in his gall bladder and he was diagnosed with gallbladder cancer with metastasis to liver.
Local doctors suggested that surgery was not available in his case and offered traditional chemotherapy as a second option. He knew well of the side effects of chemotherapy and refused to take it. His brother searched about other cancer treatment and got to know St. Stamford Modern Cancer Hospital Guangzhou. Therefore, they went to the office at Kuala Lumpur for cancer expert consultation and he decided to depart for Guangzhou.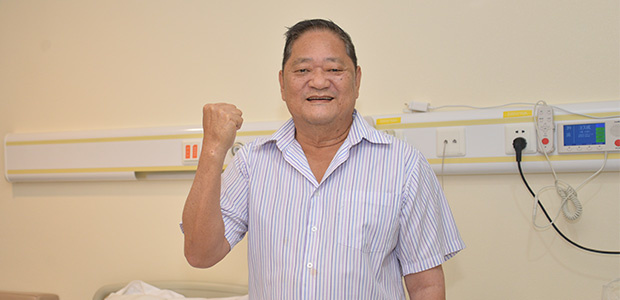 ONG LEE SING
In December, 2018, ONG LEE SING arrived at St. Stamford Modern Cancer Hospital Guangzhou. His case was diagnosed as well differentiated adenocarcinoma of gallbladder of stage IV with liver metastasis was highly suspected, gallstones, enlarged lymph nodes in hilum of liver region, right renal cyst and left adrenal nodule.
Based on his complex condition, the oncologists conducted a joint discussion and measured a combined treatment of interventional therapy and cryotherapy.
According to his attending doctor, "upon the admission, ONG LEE SING was in rather critical condition with irregularly thickened gallbladder wall, and the tumor has infiltrated the liver. After six courses of interventional therapy and cryotherapy, the patient didn't suffer any side effect. He regained good appetite and sleep with most of the gallbladder tumor disappeared. The metastatic lesions were also significantly reduced, and his condition gradually recovered."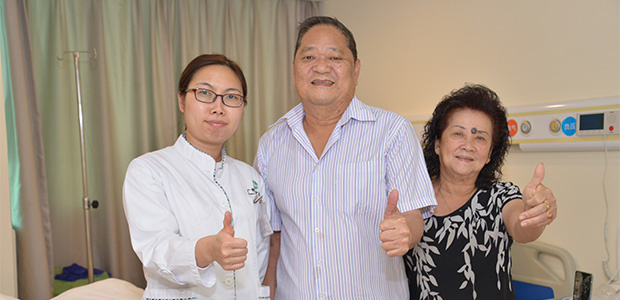 ONG LEE SING with his wife and the attending doctor
Recalling his anticancer journey, ONG LEE SING was glad that he found St. Stamford Modern Cancer Hospital Guangzhou. "In Malaysia, my family and I strived to seek cancer treatment, yet chemotherapy was the common answer local doctors gave. I have also seen that those patients who received chemotherapy suffered pain during the treatment. They had to suffer from side effects such as hair and weight loss, physical discomfort, and vomiting. Chemotherapy also kills normal cells. "
ONG LEE SING and his family all spoke highly of the hospital and his wife said, "during the whole treatment, my husband was prevented from suffering side effects of traditional chemotherapy. All medical staff was considerate and caring. The hospital provided such a comfortable environment for patients. Thank you for all."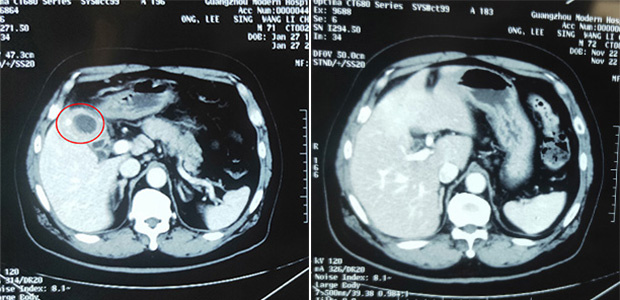 CT scans before and after the treatment
Among their stay in the hospital, they also met some cancer patients from Malaysia. They also wish them a quick recovery. ONG LEE SING gave high praise to his attending doctor, " Dr. Zhai was so thoughtful and took good care of me. Whenever I had doubt back in Malaysia, I would never hesitate to ask her. She's always so patient. "
ONG LEE SING's wife was so relieved that he was getting better. They also have plans to travel around and spend their later years.
*Surgery, in addition to the appropriate chemotherapy and radiotherapy, are effective in treating early cancer, but certain patients in late stage of cancer may not be tolerate surgery well as they can be relatively weak. A combination of carefully planned minimally invasive therapy, chemotherapy or radiotherapy can effectively reduce the side effects and discomfort of treatment and may help patient get better efficacy.