Your Life in Our Hospital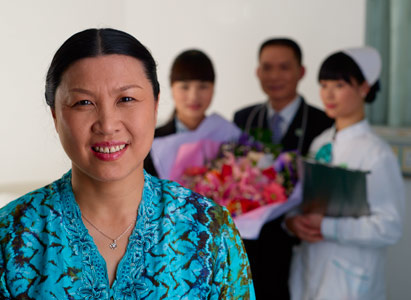 Dear Sir or Madam:
  I deeply appreciate your trust for and choose to receive treatment in Modern Cancer Hospital Guangzhou of China BOAI Medical Group.
  We respect all of your requirements here.
  I hope that you can experience our tidy, convenient, high-efficient, comfortable and human oriented service. I and whole staffs in hospital sincerely wish you:
  Wish you recover soon! Wish you be happy every day!
  Wish your families be healthy, safe and happy!
  Chairman of Board of China BOAI Medical Group: Lin Zhicheng
  Registration Service
  Registration Service of Temporary Residence for Foreign Visitors
  According to China's law, foreign visitors need to fill out Registration Form of Temporary Residence for Foreign Visitors at local police station within the first 24 hours after entering China.
  Therefore, when you and your family members arrive at our hospital, please come to our International Patients Service Centre with your passports within 24 hours, which is on the 1st floor. For your convenience, we will assist you to register. Anyone who has delayed or forgotten to register will be treated as illegal residence, and should accept the consequence may be caused.
  Room items and facilities
  When visits the hospital, reception personnel should take the patient to prearranged inpatient area. He/she can choose from various classes of wards, where the hospital provides part of daily necessities.
  We offer you some daily necessities in each room, there are disposable articles like towel, slippers etc which won't recycle after use. Others are non-disposable articles, such as refrigerator, TV and so on. Please check these articles whether they are working and right in quantity on your admission and inform the nurse if any problem. Please take care of those non-disposable articles and our nurse would count them on your discharge. If any artificial damages found, you may have to pay for it. Below is the list of non-disposable articles:
  Make a test and wait pathologic report
  After the ward is decided, reception personnel should take his/her family members (or him/her) to check in for admission on the first floor. After admission, the nurse of inpatient area will go to the patient's ward and introduce him/her the hospital briefly. Then the doctor will take a ward inspection to inquire about patient's disease condition and give him/her a physical examination, and some necessary tests such as blood test, etc. Meanwhile, doctor will inform patient about the test items, the time and the matters needing attention.
  Make the treatment plan
  After the results of all the relevant examinations for newly admitted patients coming out, tumor center director will organize relevant experts for ward inspection, consultation, and discussion to work out the best treatment plan. After that, physician in charge will present the patient or his/her family members with treatment plan, treatment schedule, and treatment costs. A treatment plan can involve several therapeutic regimens. Each treatment bears not only special medical effect, but also side effect; so before each treatment is performed, your physician in charge will explain the treatment to you in great details and get your understanding and permission.
  Chat with your doctor everyday
  Every patient is under the charge of tumor center director, inpatient area director, and resident physician, who are responsible for the patient and the whole process of treatment. If you have any question about the disease and treatment, do not hesitate to consult them for fina answer. Also, they are pleased to give you a detailed answer. Other doctors may not fully understand your situation so their answers may be not that exact.
  relax and comfortable
  Our nursing personnel will provide you with compassionate and professional care. They administer your medicines and execute the treatment as specified by your treating Doctor. Our Dieticians will be more than willing to plan your diet if required in consultation with your treating Doctor. If you have special needs or requirements please discuss the same with our Dietician. Our kitchen is well equipped to serve good balanced vegetarian meals.
  Cleaners will keep your room clean and tidy.Doctors and translator in Tumor Centre of Modern Hospital are on duty no matter day or night. If any emergency occurs, patient can find the doctor by himself (or through the nurse) to get help.
  Visa Extension and ticket booking
  If your treatment cannot be completed before the expiration date, your visa needs to be extended. Please inform us 7working days (i.e. 9 days) before its expiration. According to our country's law of exit & entry, if foreign visitors' visa expire and without renewing, the holder will be fined 500RMB/day. And, in serious case, it is possible to get criminal punishment. Therefore, please pay attention to the validity duration of your visa, if expired but without renewing, the holder should accept consequence caused. (Note: As to visa extension, one patient only can have one accompanying family member) We meanwhile serve for booking air tickets and changing the date of air tickets. We meanwhile serve for booking air tickets and changing the date of air tickets. If you need our service, please come to the International Patients Service Centre.
  If you have any question about air-ticket or visa, we welcome you to consult us on the 1st floor. Our department is on the 1st floor: International Patient Service Centre. Our working time is: 8:30am to 12:00pm, 14:00pm to 17:30pm. Our phone number is: 86-20-22221111-1005.
If you have any questions, please contact us via online consultation, email or phone call. If you find our website useful, please follow our FaceBook and YouTube, health information will be updated regularly.
Online Inquiry
CLICK HERE!
Let's Have A Healthy Life!
Video
To show you
what is cancer by
videos
Chatting on Facebook

Become a fan of us!
+Follow
We are waiting for you.