Merry Christmas Endless Joy
--Christmas Party in St. Stamford Modern Cancer Hospital Guangzhou
It was a rainy Christmas Eve when the hospital held a party in St. Stamford Modern Cancer Hospital Guangzhou for all the patients. As Christmas symbolizes the joy of coming Jesus, the savior in the earth, the party purposely prepared to send joy and blessings to patients, wishing everyone the victory in the battle against cancer and live a fulfilling life ahead. A time patients would momentarily forget what they are going through and instead simply cherish the birth of Jesus Christ. That's the spirit of Christmas!
Magic show "Christmas tree"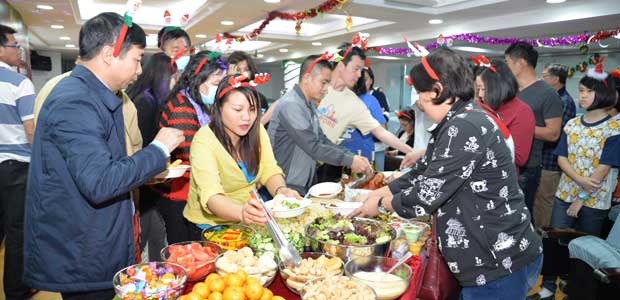 Enjoying delicious food
It has been known that St. Stamford Modern Cancer Hospital Guangzhou is one medical institution who has established a state-of-the-art minimally invasive treatment for cancer. Combining treatments with humanistic approach, the hospital strives to maintain patients with comfortable environment and guaranteed safe treatment. In 2016, thousands of patients have taken treatment here and have achieved favorable results.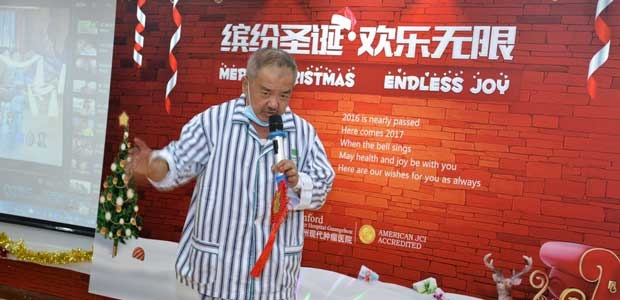 During performance
Patients were welcome by the shining and colorful lights on accompanied with melodic Christmas songs as they entered the venue. The ambiance feels like they are celebrating the season at their own homes. After praying, Christine, the daughter of an Indonesian patient shared her mother's cancer battle experience. She encouraged other patients with statements, "Don't be afraid. Let's fight against cancer together. God loves all of us here." She also expressed her best wishes, "May everybody here harvest endless joy today".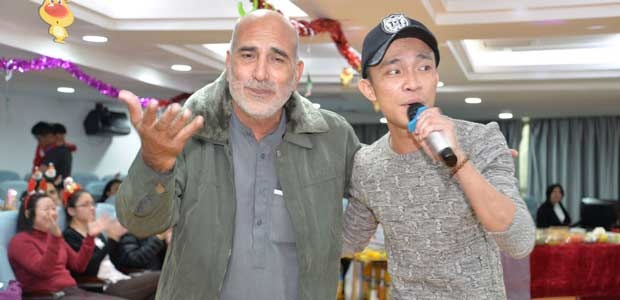 Singing and dancing together
The party started off with a song number by Christine who perfectly performed a song I'm here to express her gratitude to the medical staff and to show her love and support to other patients. Following were performances showcased by other patients presenting their talents and skills. Everyone enjoyed and participated in the performances, dancing and singing with joy. Games were also organized to entertain participants and establish friendship. Playing games such as "keep love in the circle", "who eats faster" and "pick up a ping-pong ball with chopsticks", patients interacted with each other, thus generated mutual communication and connection. Christmas party would not be complete without Santa. And as to give reward to our cancer warriors, Santa Claus sent his best regards and wishes to all patients along with prizes and giveaways.Son of one of the patients, Hang Thi Cuc, an artist from Vietnam, sang the song Friend and perfectly closed the party merrily. Over 100 patients and staff were closely-connected that afternoon.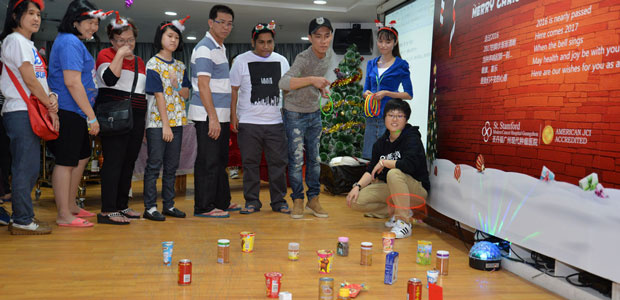 "Keep love in the circle"
Contestants won beautiful gifts
We are family in St. Stamford Modern Cancer Hospital Guangzhou and we constantly honor the service philosophy "patient-centered." In the future, St. Stamford Modern Cancer Hospital Guangzhou will devote to build a system with the highest-quality and humanistic service and also provide superior medical service for patients.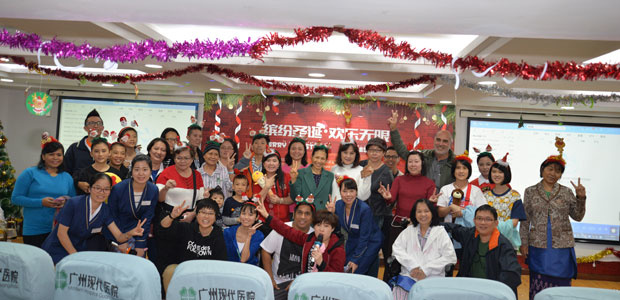 "We're family"
*Surgery, in addition to the appropriate chemotherapy and radiotherapy, are effective in treating early cancer, but certain patients in late stage of cancer may not be tolerate surgery well as they can be relatively weak. A combination of carefully planned minimally invasive therapy, chemotherapy or radiotherapy can effectively reduce the side effects and discomfort of treatment and may help patient get better efficacy.