Overseas Cancer Patients Experience the Romance of Traditional Chinese Qixi Culture in Qixi Festival
Qixi Festival, or Qiqiao Fextival, which falls on the seventh day of the seventh lunar month, is a traditional Chinese festival, which is also known as Chinese Valentine's Day. In order to provide more chance for overseas cancer patients to experience diversified traditional Chinese culture durng their hospitalization, staff in St. Stamford Modern Cancer Hospital Guangzhou specially organized a cultural tour to Zhucun, allowing patients and their families to join traditional folklore Qixi Festival activities and experience the romantic Qixi Festival and Qiqiao culture.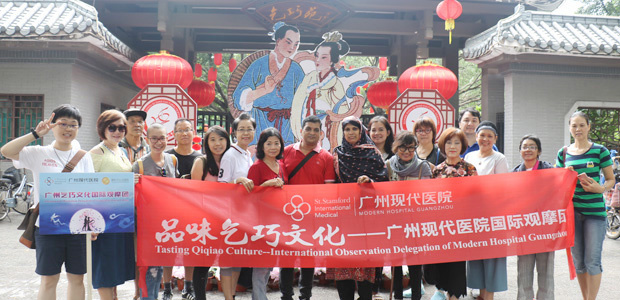 Overseas cancer patients and medical staff
It is said that the Qixi cultural activities of Zhucun has been resumed for 20 years. During Qixi Festival, Chinese folk always set up an incense burner table to worship the Weaver Girl (Zhinü), and pray for ingenuity. Besides, there are other Qiqiao activities like Thread-a-needle, The Cowherd and the Weaver Girl drama, girls gathering in the garden etc.. In order to increase the festival interaction, staff in the hospital also organized the Qixi Photography and Call for Qixi Papers, allowing patients and their families to record the best moments and share them with friends and families.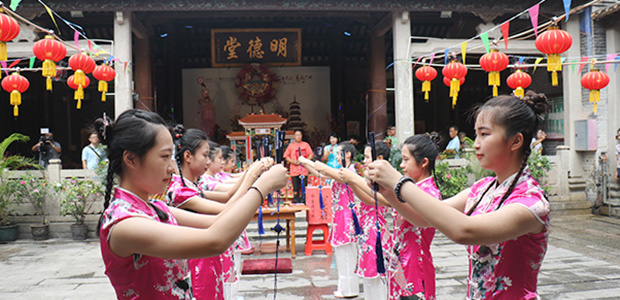 During the Qiqiao ceremony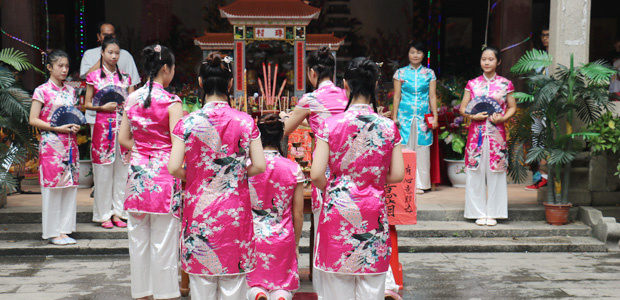 Worshipping the Weaver Girl (Zhinü)
MR. Wang Huaizhong, dean of St. Stamford Modern Cancer Hospital Guangzhou, initially advocated the activity, he noted that, "my intention is, on the one hand, to carry forward and inherit profound traditional Chinese culture at home and abroad. On the other hand, upholding the principle of 'All patient-centered', we provide cozy environment and attentive service for patients. In addition, various activities are occasionally held for patients' relaxation and recuperation.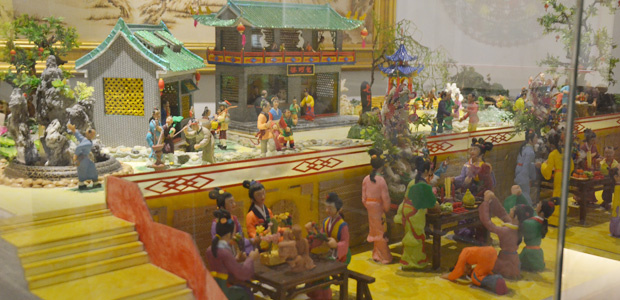 Visiting Guangzhou Qiqiao Custom Museum
Lucille is a breast cancer patient, comes from the Philippines. She joined in the activity with her husband and expressed great gratitude towards St. Stamford Modern Cancer Hospital Guangzhou and all medical staff, "Thank you for organizing colorful events. It's not been so long since my admission, I've participated in many activities, including dragon boat racing on Dragon Boat Festival and exhibition of KANTAT's painting, who is also a breast cancer patient in MCHG."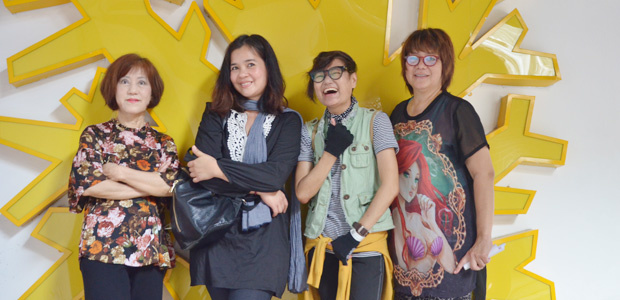 Cancer patients and their families in Zhucun
"We appreciated profound Chinese culture through all these wonderful activities, which generate my motivation to fight against cancer. Whether in China or in the Philippines beautiful things are to be explored and experienced. I should keep an optimistic mind and follow doctor's instruction. I cherish hope of my fight against breast cancer and desire for a bright future."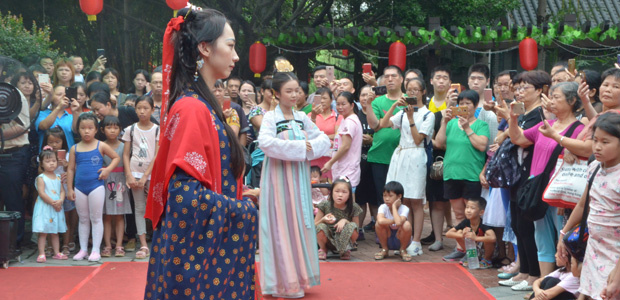 Cancer patients and their families in Han Chinese Clothing Show
Through various activities, we extend our best wishes for all patients' quick recovery and beautiful life.
*Surgery, in addition to the appropriate chemotherapy and radiotherapy, are effective in treating early cancer, but certain patients in late stage of cancer may not be tolerate surgery well as they can be relatively weak. A combination of carefully planned minimally invasive therapy, chemotherapy or radiotherapy can effectively reduce the side effects and discomfort of treatment and may help patient get better efficacy.