Baggage Services of Airlines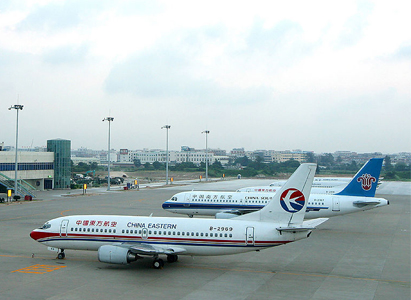 1. In order to ensure your trip smoothly, passengers need to pay attention to the restrictions on free baggage allowance:
  1)40 kg for first class passengers(including checked and carry-on baggage)
  2)30 kg for business class passengers(including checked and carry-on baggage)
  3)20 kg for economy class passengers(including checked and carry-on baggage)
  4) Overweight baggage is the exceeding portion to the free baggage allowance of checked and carry-on baggage, and should be charged about CNY 90 per kg for overweight ( Every airlines may charge differently, for more information please contact your airline for further information ).
  Tips: Some airlines have different restrictions for free baggage allowance, please pay attention to the related information on your tickets or contact your airline for further information.
  2. Carry-on Baggage: The passenger holding a First-Class ticket may carry two pieces of baggage. The passenger holding a Business-Class or Economy-Class ticket can only carry one piece of baggage. The dimension of each baggage cannot exceed the size of 20x40x55 cm. The total weight cannot be larger than 5 KG.
  3. Articles that cannot be transported
  1. Liquid article is not allowed to be carried, except for few cosmetics used in your trip. Those liquid cosmetics in hand baggage are subject to the following restrictions:
  The liquid is in a container with a maximum volume of 100ml.
  All liquid containers meeting the maximum volume of 100ml can be fitted comfortably into a transparent, re-sealable 1 liter plastic bag, measuring no more than 20 x 20cm.
  The plastic bag should be presented separately at security.
  2. In order to guarantee the personal and property safety of citizens, controlled knives are strictly controlled by laws in China. Consequently you are forbidden to take those knives with you when boarding the plane. The edge tools or dull tools that do not belong to the controlled knives can be transported as checked baggage.
  3. Other items that are strictly controlled to take or transport by laws and regulations in China are forbidden to transport.
If you have any questions, please contact us via online consultation, email or phone call. If you find our website useful, please follow our FaceBook and YouTube, health information will be updated regularly.
Online Inquiry
CLICK HERE!
Let's Have A Healthy Life!
Video
To show you
what is cancer by
videos
Chatting on Facebook

Become a fan of us!
+Follow
We are waiting for you.