Parliament Delegation from Cebu City visited St. Stamford Modern Cancer Hospital Guangzhou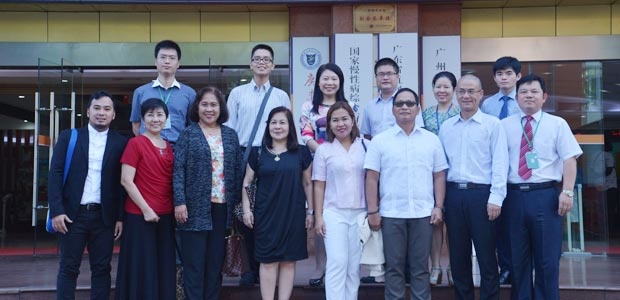 The delegation and hospital leaders
On July 28th, a 8-person delegation from Cebu City, whose member includes Joel Capili Carganera(distinguished Councilor of Cebu city) and his wife Audrey Laude Carganera, Ester Grijaldo Concha(Secretary of Cebu Government Office), Rosa Co Sy(Chairman of the Filipino-Chinese Student Union of Cebu) and Chito Marcojos Recamadas(Honor President of the Philippines Personnel Management Alliance) and Rogelio Englis Vallena(Senior Editor of SunStar), as well as Harrison Guro Lu(Medical Marketing Manager of Intellicare) and Rosario Quano Arco(Director of medical headquarters in University of San Carlospaid). This visit will not only promote the development and spread of minimally invasive therapy, but also reach the co-construction and sharing of minimally invasive technology under the framework of "One Belt, One Road".
In the morning, Mr. Tu Xiaoming (the General Manager) on behalf of the whole hospital, delivered a speech on the meet-and-greet to extend our welcome to the delegation for their visiting. Councilor Joel responded by expressing their sincere gratitude and their expectation to the visit. Both sides exchanged presents at the end of the meet-and-greet.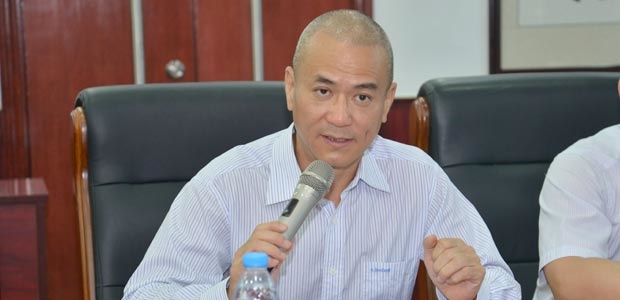 General Manager Mr. Tu is delivering a speech
In recent years, China has been vigorously implementing the "One Belt, One Road" strategy, and our hospital has kept responding actively to this strategy. After setting up a medical assistance center in Manila several years ago, we have set up another medical assistance center in Cebu city this year, hoping to achieve further medical cooperation and promote global medical information sharing, so as to help more patients in different countries.
In order to help the delegation get a full understanding of our advanced minimally invasive therapy, a live surgery of interventional therapy was specially arranged in the morning, along with professional interpretation given by experienced doctor Mr. Zha Huangqi. In the afternoon, chief expert Prof. Peng Xiaochi gave a introduction of our advanced minimally invasive technologies, including cryotherapy, nanoknife, photodynamic; while Director Bai Haishan gave a introduction about the seed implantation and the newly introduced 3D printing template assisted seed implantation. After the introduction, the delegation visited our hospital as well as cancer patients from the Philippines.
The delegation is visiting the hospital and inpatients.
This visit has successfully built up a bridge for the medical cooperation between Guangzhou and Cebu. As the first China-Singapore Joint-Venture JCI cancer hospital, we have set up dozens of medical assistance center in several Southeast Asian countries and reached medical cooperation with them. Since our establishment, we've trying our best to strengthen medical communication and cooperation with different countries, hoping to promote the innovation and development of minimally invaisve cancer treatment to help more cancer patients all over the world.
*Surgery, in addition to the appropriate chemotherapy and radiotherapy, are effective in treating early cancer, but certain patients in late stage of cancer may not be tolerate surgery well as they can be relatively weak. A combination of carefully planned minimally invasive therapy, chemotherapy or radiotherapy can effectively reduce the side effects and discomfort of treatment and may help patient get better efficacy.