Communication on Anticancer Technology, Making Joint Efforts for Human Health
Major Media of Thailand Paid Visit to St.Stamford Modern Cancer Hospital Guangzhou
On Nov. 2, a group headed by Mr. Chaiwat Wanishwattana, president of China and Thai Media Association, paid visit tour to St.Stamford Modern Cancer Hospital Guangzhou. The group consists of representatives of Thailand major media , including Daily News、Nation TV, Thailand Channel 5 and Bangkok Economic News. The visit aims to strengthen China-Thai cooperation and exchange on medical technology, build a platform for international medical cooperation and help more Thailand patients with latest cancer treatment.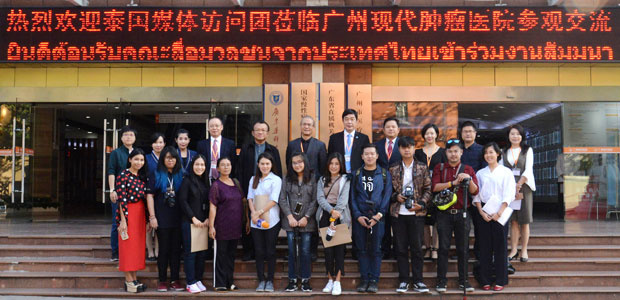 Representatives of Thailand media and head of St.Stamford MCHG
In the morning, the head of St.Stamford Modern Cancer Hospital Guangzhou, the general manager, Tu Xiaoming, dean Wang Huaizhong and operation dean Lin Shaohua, attended a meeting with honored guest from Thailand. Operation dean, Lin Shaohua, expressed his warm welcome and conducted a brief introduction of progress the hospital has achieved in recent years.
He also noted that viewing from the present situation of anticancer technology, both doctors and researchers should take the responsibility to perform clinical trails and promote technology development, furthermore, media also shares the duty to arouse public concern over cancer prevention and cancer treatment and encourage patients to fight cancer bravely. "We sincerely hope that our concerted efforts will bring people's wellness and make contribution to defeat the common enemy-cancer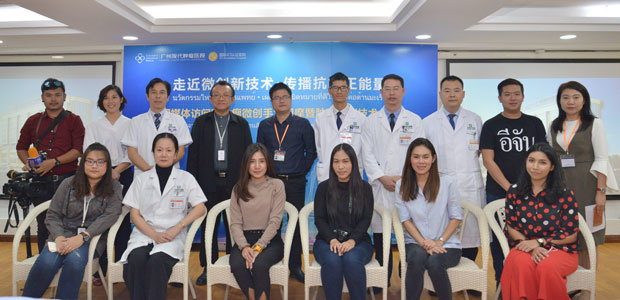 Interviewing the cancer experts of Multidisciplinary Team
Mr. Chaiwat Wanishwattana, the editor of Bangkok Economic News and president of China and Thai Media Association said cancer is still the main killer in Thailand. Due to shortage of technologies for cancer prevention and treatment, seeking for effective cancer treatment for patients in Thai is still to be resolved. Through the visit to St.Stamford Modern Cancer Hospital Guangzhou, he wishes new technology and ideas will access to Thai people and benefit them with health and happiness.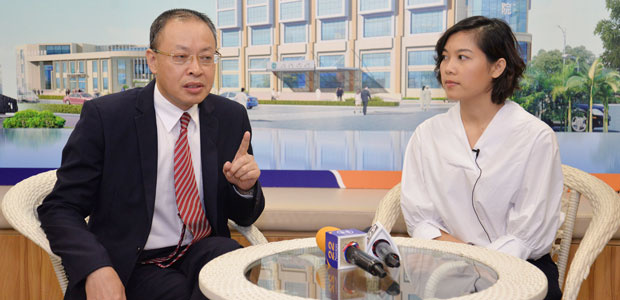 Interviewing dean Wang Huaizhong
After the meeting,in order to get well known of the hospital, the media group conducted interview to cancer experts of Multidisciplinary Team and dean Wang Huaizhong and several Thai patients, additionally, they also watched live operation procedure of interventional therapy and nanoknife. Afterwards, they were surprised by the well-equipped, hotel-like ward and the international long-distance consultation center.
Traditional Loi Krathong Festival in Thailand is scheduled on Nov. 3. In the afternoon of Nov.2, In order to help patients relax and enforce the efficacy after treatment, a celebration of Loi Krathong Festival was held in St.Stamford Modern Cancer Hospital Guangzhou. The visiting group also participated in the activity and were greatly impressed by the humanistic services.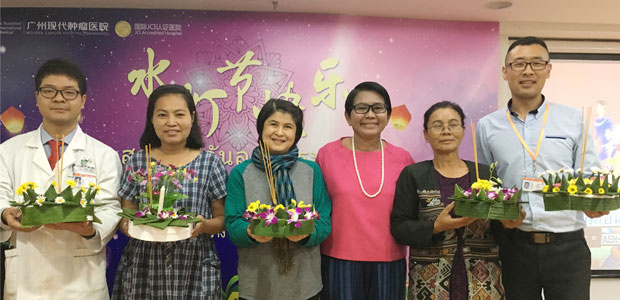 Celebrating Loi Krathong Festival with patients
In 2014, St.Stamford Modern Cancer Hospital Guangzhou had successfully passed JCI accredition. Three years later, the complement of re-accredition also strongly improves that the healthcare, service and management model has gained worldwide recognition. With enduring persistence and unswerving efforts, St.Stamford Modern Cancer Hospital Guangzhou will continue to serve and benefit more patients with advanced treatment.
*Surgery, in addition to the appropriate chemotherapy and radiotherapy, are effective in treating early cancer, but certain patients in late stage of cancer may not be tolerate surgery well as they can be relatively weak. A combination of carefully planned minimally invasive therapy, chemotherapy or radiotherapy can effectively reduce the side effects and discomfort of treatment and may help patient get better efficacy.