Join US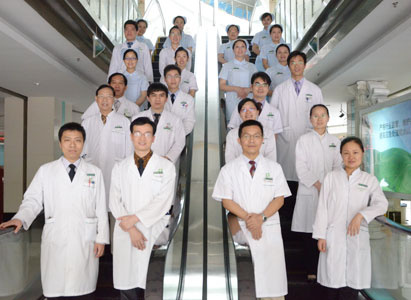 As an advanced medical brand institute concerning foreign affairs, Modern Cancer Hospital Guangzhou, located at the foot of the 5A scenic spot Baiyun Mountain in Guangzhou, is a modern comprehensive international hospital for "modern management, humanized service, digitized information and international image"under BoAi Enterprise Group, the biggest transnational medical group in China.
  With a total of 20,000 m2 construction areas and over 200 beds, the hospital has established departments of oncology, plastic surgery, gynecology, infertility, Chinese and western medicine, traditional Chinese medicine, internal medicine, stomatology, surgery, rehabilitation and physiotherapy, ENT and more, along with auxiliary departments including Medical Imaging Center and Clinical Examination Center. Low-mid-high level talents in the hospital have their ideas with excellent team quality and full energy. The employees make forward to establish "the strongest medical group" through unity of purpose and effort.
  In terms of enterprise cultural construction, the hospital advocates people-oriented idea, rich extra-working culture life, flexible training mechanism and ideal benefit system. The development of employees and enterprise has achieved a win-win situation for many years.
  In the thought of construction and development, the hospital continuously strengthens subject construction, takes the sustainable development path and emphasizes connotation construction and social effect basing good faith. The tumor center breaks through traditional treatment methods like chemotherapy, radiotherapy and surgery and possesses mature abilities in minimally invasive therapy, such as radio frequency therapy, interventional therapy, cryotherapy, photodynamic therapy and natural therapy, and the treatment technology has basically been consistent with the domestic leading level.
  Over the years, Modern Cancer Hospital Guangzhou is rooted in China and serving the international community. With over one million of patients treated, including nearly 300,000 foreign patients, Modern Hospital Guangzhou has set an example of Chinese medical brand in many countries and become the model of success in medical industry.
  Modern Staff Quality: Service-oriented, Quality-oriented, Effectiveness-oriented, Innovation-oriented.
  Modern Development Purpose: Patient Satisfied, Employee Satisfied, Enterprise Satisfied, Society Satisfied
  Modern Ideas of Client Service: Clean, Convenient, Efficient, Comfortable, Humane
  Modern Team Culture: Friendly& Helpful, Harmonious &Tolerant, Practical& Efficient, Excellent &Innovative
  Modern System Culture: Scientific & Reasonable, Executed strictly
  Modern Talent View: Personal Character + Value=Talent
  Due to business expansion, we welcome professional elites to join us to build a century-old brand:
  Cancer expert: Master degree or above of clinical medicine; Associate senior professional title above; A wealth of working experience in Department of Oncology; Good communications skills; Familiar with the latest treatment technologies; Fluent in English; Working experience of 3A hospital above is preferred.
  Resident physician of Department of Oncology: Bachelor degree or above of clinical medicine;; Above primary professional titles; Solid basic professional knowledge; At least three-year-experience of working in Department of Oncology; Excellent sense of service and good communication skills; English skills are preferred.
  Overseas expert: Bachelor degree or above of clinical medicine or medical technology; Intermediate titles or above; Easy-going with good communication skills and rich professional knowledge; Capable of reviewing medical films; English skills are preferred.
  Project manager: College degree or above; Majored in marketing or with relevant medical background; Good sense of marketing; Excellent abilities of coordination, management and communication; Willing to work overseas for a long period of time; Experience of hospital marketing is preferred.
  Positions above can provide you with good salary and great opportunities for your career.
  Send your personal resume to [email protected]
  Address: 42 Lianquan Road, Tianhe District, Guangzhou
  Tel: 020-22221111-8810(Ms.Pan) or 8866(Ms.Kuang)
  Web: https://www.asiancancer.com/
If you have any questions, please contact us via online consultation, email or phone call. If you find our website useful, please follow our FaceBook and YouTube, health information will be updated regularly.
Online Inquiry
CLICK HERE!
Let's Have A Healthy Life!
Video
To show you
what is cancer by
videos
Chatting on Facebook

Become a fan of us!
+Follow
We are waiting for you.