Face Cancer
--Stay Positive and Keep Calm
Soon, Wang Youhua admitted to the hospital and the modified radical mastectomy on her right breast was quite successful. Although suffered from constant diarrhea, her body recovered very fast. The good physical constitution and regular exercise helped her a lot. After that she kept a regular check every 6 months or once a year, with all results showed there were no abnormity. According to experts from Modern Cancer Hospital Guangzhou, when coping with breast cancer, one should keep a healthy life style as well as a positive attitude.
1. Keep a good mood. Bad mood will affect many systems in human body. Don't be panic when facing cancer. Stay positive and be happy. Learn to face up cancer with a positive attitude and dealing with your stress.
2. Keep regular exercise. Spend half an hour to do exercise every day, such as a walk, jogging, swimming, riding or dancing. Endorphins released in your body during the exercise will make you feel happy, which is good for your health.
3. Watch your weight. Eat a balanced diet to control your body weight. Everyday you should eat at least 500g of fresh fruits and vegetables, as well s 8-10 cups of water. Avoid eating salty foods or smoked foods. Limit your intake of red meats such as beef or mutton. Drink less and replenish your Vitamin D.
Interventional Therapy
--The Proper Treatment to Choose
At the end of 2011, Wang Youhua did a physical examination in Modern Cancer Hospital Guangzhou and the result showed that there were malignant tumors in her right breast. Then she remembered that more than ten years ago, her sister-in-law had a resection of breast cancer in a hospital in Guangzhou, but the effect turned out to be very bad. When she found that the interventional therapy and biological immunotherapy provided by Modern Cancer Hospital Guangzhou would have little trauma and the recovery would be very fast, she understood that it was a right choice for her.
On November 9th, 2011, Wang Youhua received her modified radical mastectomy. Then on November 22nd, she received her first minimally invasive therapy. This operation was very successful and the patient did not feel much pain during the treatment. According to the treatment plan established early, she had her second interventional therapy when she came back to the hospital for a follow-up check. "I have seen many reports about cancer treatment. I know minimally invasive therapy is an advanced cancer treatment. It is very good for the recovery of all cancer patients." said Wang Youhua.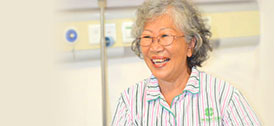 Biological Immunotherapy
--Support a Healthy Future
Having follow-up check is a good way to prevent the metastases of breast cancer. Wang Youhua believed that if she can insist on doing recheck, biological immunotherapy as well as regular exercise every day, her cancer will not have a big effect on her health. "Now she walks lightly like a young woman." said her doctor Hu Ying.
At present, Wang Youhua just needs to do recheck. On July 26th, she came back to the hospital accompanied by her husband for a follow-up check, and the result showed all things are normal. On July 31st, the old couple had their golden wedding day celebrated in a well-decorated ward on the 4th floor in the hospital. When they accepted the flowers from the medical staffs, they were so happy, with happy smiles on their faces. They then expressed their sincere thanks to the hospital, and to all medical staffs who contribute to them the most considerate services.
"Advanced technology would improve the immunity of the patients and save their life, but the courage for life should be created by both the medical staffs and the patients themselves. The rational and positive attitude of Wang Youhua towards cancer is worthy learning by all cancer patients. We wish her and her husband a happy golden wedding day, and wish all cancer patients follow her example, to love life, and to welcome new life with a positive attitude." said Mr. Peng Xiaochi.