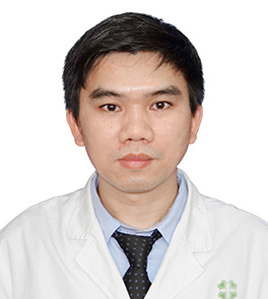 Pang Anneng

Position: Physician
Title: Physician
Specialty: Chemotherapy, endocrine therapy, molecular targeted therapy for various malignant tumors, such as stomach cancer, colorectal cancer, brain cancer, breast cancer, liver cancer, lung cancer, abdominal tumor etc.
Introduction
As a bright, frank and honest doctor, Dr. Pang Anneng always treated patients with his passion, carefulness and patience during his 11 years of clinical work. In daily work, he not only pays attention to accumulate experience from cases, but also buys many medical books to learn more advanced medical theories. He holds that medical knowledge is endless and for better development, it is necessary to open up the vision, know more famous doctors and advanced clinical technologies.
Education Background
From 2001 to 2004, Dr. Pang studied in Guangxi Medical University.
From 2010 to 2013, he got further study in Sun Yet-San University of Medical Science
Medical Experience
In past few years of work in Modern Cancer Hospital Guangzhou, Dr. Pang has mastered stomach cancer, intestinal cancer, brain cancer, breast cancer, liver cancer, lung cancer, abdominal tumors and technologies like chemotherapy, incretotherapy, molecular target therapy for kinds of malignancy. With rich clinical experience in combined treatment for cancer, he can combine the technologies in both traditional and minimally invasive treatments to plan out treatment based on individual condition.
Academic Achievement
Dr. Pang Anneng always actively participates in academic exchange meetings on oncology all over the country, and shares cancer treatment experience with excellent oncology specialists to improve personal capacity.
Research Technology
Minimally invasive targeted treatment for solid tumors
Chemotherapy
Molecular targeted therapy
Research Area
Solid tumor
If you have any questions, please contact us via online consultation, email or phone call. If you find our website useful, please follow our FaceBook and YouTube, health information will be updated regularly.
Online Inquiry
CLICK HERE!
Let's Have A Healthy Life!
Video
To show you
what is cancer by
videos
Chatting on Facebook

Become a fan of us!
+Follow
We are waiting for you.