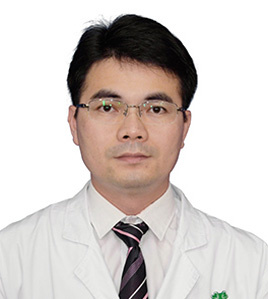 Zhong Guiqiang

Position: Resident Doctor
Title: Attending Doctor
Specialty: Be expert in most kinds of oncological surgeries and combination of TCM and western medicine, especially with rich clinical experience in treatment for esophageal cancer, lung cancer, liver cancer, breast cancer and abdominal tumor.
Introduction
Dr. Zhong is pragmatic and dependable, always with tender smile on his face, which has been praised as a remedy for patients by his colleagues. To a great extent, medicine is an empirical knowledge branch. And the accumulation of empirical knowledge needs, most likely, a lengthy period through day-to-day solid work, to which Mr. Zhong has been applying his faith and during which his sticking to his post earns himself much respect around patients he treated and their families.
With more than ten years of clinical experience, Dr. Zhong deeply understands that a good doctor requires not only superb professional skills, but also dedicated devotion with which doctors can do their work better. Besides, doctors should communicate more with patients so as to enhance mutual trust and understanding.
Education Background
Dr. Zhong graduated from Guangxi Traditional Chinese Medicine College.
He studied in Southern Medical University for master degree.
He has been to the Sixth Guangxi Medical University Affiliated Hospital, Yulin First People's Hospital for further study of general surgery and bone traumatology treatment technology.
Medical Experience
Dr. Zhong has worked on surgery for more than 10 years.
He has participated in the Annual Conference of the Guangxi Hepatobiliary Surgery, Guangxi orthopedics Annual Conference, World Cancer Conference, Southeast Asia Tumor Forum Conference etc.
Research Technology
Surgery for tumor
Combined treatment of traditional Chinese medicine and western medicine
Research Area
If you have any questions, please contact us via online consultation, email or phone call. If you find our website useful, please follow our FaceBook and YouTube, health information will be updated regularly.
Online Inquiry
CLICK HERE!
Let's Have A Healthy Life!
Video
To show you
what is cancer by
videos
Chatting on Facebook

Become a fan of us!
+Follow
We are waiting for you.