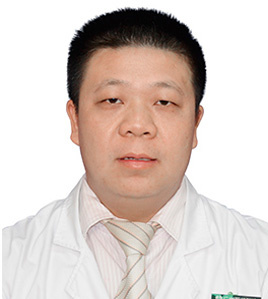 Wang Zenghai

Position: Physician
Title: Physician
Specialty: Comprehensive treatment for lung cancer, liver cancer, lymphoma etc.
Introduction
After Dr. Wang Zenghai graduated from Guangzhou University of Chinese Medicine in 2003, he has been being devoted himself in clinical work. In daily work, he is good at seizing new knowledge from the cases he encounters to master the principle of cancer treatment and to apply it to practical treatment. Besides, Dr. Wang pays more attention to patient's psychological condition. Via his patience and heartfelt care, he strengthens patient's confidence to fight against cancer.
Education Background
Sep. 2000 - Jul. 2003 Guangzhou University of Chinese Medicine
Medical Experience
Dr. Wang has worked as a doctor for 12 years. He is conscientious and does his best to care about patients' physical and mental condition. During the process of treatment, he constantly summarized and accumulated experience. Besides, he sizes every second to study the advanced theories and treatment technologies after work. In his spare time, what he does most is reading related information and book about the cases he met. He said, only via that, can we bring patients more professional, accurate and effective information to gain recognition from patients and their families.
Academic Achievement
In order to exchange with experts at home and abroad, Dr. Wang also regularly participates in domestic and international cancer conferences to learn from others' medical experience and knowledge.
Research Technology
Minimally invasive targeted treatment for solid tumors
Research Area
Solid tumor
If you have any questions, please contact us via online consultation, email or phone call. If you find our website useful, please follow our FaceBook and YouTube, health information will be updated regularly.
Online Inquiry
CLICK HERE!
Let's Have A Healthy Life!
Video
To show you
what is cancer by
videos
Chatting on Facebook

Become a fan of us!
+Follow
We are waiting for you.