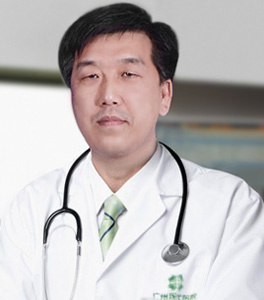 Bai Haishan

Position: Director of Minimally Invasive Therapy Department
Title: Attending Doctor
Specialty: Minimally Invasive Therapy for cancer
Introduction
Bai Haishan, working in clinic for more than 20 years, has accumulated rich experience of clinical cancer treatment from differential diagnosis of intractable cases. He is accomplished in diagnosing and comprehensively treating cancers like breast cancer, liver cancer, lung cancer, stomach cancer and colorectal cancer, etc and has profound scholastic achievement in minimally invasive targeted therapy research.
Director Bai upholds the principle of being humane and individualized and focuses on patient-oriented concept to take patients' best interests into consideration. While making the treatment plan, he always bases on patient's individual condition, pathologic type and stage of the cancer, combining with his rich medical treatment experience. Director Bai has treated more than 2,000 cancer patients and gained compliments from patients.
Education Background
In 1992, director Bai graduated from Baotou Medical School.
During July 2002 to July 2003, director Bai wen to the Sun Yat-sen University Cancer Hospital for further study of minimally invasive therapy.
Medical Experience
Director Bai has worked in clinic for more than 20 years.
Director Bai takes parts in academic research constantly. He has been invited to Beijing, Shanghai, and many other national medical technology-leading cities to attend cancer conferences, minimally invasive therapy meetings.
Member of China Anti-Cancer Minimally Invasive Therapy Association
Member of Radioactive Particle Study Group
Research Technology
Minimally invasive therapy for various solid tumor
Research Area
If you have any questions, please contact us via online consultation, email or phone call. If you find our website useful, please follow our FaceBook and YouTube, health information will be updated regularly.
Online Inquiry
CLICK HERE!
Let's Have A Healthy Life!
Video
To show you
what is cancer by
videos
Chatting on Facebook

Become a fan of us!
+Follow
We are waiting for you.