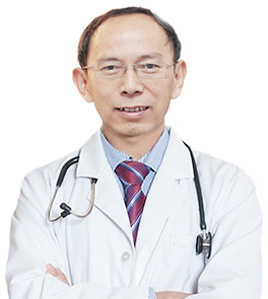 Ke Liqun

Position: Director of Specialist Consultation Center of Modern Cancer Hospital Guangzhou & Guest Professor of Southern Medical University
Title: Chief Physician
Specialty: Comprehensive treatment for cancer treatment such as minimally invasive targeted therapy
Introduction
With thirty years of practicing medicine experience, Prof. Ke has dealt with thousands of cancer cases and accumulated rich experience of cancer diagnosis. He understands what cancer patients think and how they feel. Thus, he combines medical theory with medical skill to study medicine, pay attention to medical practice and have courage for innovation. Prof. Ke has summed up "four combinations" principle, "combination of treating symptoms and root cause", "combination of partial therapy and general therapy", "combination of western medicine and Chinese medicine", "combination of treatment and rehabilitation". Also, he invocated and applied "four joint" precise strike therapy, "targeted cancer stem cells, precisely killing cancer cells, deeply activation of immune cells, positive regulation tumor microenvironment". This therapy lets cancer patients at home and abroad, who suffer from the torture of cancer, experience the convenience of effective therapy with low-toxic safety, no relapse. He also explores and makes great contribution to innovation and development of oncology therapeutics.
Education Background
1982-1984 Anhui Bengbu Heath School
1985-1988 Anhui Medical University, majored in medical administration
1999-2000 Further study of minimally invasive technology in China-Japan Friendship Hospital and Jiangsu Province Hospital
Medical Experience
1989-1998 Worked on medical administration in Anhui Qingyang hospital
2001-2003 Worked as the oncology director of Fujian Putian National Hospital and promoted to the hospital president
2004-2008 Successively worked as the oncology director of Beijing Zhengguo Group and vice-president in Shanghai hospital and Zhuhai hospital
2009-2011 Directly took part in building up the Zhuhai Cancer Hospital
2011-2012 Work as vice-president of Zhuhai Luda Hospital
2013-2014 Appointed as guest professor of Southern Medical University and the international consulting center expert of Modern Cancer Hospital Guangzhou
2014 Worked as oncology director of Beijing Armed Police Hospital
January, 2015 to Now Has Worked as international consulting center expert of Modern Cancer Hospital Guangzhou and delivered speeches in Thailand, Indonesia, Saudi Arabia, Malaysia, Vietnam, etc.
Vice-president of Zhuhai Anticancer Association at the first council
Member of Zhuhai Cancer Rehabilitation Association Council
Committee of Chinese Medical Association of Oncology in Zhuhai
Guest Professor of Southern Medical University
Academic Achievement
Cancer Precaution and Rehabilitation (Cowrite with Wang Zhenguo)
Clinical Journal of Anhui Traditional Chinese Medicine----One Case of Combined Therapy of Chinese Medicine and Western Medicine for Pathologic Q Wave
Hazards of Transferred Tumor ---- Platelet Activation Study (Cooperated with Sun Dachun) (Awarded the second prize of Guangdong Province scientific technology improvement in 2005)
Fudan University Journal of Medical Science---- Study of Platelet Activation Landmark Standard Measure of Bronchogenic Cancer (Cooperated with Zhang Aihua)
Dr. Ke Answers Cancer Patients' Questions (Electronic Edition)
Research Technology
Minimally invasive targeted therapy for solid tumors
Research Area
Stem cell
If you have any questions, please contact us via online consultation, email or phone call. If you find our website useful, please follow our FaceBook and YouTube, health information will be updated regularly.
Online Inquiry
CLICK HERE!
Let's Have A Healthy Life!
Video
To show you
what is cancer by
videos
Chatting on Facebook

Become a fan of us!
+Follow
We are waiting for you.