Join hands in medical cooperation, set up a bridge of friendship between Chinese and Bengalese
  On September 21, 2012 a number of precious guests from neighboring Bangladesh -- reporter representatives of various famous media in Bangladesh, paid a visit to Modern Cancer Hospital Guangzhou for comprehensive and deep understanding of Modern Cancer Hospital Guangzhou and its belonging invested enterprise Boai Medical Group. After this visit, Bangladeshi media delegation would introduce the most advanced treatment technologies in Modern Cancer Hospital Guangzhou and the humanism of "love without borders" hold by Boai Medical Group to Bangladeshi people, with a contribution to local medical industry in bringing in the most advanced technology and philosophy, to Bangladeshi people's health by the way of friendly medical cooperation, and to deepening the friendship between Chinese and Bengalese.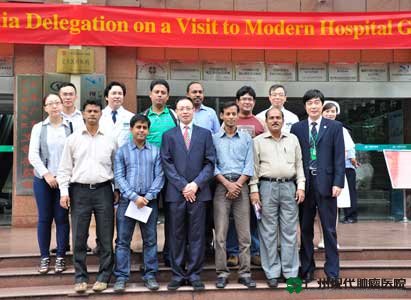 Joint photo of Bangladeshi Media Group and leaderships of Modern Cancer Hospital Guangzhou
  Welcome Bengalese friends with enthusiastic heart
  This time the Bangladeshi media delegation members were from famous local media such as NTV, Prothom-Alo. Com、The Daily Ittefaq、Channel I、Banglanews24、Naya Diganta, etc. President Wang Huaizhong, vice president Lin Shaohua, Chen Bing and chief of oncology department Dr. Peng Xiaochi met them and expressed the warm welcome to this delegation. By the accompany of vice president Chen Bing and interpreter, Bangladesh media delegation took a look around of outpatient reception center, inpatient wards, each clinical departments, ward facilities and other service facilities, and had a very intuitive understanding of overall environment and function of Modern Cancer Hospital. After that, the Bangladeshi media delegation watched a series of videos about the minimally invasive therapy of modern oncology, got the answers relevant to cancer treatment and technology from Dr. Peng, and expressed their admiration to the minimally invasive therapy of Modern Cancer Hospital Guangzhou. In addition, they had a comprehensive understanding and high appreciation of humanistic care of this hospital, international service, and friendly help for oversea patients by communication with President Wang.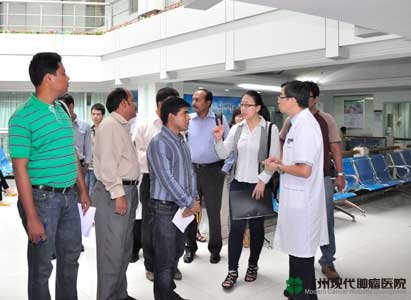 The media delegation visited Modern Cancer Hospital Guangzhou by the leading of vice president Chen Bing
  Pioneer of cancer treatment -- minimally invasive therapy
  Modern Cancer Hospital Guangzhou incessantly explored the latest technology in cancer treatment field and occupied the leading place in specialized cancer treatment. Applying 13 minimally invasive treatment technologies in clinical treatment and research, Modern Cancer Hospital Guangzhou made extraordinary achievements especially in interventional embolization, Ar-He knife (cryotherapy), particle knife, natural therapy, etc. Dr. Peng have answered all the questions about minimally invasive treatment raised by the delegation, emphasized its advantage in directionally killing local tumor without hurting surrounded normal tissues and destroying immunity, rooting out over-treatment, releasing complaints, prolonging lifetime, improving quality of life and enhancing long-term treatment effect, compared to conventional operation and systemic chemotherapy. Mr. Cary Adams, the CEO of UICC which is the largest global non-government anticancer organization, highly appreciated achievement and progress for cancer treatment made by this hospital.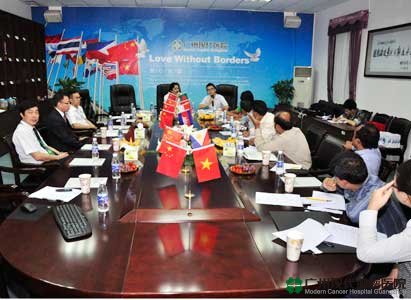 Dr. Peng was answering questions of the minimally invasive treatment and technology to the media delegation
  Achiever of private medical enterprise, Practitioner of the concept of love without borders
  Modern Cancer Hospital Huangzhou has always insisted in the corporate philosophy of "love without borders" which was hold by Boai Group since its inception in 2005, according to introduction of director Wang. In January 2006, Boai group had set up international affair department and had propagated the medical service to overseas. It was at that time, Modern Cancer Hospital Guangzhou kept up the pace to opening overseas market and then overseas patients became the service objects with maximum number. Currently over 80 percent patients were from Southeast Asian countries. Modern Cancer Hospital Guangzhou had become a big international family that many other countries patients gathered there. In order to make overseas patients feel at home and do not feel lonely in a foreign land, this hospital not only provided advanced diagnosis and treatment technology, but also cost-effective and attentive services including visa guideline, free pick-up and send-off, free fruits for arrival, birthday party celebration, accompanied shopping, medical tourism and commemorative CD when return home. What's more, in order to provide more convenience to the patients who want to have treatment in this hospital, branch offices in Indonesia, Vietnam, Philippines, Bangladesh, and Cambodia were set up one by another,. When director Wang was asked why you wanted to set up branch office in Bangladesh, he sincerely answered that due to limited development of medical technology, many middle-late stage cancer patients in Bangladesh can't get effective treatment; as a friendly neighboring country, we should help Bangladeshi patients when our medical technology was improved. The office was what they needed.
  At the end of the visit, President Wang gave the media delegation a gift which presents the best wish to further medical cooperation between Chinese and Bangladesh, and more deep and rugged friendship. The wish was similar to the original purpose of Bangladesh media delegation.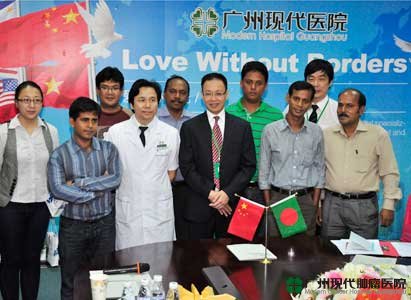 President Wang gave the present to the media delegation
If you have any questions, please contact us via online consultation, email or phone call. If you find our website useful, please follow our FaceBook and YouTube, health information will be updated regularly.
Online Inquiry
CLICK HERE!
Let's Have A Healthy Life!
Video
To show you
what is cancer by
videos
Chatting on Facebook

Become a fan of us!
+Follow
We are waiting for you.