Continue the Love to Fight Cancer
  In the afternoon of Oct. 25, 2012, a donation for little Duoduo, the 4-year-old Vietnamese patient, was held in the lobby of Modern Cancer Hospital Guangzhou. This was the second donation after the first on Jul. 13, from which hospital had donated 9500RMB. About 20, 000 RMB in all was raised for this poor family through these two donations, which greatly helps the family on their economy.
  The little patient and mother, donation box, the donors moving in long line…this scene moved another foreign friend, who also contributed his love and jointed the line for donation. When he was asked why he did that, this friend answered: "It moves me so much. What a poor body. And I hope this money can help him, he can recover soon, because he deserves a better future. "
  After the donation, the Director of hospital Wang Huaizhong handed over the money to the mother. When holding this mother's hand, Director Wang said:" we should help the patient as we can. We are very happy to see little Duoduo's condition improves. Even the donation is not enough to support the treatment, our Boai Funds would help him too. We will try our best to help." The mother of little Duoduo said: "I don't know what to say at such a moment. Thanks for the leaders and medical staff of hospital for taking care of my son and offering him treatment. Thanks very much for all your help. "
  This donation attracted many medias who wanted to interview Director Wang, Dr. Dai and the responsible doctor, Dr. Lai to know more details about the medical condition and treatment of little Duoduo. They were curious to know why Modern Cancer Hospital Guangzhou conducted this donation for a foreign patient. Director Wang replied:" Love is borderless. Most patients in our hospital are from Indonesia, Vietnam, Bangladesh, even the country like Singapore etc. Each patient has a different story. We not only offer patients medical treatments and service, if they got problem on economy, we will also try to offer help as we can. "
  The little patient went back to ward with his mother to have fruits and play toys after donation. At this moment, he looked like a common child. The mother said:"before he came here for treatment, I was very sad to watch my son suffering from this pain. But the leaders and medical staff here concern us so much, and my son's condition is under control, I'm very happy. Thanks for everyone here."
  The love of Modern Cancer Hospital Guangzhou would last forever to help the patient in need, though the donation ended.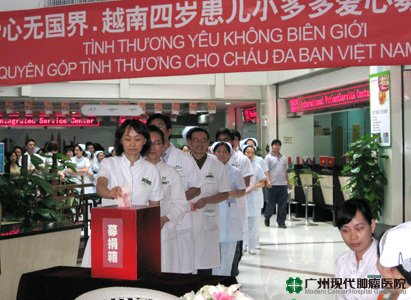 The Line for Donation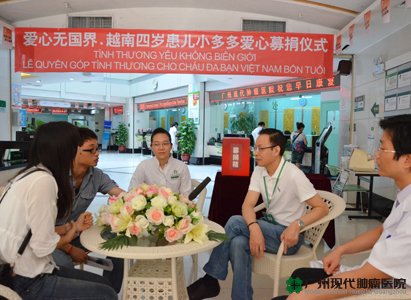 Director Wang, Dr. Dai Wenyan, Dr. Lai Peisheng Are Taking Interview from Media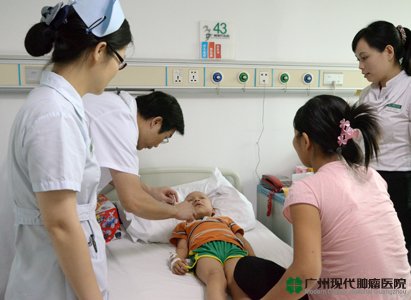 Dr.Lai Peisheng Is Taking Examination for Little Duoduo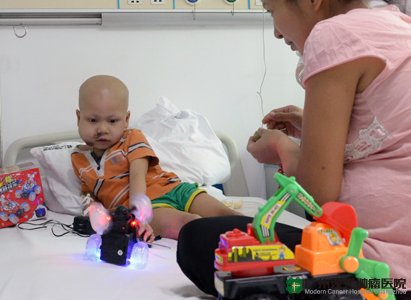 Little Duoduo Is Playing Toys Happily
If you have any questions, please contact us via online consultation, email or phone call. If you find our website useful, please follow our FaceBook and YouTube, health information will be updated regularly.
Online Inquiry
CLICK HERE!
Let's Have A Healthy Life!
Video
To show you
what is cancer by
videos
Chatting on Facebook

Become a fan of us!
+Follow
We are waiting for you.