Willing to Propagate the Best Medical Treatment to Our People ——The voice from Bangladesh reporter group
  During September 21 to September 23 of 2012, the report group consisted by multiple media like The Sun and NTV of Bangladesh visited Modern Cancer Hospital Guangzhou and Boai Group. The reporter group received a warm reception of Modern Cancer Hospital Guangzhou, within the short 3 days, reporters visited and observed the overall environment and facilities of this hospital and came to understand the 13 anti-cancer technologies, what was more, they also experienced the care services designed by Modern Cancer Hospital Guangzhou for overseas patients. After that, they had in-depth exchanges with the leaders and experts of this hospital as well as with the Chairman of Boai Group through the way of meetings and exclusive interview.
Reporter group visited Modern Cancer Hospital Guangzhou
  As the visit came to an end, the reporters have said that this trip access to China was really so fruitful. As the new media of Bangladesh, they shouldered the mission of responsibility of spreading excellent and wonderful things to their people, and would be delightful to introduce what they saw and heard to them. After returning home, they would tell all the audience that people can obtain better medical treatment and services in Modern Cancer Hospital in Guangzhou, China.
  Reporters of Modern Cancer Hospital Guangzhou as well as of Bangladesh reporter group exchanged and collected many kinds of sounds, and these sincere words somehow expressed their worry and prospect to the medical level and the health level of the residents of Bangladesh, and also had in-depth recognition to corporate culture of Boai Group as well as anti-cancer technologies of Modern Cancer Hospital Guangzhou. In a word, this trip was really tremendous and also achieved its ultimate goal; and it would guide more Bangladeshi people to seek more satisfactory medical treatment and bring them more practical value.
  Heartfelt wishes of Bangladeshi reporter group:
  "Do you know our country Bangladesh? As a developing country, we face a lot of problems, for example, health issues, treatment issues and so on. We are lag behind and just like your Dean said, 20 years ago, there were a lot of problems faced by China, but you are successful now, you can get better treatment for the Chinese people or people from other countries."
  "There are a lot of patients with cancer and heart diseases in our country, and we heard very good news about Modern Cancer Hospital Guangzhou: you have medical experts, advanced cancer treatment equipments and so on, so our people may come here to seek for medical treatment."
  "We do not have a specialized cancer treatment hospital, only some general hospitals among which the number for having set up oncology department is much smaller."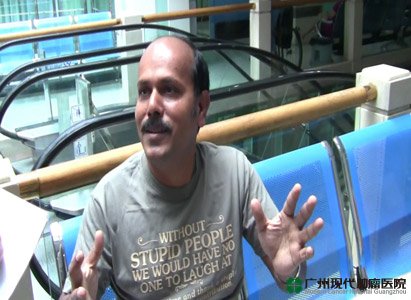 Bangladeshi reporters talked freely about the visit experience
  "China is a big country who can provide relatively cheaper but effective treatments. We believe medical professional level of Chinese medical industry and you run the hospital to really provide treatment services for patients not to make money, what's more, your medical services can really fulfill the quality of efficacy."
  "As early as a thousand years ago, there were Bangladeshi Buddhists visited China, so we are very familiar with China and we sincerely hope that our friendship will be deepen increasingly."
  "In order to be able to tell the people of Bangladesh about what kind of medical services that Modern Cancer Hospital Guangzhou is capable of, we came here for an overall interview, so we would take the responsibility to spread good medical services of Modern Cancer Hospital Guangzhou to Bangladesh."
  "The entire examination process is very easy, and I do not know what my results will be, but I do not worry about this. All your hospital's staffs are very friendly." – After finishing free physical check designed for family members of overseas patients.
  "No, Bangladeshi people would have check-ups when in discomfort, and some people don't have checks during the whole life. We really worry about the status of lacking the sense of self-examination of our people."
  "During the video sharing, we learned that your treatments have broken the traditional methods and combined with Chinese and Western methods, such as bio- natural therapy and targeted therapy, these are really great treatments." – After watching the video about treatment technologies of Modern Cancer Hospital Guangzhou.
  "I have never seen anything like such spectacular performances in our country although such kind of performance is also very popular in our country, but we really cannot achieve the effects like you did: I could feel the atmosphere of the scene; everyone was so excited with high emotions, which was really moving." – After watching the Mid-Autumn evening party mainly held by the employees of Boai Group.
If you have any questions, please contact us via online consultation, email or phone call. If you find our website useful, please follow our FaceBook and YouTube, health information will be updated regularly.
Online Inquiry
CLICK HERE!
Let's Have A Healthy Life!
Video
To show you
what is cancer by
videos
Chatting on Facebook

Become a fan of us!
+Follow
We are waiting for you.