New Choices, New Hope ——A New Cancer Treatment Technology Seminar Was Held Successfully in Manila
  The article has been published by United Daily News and Sino-Fil Daily
On November 15th, Manila Medical Association and Modern Cancer Hospital Guangzhou held a modern cancer treatment and prevention seminar with the theme of "new choices, new hope" in RAMADA MANILA CENTRAL jointly. This is the second field of the seminar "the Philippines 2012 Health Journey -- modern cancer treatment and prevention, Manila station" which has been successfully launched by Modern Cancer Hospital Guangzhou in the Philippines. Just as the activities in the Iloilo and Cebu station and the cooperation with the Philippines Acupuncture Association which are carried before, this seminar is also warmly welcomed by the citizens.
  Professor Peng Xiaochi from Modern Cancer Hospital Guangzhou was invited to attend this workshop by the Manila Medical Association. In the meeting, Prof Peng had an introduction on the technology--minimally invasive targeted therapy and integrated traditional Chinese medicine and Western medicine, which is summed up by years of experience and innovation of cancer treatment. Specially, he explained several new minimally invasive techniques in the treatment of lung cancer, breast cancer, colon cancer that are more likely to happen in the Philippines. These techniques are nanotechnology, iodine seed implantation, Ar-He knife cryotherapy, natural therapy, interventional embolization etc. Simultaneously, Prof Peng listed patients of each specific case on the above treatments to prove that these new techniques are significantly safe and effective in improving the patients' qualities of life and prolonging the life cycle. Furthermore, Prof Peng introduced the concept--survive with tumor, which is carrying out by the WHO currently to the presented audiences. He also had a discussion on some advanced concerned issues with the doctors and patients on spot.
  President He Cangjiang of the Manila Medical Association showed his gratitude to Prof Peng Xiaochi's arrival on the seminar and his awesome speech. He also expressed his appreciation to what Modern Cancer Hospital Guangzhou has done to the Philippines. Modern Cancer Hospital Guangzhou travels a long distance from Guangzhou, China to the Philippines to introduce and share new cancer treatment techniques, which have helped a lot of cancer patients. President He hopes that Manila Medical Association can become an exchange platform, bring new choices and new hope to more Philippines patients. Besides, DR. BENIGNO ONG, SOCORRO RUSTIA, CHO CHIONG TAN had also attended the meeting.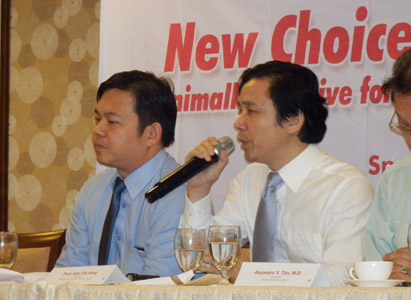 Professor Peng Xiaochi is delivering a lecture
If you have any questions, please contact us via online consultation, email or phone call. If you find our website useful, please follow our FaceBook and YouTube, health information will be updated regularly.
Online Inquiry
CLICK HERE!
Let's Have A Healthy Life!
Video
To show you
what is cancer by
videos
Chatting on Facebook

Become a fan of us!
+Follow
We are waiting for you.