The PAAI 4th National Acupuncture Convention Sucessfully held a Modern Cancer Medical Forum
  November 15, 2012 at 3pm, Philippine Academy of Acupuncture, Inc successfully organized its 4th Annual Scientific Convention along with Modern Cancer Hospital Guangzhou minimally invasive cancer treatment lecture in Dr. Enrique Ona Auditorium Quezon City, Philippines.
  Guangzhou Modern Cancer Hospital expert Professor Peng Xiao Chi together with Manila office country manager Mr. Bennette He granted the invitation of PAAI member. A total of 200 plus medical professionals attended the conference from Philippines, United States and other countries.
  The Philippine Academy of Acupuncture, Inc organizers first delivered a speech to welcome medical professional from different countries who arrived and gathered in Quezon City, Philippines to participate the "Chinese Medicine and Cancer Treatment" as the theme of the annual conference. The PAAI is very grateful to every nation's medical professionals for working together to uplift the health of ordinary Filipinos, to advanced acupuncture applications as well as cancer treatment and other medical condition. The Philippines is willing to learn new techniques, new medical means to help solve the health problems encountered by the medical profession and ultimately to improve the quality of life and purpose of medical treatments.
  As a co-sponsor of the conference, Professor Peng Xiao Chi, a cancer specialist from Modern Cancer Hospital Guangzhou tackled the Combination of Chinese and Western Medicine, Cancer Treatment through Acupuncture, and application of Traditional Chinese Medicine in prevention and treatment as well as rehabilitation of cancer patient were thoroughly discussed. While discussing the cancer treatment, Professor Peng stated that ancient China has long advocated the use of acupuncture as treatment modality for cancer. A valuable treatment method that became the peak achievement in traditional medicine. Acupuncture is also adopted the concept of minimally invasive treatment. As medical technology continues to improve cancer treatment, it is also moving towards rapid development direction which includes the development of Minimally Invasive Interventional Embolization, Iodine Seed Implantation, Argon-Helium Knife Cryoablation and many other advanced minimally invasive treatment techniques. Modern Cancer Hospital Guangzhou minimally invasive treatment technology combined with Chinese medicine formed the concept of "Minimally Invasive Targeted Treatment Combined with Integrated Traditional Chinese and Western Medicine" have been the effective treatment for growing number of cancer patients. Many cancer patients have achieved better quality of life which is a "good news" indeed. Professor Peng Xiao Chi and other participants had a lively exchange with regards to minimally invasive treatment principle and techniques. The highlight of the annual conference is the thorough explanation of Professor Peng Xiao Chi.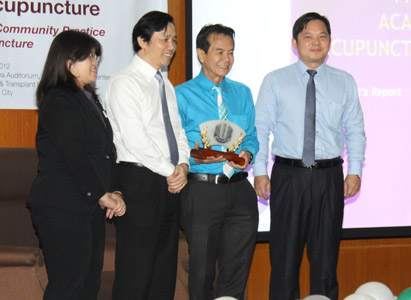 PAAI representative speech with PAAI president Dr. Jaime Galvez Tan gift exchange and posed for picture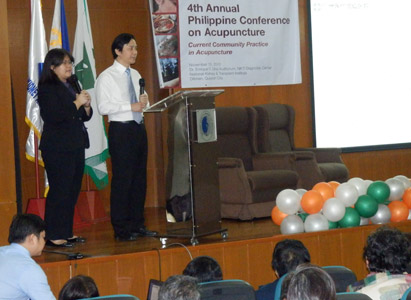 Professor Peng Xiao Chi lecture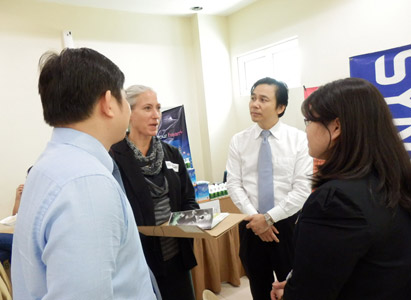 Professor Peng Xiao Chi communicate with the representative of American Professional.
If you have any questions, please contact us via online consultation, email or phone call. If you find our website useful, please follow our FaceBook and YouTube, health information will be updated regularly.
Online Inquiry
CLICK HERE!
Let's Have A Healthy Life!
Video
To show you
what is cancer by
videos
Chatting on Facebook

Become a fan of us!
+Follow
We are waiting for you.