Keep Health, Stay away from Tumor
  On Dec. 15, Manila Chinese Press Club Inaguration Ceremony & Christmas Party had successfully held in The Royale Sharkfin Seafood Restaurant in Pacific Centre. Mr. Wang Liming continued his second term of the club president. In order to let the members of Club have a health consciousness, Mr. Wang specially invited the primary professor Peng Xiaochi from the subsidiary hospital of Boai Medical Group, Modern Cancer Hospital Guangzhou for the health lecture of Stay Away from Tumor.
  Ever since Modern Cancer Hospital Guangzhou has been set up Manila Office, the office contributes to health industry. The General Manager of Manila Office, Mr. He Langbing said, he is willing to spread the health information about cancer in the Philippines, especially the prevention and treatment of cancer. In 2012, Manila office has conducted 6 similar activities in the Philippines, which won the good comments from local people.
  Professor Peng analyzed the development course of common cancers like lung cancer, liver cancer and intestinal cancer by many instances and offered some instructions on cancer prevention in the lecture. Apart from that, Professor Peng also introduced the new medical technologies of cancer treatment in Modern Cancer Hospital Guangzhou: Minimally Invasive and Target Therapy, A Combination of Traditional Chinese Medicine and Western Medicine. Through this lecture, the members of club benefited a lot.
  President Wang Liming spoke after the lecture and announced that the Chairman of Boai Medical Group, Mr. Lin Zhicheng was invited as the instructor of Manila Chinese Press Club for the enthusiasm and generosity of Modern Cancer Hospital Guangzhou, a subsidiary hospital of Boai Medical Group China. Mr. Lin also received the engagement letter.
  The president of Manila Mr. Alfredo S. Lim, Deputy Director of Embassy of the People's Republic of China in the Republic of the Philippines Mr. Lin Ruhai, General Director of Chinese Filipino Business Club, Inc Mr. Huang Huafeng, Vice Chairman of Federation of Filipino-Chinese Association of the Philippines Mr. Cai Zhihe, General Director of Chinese General Chamber of Commerce Mr. Wu Rongxiang, Administrative Premier of Phil-Chinese Charitable Association, Inc Dr. Li Fengwu, the General Director of Filipino-Chinese Shin Lian Association Mr. Wang Shuhou and other overseas Chinese took part in this lecture.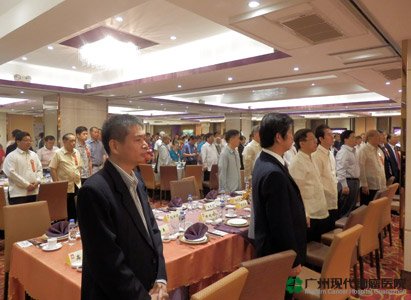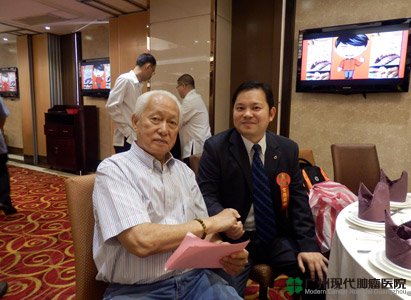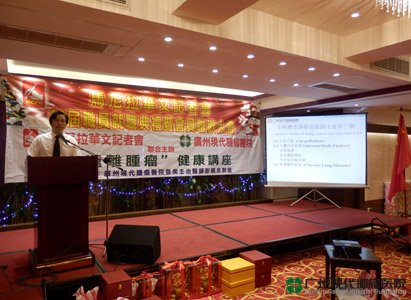 If you have any questions, please contact us via online consultation, email or phone call. If you find our website useful, please follow our FaceBook and YouTube, health information will be updated regularly.
Online Inquiry
CLICK HERE!
Let's Have A Healthy Life!
Video
To show you
what is cancer by
videos
Chatting on Facebook

Become a fan of us!
+Follow
We are waiting for you.