To benefit people by presenting them with health
  To carry out the purpose of "Stay Away from Cancer" Health Lecture on 15 December, 2012 and take real action to care about Philippine people, Modern Cancer Hospital Guangzhou and Manila Chinese Press Club jointly held a voluntary medical consultation activity accessible to all Philippine residents in Liu Xihang Chinese Acupuncture Clinic in Malate, Manila in the morning of December 16. Manila major, Mr. Alfredo S. Lim, and relevant commissioners came to the scene and gave great support to the activity.
  Modern Cancer Hospital Guangzhou sent many cancer experts to the activity to provide the visiting residents with medical services, including health consultation, examination, Chinese medicine prescription, acupuncture and health care advice, etc. It was a busy activity. Experts from Modern Cancer Hospital Guangzhou patiently asked the visiting people's medical history. After thorough examination, they performed Chinese acupuncture to patients according to their individual conditions. Local residents personally experienced the magic of Chinese medicine. Moreover, to provide the most considerate service to them, experts also patiently answered their inquiries and gave them health care advices, for example, how to prevent cancer and how to eat scientifically and healthily, etc.
  It was reported that, during the activity, about 100 Philippine residents received consultation and treatment by Dr. Peng Xiaochi and Dr. Huang Wenchuan, experts from Modern Cancer Hospital Guangzhou, and Chinese physician Liu Xihuang. They were given free medicine and personally experienced the" consultation, examination, instruction, treatment" four-in-one high-quality health care service. Through this activity, the self-care awareness of Philippine people was enhanced. Meanwhile, they impressively felt the transnational care and warmth of Modern Cancer Hospital Guangzhou.
  It is said that Modern Cancer Hospital Guangzhou has attached much importance to its international development since it started to accept oversea patients. It often holds voluntary and charitable activities to benefit the common people in Southeast Asian countries, especially Philippines. Modern Cancer Hospital Guangzhou has held many health lectures in Philippines. Experts have been sent to different places to introduce cancer prevention and new technologies of cancer treatment. It has benefited thousands of Philippine people and gained wide praise from various circles of society.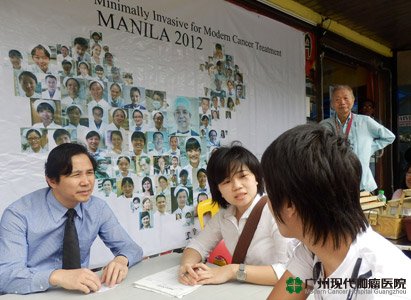 Dr. Peng Xiaochi was answering the inquiry of local resident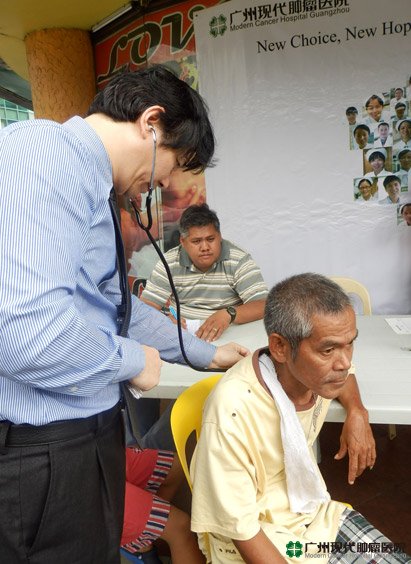 Dr. Peng Xiaochi was examining the local resident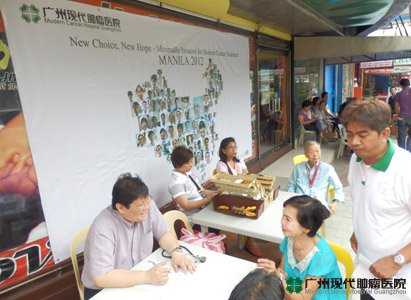 Dr. Guang Wenchuan was answering the inquiry of local resident
If you have any questions, please contact us via online consultation, email or phone call. If you find our website useful, please follow our FaceBook and YouTube, health information will be updated regularly.
Online Inquiry
CLICK HERE!
Let's Have A Healthy Life!
Video
To show you
what is cancer by
videos
Chatting on Facebook

Become a fan of us!
+Follow
We are waiting for you.