Modern Cancer Hospital Guangzhou Held a Birthday Celebration for a Patient
  On February 5, 2013 the nurses of the 7th floor leading by He Qiongliang, the director of nursing department of Modern Cancer Hospital Guangzhou, held a little party to celebrate Mr. ANDI PAHERANGI JAYA' 56-years-old birthday who was the colorectal cancer patient from Jakarta Indonesia.
  In ANDI's VIP ward, He QiongLiang, on behalf of the management of Modern Cancer Hospital Guangzhou, expressed the birthday wishes to ANDI that wishing him a happy birthday and good health. Afterward, ANDI and the nurses shared a delicious birthday cake and long-life noodles. At that time, the ward was filled with joyful and peaceful atmosphere. Meanwhile, nurses carefully explained ANDI's current condition and urged him to fight against colorectal cancer actively and constantly and never give up. ANDI also wished Modern Cancer Hospital Guangzhou a better development in the following year.
joint photo of ANDI and the medical personnel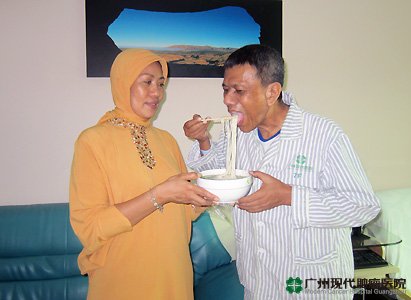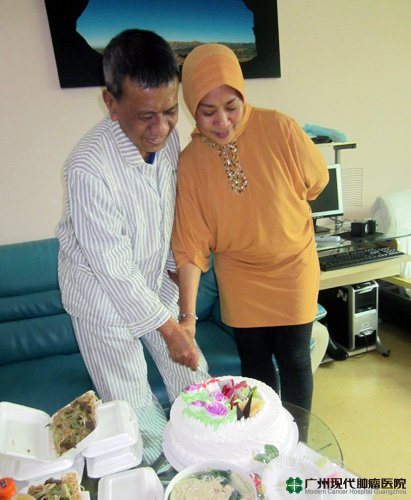 ANDI tasted the delicious cake and noodles
If you have any questions, please contact us via online consultation, email or phone call. If you find our website useful, please follow our FaceBook and YouTube, health information will be updated regularly.
Online Inquiry
CLICK HERE!
Let's Have A Healthy Life!
Video
To show you
what is cancer by
videos
Chatting on Facebook

Become a fan of us!
+Follow
We are waiting for you.