Sino- Cambodia Cooperation Builds a Rosy Medical Prospect
  In the morning of March, 4, 2013, invited by the head of the Cambodian Ministry of Health Mr. Meng Wenxing and the president of National Health Administration Mr. Delun, the president of Boai Medical Group, Lin Zhicheng leading a delegation came to Phnom Penh, Cambodia and received warm reception from leaders of Cambodian Healthcare Departments. Both sides hold talks on medical academic exchanges and cooperation plans.
  Dedicate ourselves to most satisfied medical services for human-beings
  In the meeting, the recent development history of Boai Medical Investment Group and the divine mission of the group which is" being the founder of the world's largest medical Enterprise Group to devote most satisfied medical services for human-beings" as well as our efforts to achieve this, including active academic exchanges with WHO, domestic and abroad well-known hospitals and research centers as well as higher education institutions, deeper research and improvement in minimally invasive treatment techniques were introduced by President Lin to Chairman Meng and President Delun.
  Meanwhile, President Lin specially introduced Modern Cancer Hospital Guangzhou which is under authority of Boai Medical Group and follows the Boai motto of "endless view, limitless wisdom, boundless mind". The hospital has been exploring the latest tumor treatment techniques and actively applying the new ideas such as standardized, individualized and humanized tumor treatment, comprehensive treatment by combing minimally invasive therapy and other multidisciplinary treatments. With the development of tumor techniques, Modern Cancer Hospital Guangzhou has created a treatment mode of "combination of Western and Chinese medicine, minimally invasive and targeted treatment", which avoids physical trauma caused by conventional cancer treatments, minimizes patients' suffering, improves their quality of life and long-term efficacy, winning the international cancer patient's highly praise.
  Promoting medical cooperation and development between China and Cambodia
  After the introduction, Chairman Meng and President Delun said China and Cambodia are friendly neighbors since ancient times and often help each other. They have got to know tremendous strength of Boai Group and highly praised the advanced treatment technology, high quality medical services in Modern Cancer Hospital Guangzhou.
  At the same time, Chairman Meng introduced the medical status of Cambodia to President Lin and expressed Cambodian people's desires to Chinese advanced medical technology and high quality services. He also said that building a hospital in Cambodia is an ideal choice for Boai Group and warmly invited Boai Group to build the first tumor specializing hospital in Cambodia. President Lin responded that Boai Group is very willing to bring advanced tumor treatment techniques and high quality services into Cambodia, hoping to promote medical cooperation and development between both countries and making efforts to anticancer career.
  Chairman Meng believed that the cooperation will be able to bring good medical services to Cambodian people and further develop Sino-Cambodia friendly relations.
  Advanced technology and considerate services have won great acclaim
  Chairman Meng and President Delun mentioned lots of times about the Phnom Penh branch office of Modern Cancer Hospital Guangzhou. President Lin introduced that the office was built in June, 2012 and has been sending well-known tumor specialists to provide free consultation for cancer patients and their family there. Besides, the office also offers services like Visa application, flight tickets booking, free airport pick-up and delivery service, regular follow-up and suggestions on diet, sleep, daily care for patients who have been back home after our treatment. Furthermore, President Lin emphasized that all those services are free of charge and are provided based on patients' demands, so they are very welcome among patients.
  President Delun was hoping more medical academic exchanges and cooperation plans can be carried out in both countries, especially the exchanges on tumor and anticancer health lectures. As for this, President Lin pointed out that Phnom Penh office often holds health lectures to enhance Cambodian People's awareness of anticancer and prevention. So far, there have been two lectures held. One was delivered by Chief oncologist of the hospital Doc. Peng Xiaochi in Sunway Hotel of Phnom Penh on September, 27, 2012, and the other was given by the cancer specialist in Phnom Penh office Doc. Wu Qingkai on September, 29, 2012, talking about awareness of cancer and treatment techniques, wining great responses among Cambodian patients.
  President Delun expressed his welcome for these lectures and mentioned two cancer patients who came to Modern Cancer Hospital for treatment, SENG NGOUN and TEHUYKEAV spoke highly of the advanced treatment technology and high quality services and also said the help gave by Phnom Penh greatly relieved their fear to receive treatment in a foreign country.
  Sino-Cambodia cooperation to fight against cancer
  In addition, President Delun talked about the minimally invasive treatment such as Iodine 125 seed implantation, Ar-he cryotherapy, biological natural therapy and interventional therapy, etc. which are widely applied in China, one of the few countries having those techniques, and hoped Boai Medical group and Modern Cancer Hospital Guangzhou would be able to save more cancer patients in Cambodia by applying those treatments. Furthermore, he also hoped that the excellent Cambodian doctors can be sent to visit and study in Modern Cancer Hospital Guangzhou so as to know those techniques. President Lin totally agreed his suggestion and said Boai Medical Group was willing to share those techniques with Cambodian people and it was also the purpose of setting up the Phnom Penh office.
  At the end of the talks, President Lin gave a souvenir to Chairman Meng and President Delun and this souvenir read four Chinese Characters "德艺双修" ("have both medical ethics and professional competence"), which was written by Xi, Jinping, the Chairman of the People's Republic of China to encourage the staff of Boai Group to make contribution to private medical care of China. Boai Medical Group is hoping to share this with Cambodian Medical industry. Chairman Meng and President Delun pleasantly received the gift and took a group photo with the delegation of Boai Medical Group.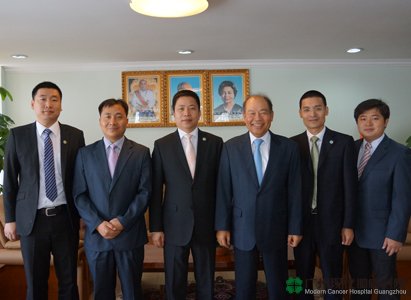 A group photo of President Lin and Delegation of Boai Medical Group as well Minister of Cambodian Ministry of Health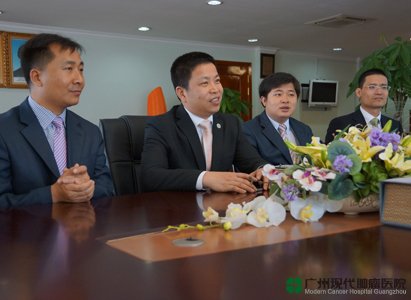 President Lin was introducing group development history to the Cambodian Leaders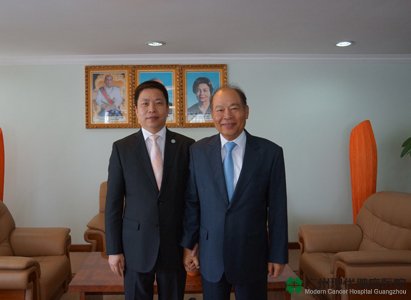 President Lin Gave a gift to Minister of Cambodian Ministry of Health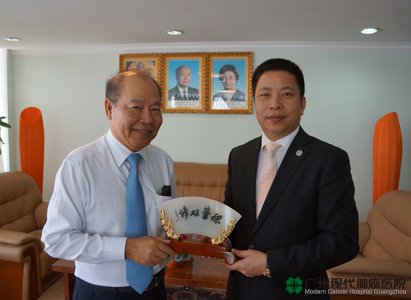 A photo of President Lin and Chairman Meng
If you have any questions, please contact us via online consultation, email or phone call. If you find our website useful, please follow our FaceBook and YouTube, health information will be updated regularly.
Online Inquiry
CLICK HERE!
Let's Have A Healthy Life!
Video
To show you
what is cancer by
videos
Chatting on Facebook

Become a fan of us!
+Follow
We are waiting for you.