To create the miracle of life by advanced technology and quality service
  Under the lead of Chairman Lin Zhicheng of Boai Medical Investment Group, General director Lin Junxiong and other staffs of Modern Cancer Hospital Guangzhou arrived at Ho Chi Minh by the midday of Mar. 2, 2013. Chairman Lin had had talks on medical exchange, development and cooperation between China and Vietnam with formal mayor of Ho Chi Minh Nguyen Van Phi, Consul Generals Mr. Zhai Leiming and Ms. Zhen Jiayi of Consulate General of the People's Republic of China in Ho Chi Minh City.
  To summarize the experience of treatment technology through persistent search
  Along with the delegation, Chairman Lin was invited and warmly accepted by the formal Mayor of Ho Chi Minh Mr. Nguyen Van Phi and had had the talks, in which Chairman Lin Introduced Boai Medical Investment Group. Boai Medical Investment Group, established in 1986, is a modern large group enterprise with dominant industries of medical investment, management and clinical medical services and the largest medical investment group in China. Globally covering 14 regions and having more than hundreds of large medical institutions, Boai now is one of the top 100 medical groups in the world. To create the largest global medical group and provide human being with the most satisfactory medical services is the sacred mission that Boai has all the way strived for. Integrates the frontier fields and experience in humanity of Medicine, gathers medical talents home and aboard and introduces the world's leading technologies and devices to start various special medical services, Boai also positively has academic exchanges with The World Health Organization(WHO), international famour hospitals, scientific research institutes, colleges and universities.
  Being a subsidiary of Boai, Modern Cancer Hospital Guangzhou is an international cancer treatment institution of modernized management, humanistic services and digital information. Through constant and comprehensive integration of advantageous resources, hospital positively explores tumor treatments, medical and scientific studies and international medical cooperation chances and has made remarkable achievement. Modern Cancer Hospital Guangzhou in recent years kept searching for latest technologies of tumor treatment and analyzing clinical experiences, has created the treatment mode of minimally invasive treatment integrated in traditional Chinese medicine and western medicine, in which combines minimally invasive technology of western medicine and traditional treatments of Chinese medicine. Apart from that, as minimally invasive technology is widely applied that more and more patients come to Modern Cancer Hospital Guangzhou for treatment. And in order to benefit more cancer patients, Modern Cancer Hospital Guangzhou has even set up 8 branch offices in Vietnam, Thailand, Cambodia, Indonesia, Bangladesh, the Philippines in succession to promote the academic exchange on medicine and assist local people about treatment, by which has made a powerful influence of hospital in and out or China.
  China and Vietnam fight cancer together
  Mr. Nguyen Van Phi expressed his great approval of the technology and dominance of Boai Medical Investment Group and Modern Cancer Hospital Guangzhou through the introduction from Chairman Lin. In the talks Mr. Nguyen Van Phi also explained to Chairman Lin about the demands and suggestions of setting up and investing medical institutions in Vietnam. As Vietnam is still using the conventional cancer treatment methods like operation, chemotherapy and radiotherapy, whose treatment effect is generally not ideal enough that Vietnam Government hopes to promote local cancer treatment methods through academic exchanges and wishes Boai can introduce the advanced medical technology and quality medical services to Vietnam.
  Chairman Lin replied that Boai is willing to share with Vietnamese people the advanced medical technologies and quality services. Modern Cancer Hospital Guangzhou set up the branch office in Ho Chi Minh on Dec. 8, 2008 to provide local people with free consultation service and help the cancer patients and family who are going to China about Visa and passport application, airport pickup and delivery services, regularly case follow-up and so on. By thoughtful and humanistic services, Ho Chi Minh office has gained the approval and praise from local people. Apart from that, Ho Chi Minh office now and then holds healthy lectures to spread related cancer information and increase the awareness of cancer prevention among Vietnamese people. The healthy lecture of Love Yourself & Care Your Breasts held in March 6, 2012, had introduced related information of breast cancer like breast checking methods, postoperative medical care of breast cancer, breast cancer treatment and so on, while it as well offered on site free medical consultation. This lecture not only spread the information about breast cancer, also conveyed the advanced treatment technologies and won the reputation from participants.
  Mr. Nguyen Van Phi hoped Boai can have medical investment in Vietnam to construct better medical environment. It tends to have cooperation with Vietnam about investment, and Boai is willing to fight cancer with Vietnamese people together, Chairman Lin responded.
  To offer the most cordial service to each patient
  On the midday of Mar. 2, Consul General Mr. Zhai Leiming and Ms. Zhen Jiayi of Consulate General of the People's Republic of China in Ho Chi Minh City accepted the delegation led by Chairman Lin. The two parties also held talks on the medical environment, services and technologies of Vietnam.
  Consul General Zhai expressed his great recognition of Boai Medical Investment Group and Modern Cancer Hospital Guangzhou providing Vietnamese cancer patients with quality medical services in the talks. Chairman replied medical institutions should stand in a higher position to convey more healthy knowledge when treating people. Of respecting and caring for patients, being at patients' convenience and serving patients, the humanistic spirit should be reflected in all the medical services to offer every patient the most sincere services, and this is the goal which Boai and Modern Cancer Hospital Guangzhou have all the way strived for. Modern Cancer Hospital Guangzhou provides latest treatment technologies while also offers more than 60 increment services which including shopping, tour, health lectures etc, gaining praises from patients and families.
  Consul General said, as Vietnam and China's relationship gets more stable, the promotion of advanced treatment technologies, quality medical services and talents can further promote the friendship between two countries.
  Borderless medicine, boundless love
  Consul General Ms. Zhen Jiayi also brought out her precious suggestions and concepts about setting up medical service institutions in Ho Chi Minh while she highly praised Modern Cancer Hospital Guangzhou for its advanced technologies and medical devices. Chairman Lin replied that Modern Cancer Hospital Guangzhou offers every patient coming the comprehensive minimally invasive treatment of standardization, humanization, individualization and rationalization, which not only does no harm to normal tissues and organs around, but also avoids the shortages like destroying patient's immunity in conventional chemotherapy and radiotherapy and forestalls overtreatment to reduce pain, extend patient's life span, and improve the living quality and long-term treatment effect. Of small trauma, efficiency, fast recovery, and precise positioning and accurate therapy of cancer in clinical use, this new treatment mode wins praises from patients and families.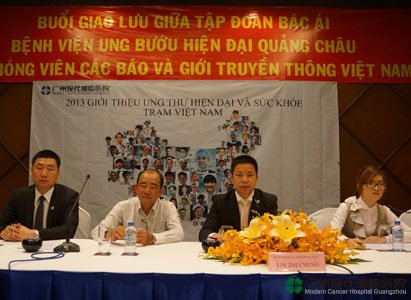 Chairman Lin, Mr. Nguyen Van Phi and local media
Chairman Lin and Consul General Mr. Zhai Leiming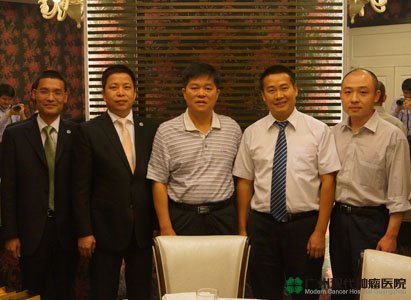 The delegation and staffs of consulate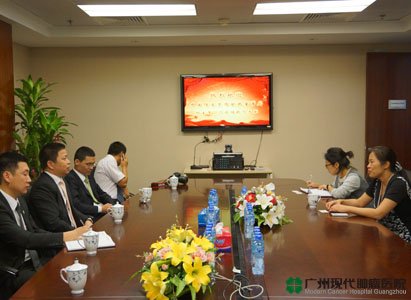 Chairman Lin and Ms. Zhen Jiayi in talks
If you have any questions, please contact us via online consultation, email or phone call. If you find our website useful, please follow our FaceBook and YouTube, health information will be updated regularly.
Online Inquiry
CLICK HERE!
Let's Have A Healthy Life!
Video
To show you
what is cancer by
videos
Chatting on Facebook

Become a fan of us!
+Follow
We are waiting for you.