Launch Green Channel for Philippine Patients Seeking Medical Services in China
  In the morning of March 21 and in the distinctive ethnic-styled Commercial Office, Counselor Wu Zhengping warmly greeted Chairman Lin Zhicheng of Boai Medical Investment Group and his staff of Modern Cancer Hospital Guangzhou.
  33 years since 1979 when the two countries signed a cultural agreement, China and the Philippines continue to maintain close contacts, especially in the cooperation of mutual assistance in the health sector, which has become an irreplaceable role in promoting the friendship between the two countries as well as in mutual development. "Welcome your arrivals, this is we expect earnestly," Counselor Wu Zhengping said to Chairman Lin Zhicheng.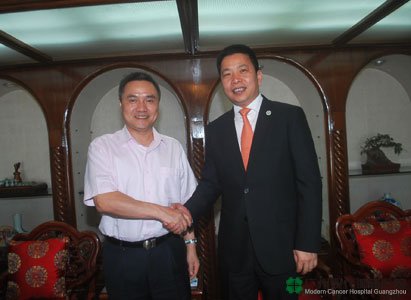 "Boai Group has more than 20 years of development history. With our high-quality medical services and state-of-the-art technology, we are achieving the goal of becoming the best medical group in the world step by step. We hope to spread Boai's services to the Philippines, so that more and more people can seek the most suitable treatment," Chairman Lin Zhicheng expressed the purpose of his visit to the embassy, that is to carry out more medical cooperation projects and open up the green channel for patients of the Philippines to seek medical treatment.
  Chairman Lin said that Modern Cancer Hospital Guangzhou has already achieved good achievements in spreading high - quality medical services practice, and has saved many advanced cancer patients, including partial patients who have even been sentenced "death penalty" by other hospitals. The reason for Modern Cancer Hospital Guangzhou continuing to make breakthroughs in the cancer treatment is that the hospital has been carrying out huge investments in medical technology and medical talent introduction: for example, the introduction of top cancer specialist & doctors; establishing academic base in cooperation with Southern Medical University; introduction of international state-of-the-art cancer treatment technology; building up minimally invasive cancer treatment system of high efficacy but fewer side effects, etc.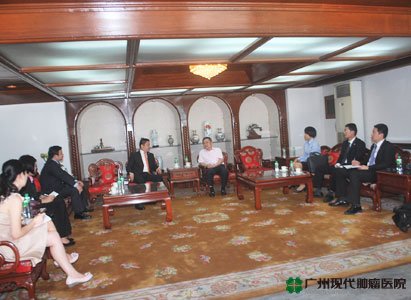 So far, the number of overseas patients who have received treatment in Modern Cancer Hospital Guangzhou has exceeded 40,000. In addition to effective control on disease and improvement on the quality of life for patients, reasonably charging fee is another reason that attracts patients to come to the hospital. Compared with Singapore, the United States and other countries with the same level of cancer treatment technology, medical charges in Guangzhou China rank only 1/3 of them.
  For good reputation gained in the Philippines about Modern Cancer Hospital Guangzhou's medical technologies and services, the Counselor Wu Zhengping has been informed by the major news media of the Philippines. The exchange fully confirmed Mr. Wu's recognition on the reputation. "The achievements of Boai Group surprise and convince all the Chinese and the Filipino people as well. As your vision shares something in common with our responsibilities, we will work together to serve people of China and of the Philippines."
If you have any questions, please contact us via online consultation, email or phone call. If you find our website useful, please follow our FaceBook and YouTube, health information will be updated regularly.
Online Inquiry
CLICK HERE!
Let's Have A Healthy Life!
Video
To show you
what is cancer by
videos
Chatting on Facebook

Become a fan of us!
+Follow
We are waiting for you.