Building a Sino-Bangladesh Friendship Bridge, Laying the Cooperation Foundation with Top Technology
On March 5, 2013, the President of Boai Medical Group of China Lin Zhicheng was invited to Dhaka which is capital of Bangladesh for a three-day friendly medical visit. In the next morning, President Lin met Prof. Dr. A.F.M Ruhal Haque who is the minister of Bangladesh Health Department.
  Prof. Dr. A.F.M Ruhal Haque warmly welcomed him and sincerely thanked Boai Group for bringing medical services to Bangladesh people as well as hoped exchanges on telemedicine can be carried out further with Boai Group to strengthen Sino-Bangladesh medical cooperation and friendship between two countries.
  Medicine without boundaries, love without borders
  During the meeting, President Lin firstly introduced the development history of Boai Group to Prof. Ruhal Haque, saying that China Boai Medical Group was founded in 1989 and it is a large-scale modern group whose leading industries include medical investment, hospital management and clinical care services, also the largest medical investment group in China. The Group owns one hundred and thirty medical institutions in many cities of China like Beijing, Shanghai, Guangzhou, and Shenzhen, etc. The Group employs a total of tens of thousands of people, and has been among the global top 100 medical groups.
  The Group combines frontier, experience and humanity of medicine together, brings together both abroad and domestic medical talents, introduces worldwide first-class technologies and equipments to carry out various kinds of special medical service projects and actively participates in academic exchanges with WHO, domestic and foreign well-known hospitals, research institutes and institutions of higher learning, etc. In addition, the Group also continues to strengthen the integration of superior resources from all the parties to actively expand in the treatment of neoplastic diseases, medical science and technology research projects and international medical cooperation in related fields, and has made remarkable achievements.
  In recent years, with international outlook, China Boai Group has been actively exploiting the overseas market, and has set up medical care institutions successively in Vietnam, Indonesia, Philippines, Bangladesh, Thailand, and Cambodia. This largely enhances medical academic exchange and helps to treat diseases for local people, which makes Boai Group quite influential overseas. In 2011, to better help Bengalese patients, Modern Cancer Hospital Guangzhou set up a branch office in Dhaka to provide health consultation, suggestions for cancer patients there, which deeply shows its service purpose of "Medicine without boundaries, love without borders".
  Combination of Chinese and Western medicine and minimally invasive therapy is highly favored
  After the speech, Prof. Dr. A.F.M Ruhal Haque said due to restriction of Bengalese medicine, many of the early cancer patients did not get timely diagnosis while middle and advanced cancer patients did not receive effective treatment, but since Dhaka office of Modern Cancer Hospital Guangzhou was established, it does provide a strong guarantee to seek medical help for local people, not only improving people's consciousness of cancer prevention but also providing more treatment options for tumor patients.
  He also mentioned that he heard that Modern Cancer Hospital Guangzhou is equipped with internationally advanced tumor treatment techniques such as iodine seed implantation, interventional therapy, Ar-He cryosurgery and so on, besides, the mode of minimally invasive and targeted therapy, combination of Chinese and Western medicine is widely accepted and favored by lots of patients.
  President Lin explained that the world-leading techniques of Modern Cancer Hospital Guangzhou resulted from academic exchanges between their specialists and domestic and overseas specialists and scholars to make deep researches on tumor treatment techniques and clinical application. Besides, Traditional Chinese medicine is the select from thousands years of development of Chinese medicine while combing it with western medicine especially techniques can direct to the tumor lesions without hurting normal tissues, which does not only greatly reduce the side effects and the patients' sufferings but also greatly improve the overall efficacy of treatment, thus are the reasons why the mode is favored by numerous tumor patients.
  Top Technology Lays the Cooperation Foundation
  Aside from advanced medical technology, Modern Cancer Hospital Guangzhou is also gathering an Asian leading oncologist team, which is the reason of the hospital's leading position in cancer treatment in the world and also lays the foundation on international development of Boai Medical Group.
  When talking about cooperation, Prof. Dr. A.F.M Ruhal Haque said there is only a cancer hospital in Bangladesh and its medical techniques, staff and medical resources still have a long way to meet the patients' needs. Therefore, he was very looking forward to seeing those advanced cancer treatment technology can be brought to his country by Boai Medical Group and Modern Cancer Hospital Guangzhou. Of course, he was hoping that Boai Group would build a cancer hospital in Dhaka. When talking about this advice, President Lin answered:"it is our goal to develop overseas medical level and our mission is to "devote most satisfied medical services for human-beings". Since Boai Group has built a hospital in Vietnam and if conditions permit, Boai will also build a cancer hospital in Bangladesh". Then, Prof. Dr. A.F.M Ruhal Haque promised that if this comes true, Ministry of Health and other government departments will do their best to give Boai Group more preferential policies and care.
  At the end of talks, President Lin gave a souvenir to Prof. Dr. A.F.M Ruhal Haque and particularly introduced this souvenir which reads four Chinese Characters "德艺双修" ("have both medical ethics and professional competence"), which is written by Xi, Jinping, the Chairman of the People's Republic of China to encourage the staff of Boai Group to make contribution to private medical care of China.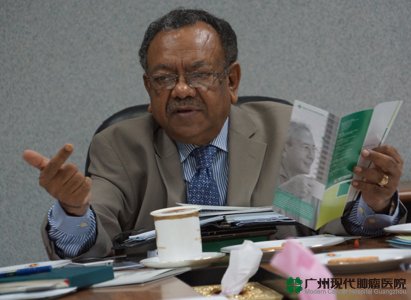 Minister of Health Department spoke highly of anticancer technology of Modern Cancer Hospital Guangzhou
President Lin gave a souvenir to the minister
If you have any questions, please contact us via online consultation, email or phone call. If you find our website useful, please follow our FaceBook and YouTube, health information will be updated regularly.
Online Inquiry
CLICK HERE!
Let's Have A Healthy Life!
Video
To show you
what is cancer by
videos
Chatting on Facebook

Become a fan of us!
+Follow
We are waiting for you.