Cross-Border Health Lecture Popularized Cancer Prevention & Treatment Knowledge
  In order to make more Filipino friends understand tumor prevention knowledge, on March 15, 2013, the Health lecture of "Health Symposium on Medical Care beyond Boundary" was held in Bulacan provincial meeting room and Professor Peng Xiaochi of Modern Cancer Hospital Guangzhou was invited as the guest to give the lecture. There were about 300 guests came to the site, including doctors of public hospitals, nurses, patients and other ordinary people. Besides, Bulacan provincial Governor WILHELMINO and Vice Governor Hon DANIEL FERNANDO also presented at the site to congratulate and thank Modern Cancer Hospital Guangzhou!
  In the lecture, Professor Peng made detailed introduction on tumor causes, classification, early detection and other related knowledge, and also reminded the listeners on the scene to pay enough attention to prevention and treatment of tumors, especially malignant tumors that have threatened to human life and health. In addition, Professor Peng patiently explained the prevention and treatment of commonly seen tumors from different angles as well as from different levels, and highlighted these cancer types with high incidence in local area, such as lung cancer, breast cancer and colon cancer.
  Professor Peng Xiaochi pointed out that with the innovation of science and technology, cancer is no longer an incurable disease, because no matter in detection, treatment or prevention, there has been a lot of new technologies, bringing more choices and hope to cancer patients. Many kinds of advanced technologies like interventional embolization, iodine seed implantation, cryotherapy, natural therapy, etc. of Modern Cancer Hospital Guangzhou have been recognized by the international institutions, and on this basis, the unique formation of "minimally invasive and targeted therapy of integrative Chinese traditional medicine and western medicine" not only can effectively extend lives of patients, but also improve their life quality.
  With the vivid and popular way of explanation, Professor Peng Xiaochi caught full attention of the audience and received full recognition of them. In the site, Professor Peng Xiaochi enthusiastically interacted with these audience friends and answered their questions one by one patiently. In addition, Professor Peng also showed them some simple, effective self-test methods to teach them to scientifically carry out prevention and care work in daily life or work.
  This event popularized scientific understanding of tumor diseases for both medical personnel and the public, which further expanded the coverage of the tumor prevention knowledge, and played a positive role in early detection, early diagnosis and early treatment of tumors. The lecture also received much praise from the audience and many listeners said: We all feel that the event make us learn a lot, and hope more similar events can be held in the future.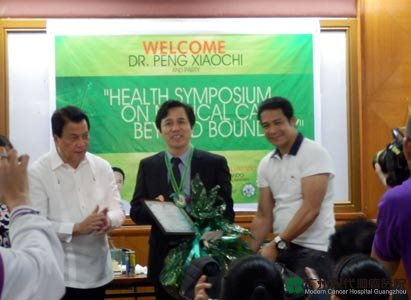 Joint photo of Professor Peng Xiaochi, Governor WILHELMINO and Vice Governor Hon DANIEL FERNANDO
If you have any questions, please contact us via online consultation, email or phone call. If you find our website useful, please follow our FaceBook and YouTube, health information will be updated regularly.
Online Inquiry
CLICK HERE!
Let's Have A Healthy Life!
Video
To show you
what is cancer by
videos
Chatting on Facebook

Become a fan of us!
+Follow
We are waiting for you.