A Broad Scale of Medical Consultation of Women's Health Was Held in the Community of Guangyuan Village by the Party Branch of Modern Cancer Hospital Guangzhou
  In the morning of March 23th, a broad scale of medical consultation of women's health was held in the community of Guangyuan villiage by the party branch of Modern Cancer Hospital Guangzhou, in response to support programs for women proposed by Guangdong Province Government with a slogan of "Brainstorming for public welfare & Happiness Guangdong". At that day, the weather was gloomy though, the medical consultation activity was carried out in an orderly manner. Many citizens took part in actively.
  Modern Cancer Hospital focused on women's health and called for improving women's health awareness according to various activities. The medical consultation activity aimed at constructing a face-to-face consultation platform for some common women diseases, complication and difficult and complicated diseases.
  Moreover, this medical consultation activity advertised the prevention knowledge of cervical cancer as well as put forward the idea that keeping healthy living habits is the first line of defense to prevent cancers and injecting cervical cancer vaccine the best way to prevent cervical cancer.
  "It's so convenient that consulting doctor my disease in front of my house", said a 60 years old women who had told her complaints to doctor and gotten warm answer. To adhere to the people-oriented idea, Modern Cancer Hospital Guangzhou concerned the majority of women's health by offering various free medical consultation activities, and resolved their healthy problems in a virtual and nearest manners. Therefore, women can take early measure to prevent disease if they are healthy and achieve early treatment if they have diseases. With the view of offering more accurate diagnosis and making specific treatment plan, gynecologists reminded that women should bring their medical records within a month as they go to hospital. Meanwhile, specialists also suggested that women should take attention to regular check up in daily life since health is the basis of happiness for modern females.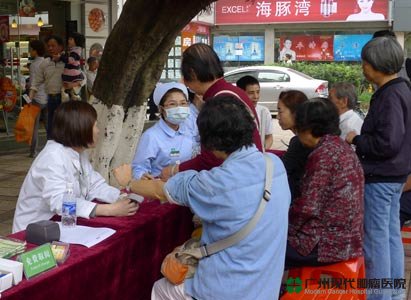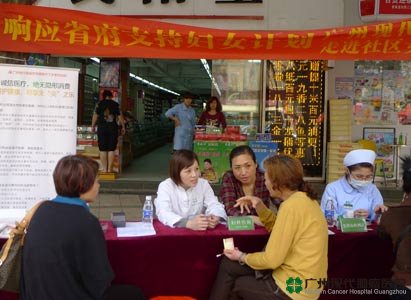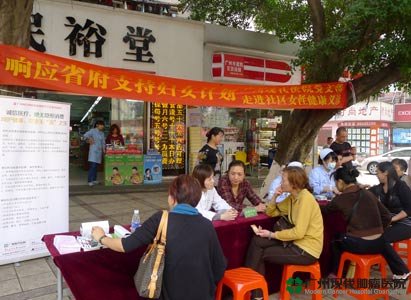 The photo of consultation scene in Guangyuan Village
If you have any questions, please contact us via online consultation, email or phone call. If you find our website useful, please follow our FaceBook and YouTube, health information will be updated regularly.
Online Inquiry
CLICK HERE!
Let's Have A Healthy Life!
Video
To show you
what is cancer by
videos
Chatting on Facebook

Become a fan of us!
+Follow
We are waiting for you.