Two Thank-you Letters across the Great Sea
  Recently, Modern Cancer Hospital Guangzhou has received two thank-you letters from other side of the great ocean. One is from a Bangladesh patient, Mr. Ashraful Anam and his family member; another is from Mrs. Sari Mertadiwangsa (Zheng mei) and her husband (Chen Zhenyuan) who come from Surabaya, Indonesia.
  Mr. Ashraful Anam was diagnosed with colon cancer in September, 2011. Then he took treatments in Bangladesh and Thailand in succession. But the traditional treatments didn't improve his condition as he expected, and nothing obvious was changed to the tumor, the results made him and his families very disappointed. After an investigation on related treatments to colon cancer world over, they learned about that Modern Cancer Hospital Guangzhou is a cancer specialized hospital major in minimally invasive targeted treatments with minimal trauma and good prognosis, which are very different from the traditional conventional therapies. They thought that these advanced treatment technologies will give patients new hope, so they decided to come to Guangzhou for further treatments. This 44-year-old gentleman obviously felt his condition become better after receiving a series of treatments in the hospital. After discharge, he doesn't feel pain as before and the spirit is greatly improved. Satisfied with the treatment effects, Mr. Ashraful Anam's families in Bangladesh wrote a letter of thanks to the hospital staffs. They will also come back in April this year for follow ups.
  Mrs. Sari Mertadiwangsa, a 69-year-old lady, was diagnosed with advanced ovarian cancer when admitted in Modern Cancer Hospital Guangzhou, China. After the application of interventional therapy and other adjuvant treatments, review of PET-CT showed that the size of tumor has reduced to 1× 1 cm from 3 × 3 cm, and the activity of which is completely loss. Currently, Mrs. Sari Mertadiwangsa is in good general condition. She is so thankful for what Modern Cancer Hospital Guangzhou has done to prolong her life and improve her life quality, so together with her husband, Mrs. Sari Mertadiwangsa wrote the hospital a thank-you letter.
  No pain, no gain. Giving the patients careful treatments and attentive cares, win their respects and affirmations eventually. "Thank you", which maybe a simple word from the patients and their families, but to the staffs from Modern Cancer Hospital Guangzhou, it is the best return to their pay and work.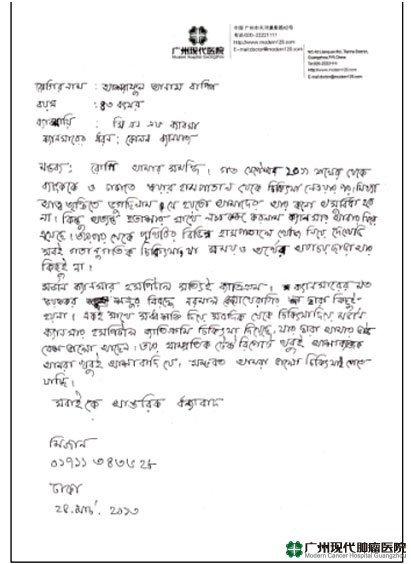 Thank-you note from Mr. Ashraful Anam's family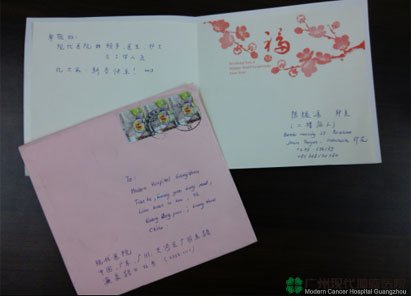 Grateful letter from Mrs. Sari Mertadiwangsa and her husband
If you have any questions, please contact us via online consultation, email or phone call. If you find our website useful, please follow our FaceBook and YouTube, health information will be updated regularly.
Online Inquiry
CLICK HERE!
Let's Have A Healthy Life!
Video
To show you
what is cancer by
videos
Chatting on Facebook

Become a fan of us!
+Follow
We are waiting for you.