Chairman Lin Zhicheng of Boai Medical Group had a meet-and-greet meeting with Philippine media
  On March 22, Chairman of China Boai Medical Group, Lin Zhicheng, held a meet-and-greet event with Philippine reporters in the Philippines. Chairman of National Press Club, Mr. Benny Antiporda, attended the event leading with him all parties of media and made a deep interview to Chairman Lin Zhicheng on various aspects, including medical services of China Boai Medical Group, Philippine patients' condition of taking treatment in the Group and the Group's medical investment plan in the Philippines.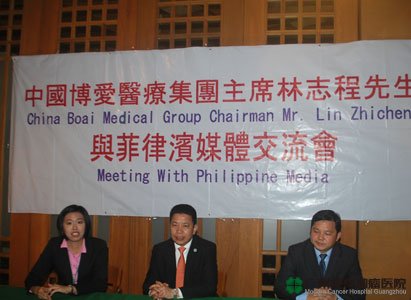 Mr. Benny Antiporda expressed warm welcome to Chairman Lin Zhicheng and the companying staff of Modern Cancer Hospital Guangzhou. In July, 2012, he led his reporter team composed of 18 members from TV station, broadcast station, news paper, internet and other media outlets to have a 4-day interview to Modern Cancer Hospital Guangzhou and Headquarters of Boai Group. After they came back to the Philippines, their reports on the minimally invasive cancer treatment technology and successful treatment stories of the hospital arouse enthusiastic reaction among Philippine public, especially those reports on minimally invasive cancer therapies like interventional therapy, cryotherapy, natural therapy, which drew patients' attention with their characteristics of better effect, less side effect and minimal painfulness. Many cancer patients got to know about Modern Cancer Hospital Guangzhou through those media and then came to China for the last hope. Regarding this, Chairman Benny representing all media parties eagerly proposed a question to Chairman Lin Zhicheng, asking that "exactly how many patients do we have getting treatment in the last year? What treatment effect did they get?"
  "First of all, thank all Philippine media parties for your attention to China Boai Group Enterprise. Over the past year, with the increasing of channels through which Philippine Patients get to know about Modern Cancer Hospital Guangzhou, the number of patients coming to the hospital for treatment also doubles. In this year, more than one thousand patients came to Manila office of Modern Cancer Hospital Guangzhou for consultation, and over one hundred cancer patients went to the hospital headquarters for treatment, 85% of whom got very favorable treatment effect. After they discharged from the hospital, most of them still keep in close touch with us and even send us thank-you notes, which is quite a pleasant result for both our medical personnel and the patients. " Chairman Lin Zhicheng introduced to the participants the achievement of the hospital over the past year.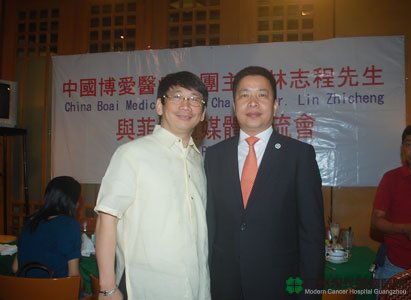 China Boai Medical Group's medical investment and cooperation plan in the Philippines was another focal point of the Philippine media in the meeting. With professional medical analysis, friendly consultation attitude as well as efficient and thorough services, Manila office of Modern Cancer Hospital Guangzhou has gained deep approval from patients. "We want to know, besides setting up branch offices, is there any other plan to expand the medical care scope of the hospital after it's gradually recognized by the majority of Philippine patients?" reporter asked. "Our medical cooperation with the Philippines has diversified a lot in forms." Medical specialists of both sides will communicate more frequently to have academic exchanges through meetings or mutual visits. Besides, various academic seminars and lectures about basic cancer knowledge focusing on doctors, patients and other different groups will be held in different cities of the Philippines. Most importantly, we will also cooperate with your local hospitals to realize the introduction of technology and talents, and even establish cancer specialized hospital. We believe that, with the diversification of cooperation forms, more and more Philippine patients will know about us better and benefit from our medical care.
If you have any questions, please contact us via online consultation, email or phone call. If you find our website useful, please follow our FaceBook and YouTube, health information will be updated regularly.
Online Inquiry
CLICK HERE!
Let's Have A Healthy Life!
Video
To show you
what is cancer by
videos
Chatting on Facebook

Become a fan of us!
+Follow
We are waiting for you.