Philippine Policies Support Investment and Cooperation of Bo Ai Medical Group
  On the afternoon of March 21st, right after the visit of the Chinese Embassy in the Philippines, the president of the Group Mr. Lin Zhicheng leading the representatives from Modern Cancer Hospital Guangzhou went to the general office of Philippine President and had talks with the office director Mr. jojo ocha. During the visit, President Lin and Mr. jojo ocha exchanged ideas and reach many agreements pleasurably.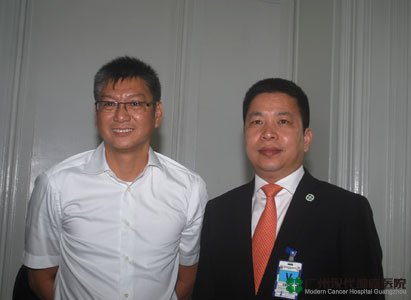 "Modern Cancer Hospital Guangzhou under the China Bo Ai Group set up a branch office in Manila in 2011. After more than 1 year, we have been providing consultation and hospital transfer services for quite a lot of advanced cancer patients and also we have saved patients' lives". President Lin Zhicheng said. He introduced to Mr. jojo ochoa the twelve minimally invasive treatment of Modern Cancer Hospital Guangzhou that advocates the principle of combing treatment options to fight against cancer. Minimally invasive techniques are featured as accuracy by targeting tumor tissues and little trauma, thus cancer patients can get rid of the sufferings but no good efficacy that traditional treatment mode cause. The minimally invasive treatments are being highly praised and agreed by more and more patients.
  Besides, the medical services of Bo Ai Medical Group get good reputation between Philippine cancer patients and many media including philSTAR, worldjournal and GMA have came to China to record the whole processes of those treatments in actual cases. Mr.jojo ochoa pointed out: "the medical techniques of the Group do get very good response among Philippine people and we will go on supporting the mutual visits and cooperation on media, culture and medical organizations of both countries."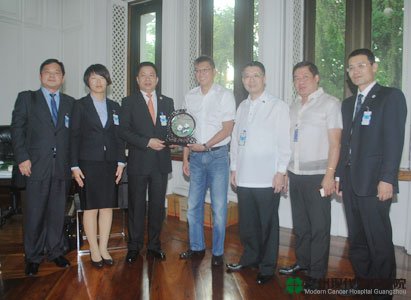 During the talks, President Lin mentioned that Bo Ai Group is willing to invest more medical projects in Philippines and said: "our principle is love without boundaries, medicine without borders. The Philippines is our neighboring country, we should let the Philippine people enable to enjoy high-quality and cost-effective medical services, which includes the international cutting-edge medical technologies and affordable medical cost." Mr. Jojo ochoa encouraged the investment plan and said they will give supports like special offer on investment and medical policies. Besides, he also recommended Bo Ai Group to consider and try to do investments in the new economic district Clark and the projects can be building a hospital or working together with local hospitals in talents recommendation and training. He said: "the international and standardized medical mode brought in Philippines by Bo Ai Group will greatly help Philippine People, so welcome you."
If you have any questions, please contact us via online consultation, email or phone call. If you find our website useful, please follow our FaceBook and YouTube, health information will be updated regularly.
Online Inquiry
CLICK HERE!
Let's Have A Healthy Life!
Video
To show you
what is cancer by
videos
Chatting on Facebook

Become a fan of us!
+Follow
We are waiting for you.