We Want to Bring the Best Treatment Methods to Cancer Patients
  On March 2, 2013, Chairman Lin Zhicheng of Bo Ai Medical Group, leading the investigation team of Bo Ai, arrived in Ho Chi Minh and accepted the exclusive interview of local well - known media. During the interview, Chairman Lin talked about the 2013 development program and strategic planning of Bo Ai Medical Group as well as of Modern Cancer Hospital Guangzhou; meanwhile, he also shared the idea of promoting global anti-cancer integration in which advanced anti-cancer technology and the latest research results of Modern Cancer Hospital Guangzhou was planned to be shared with the medical institutions of Vietnam. This was also a part of enterprise spirit "Medical without Border, Love without Boundary" of Bo Ai to provide advanced technologies and high - quality health cares for cancer patients in Vietnam.
  Bo Ai Medical Group, established in 1989, owns 14 sections worldwide and hundreds of large medical institutions, such as Modern Cancer Hospital Guangzhou, Shenzhen Humanity Hospital, Shanghai Yodak Cardio-Thoracic Hospital, Changsha Sunshine Hospital and so on. Besides, the Group also owns more than 6000 experienced doctors and advanced medical technologies, therefore the Group is truly the largest Medical Investment Group in China and also ranks the world's top 100 Medical Groups.
  Minimally invasive targeted therapy with integrative Chinese and western medicine breaks the inherent mode of treatment
  During the interview, reporters hoped to know the situation of the two branch offices established by Modern Cancer Hospital Guangzhou in Vietnam. Chairman Lin introduced that Guangzhou Modern Cancer Hospital was established in 2005 and also heavily invested by Bo Ai Medical Group to build as the international cancer treatment institute of "modern management, humane services, digitized information". The hospital has internationally standardized & advanced medical equipments and beautiful environment, and also has created a high-quality and efficient medical services chain.
  After years of effort, Modern Cancer Hospital Guangzhou has become more and more mature in the technology of minimally invasive surgery, in particular, the created treatment mode of" minimally invasive targeted therapy with integrative Chinese and western medicine", combines the advantages of both Chinese and western medicines, which has broken the inherent mode of treatment and won a good reputation both at home and abroad.
  Under the guidance of the idea of global anti-cancer integration, Modern Cancer Hospital Guangzhou has gradually expanded the scope of cancer treatment and set up eight offices in Vietnam, Thailand, Cambodia, Indonesia, Philippines, and Bangladesh. to provide professional consultation services for overseas patients. With the most advanced technology and the best medical services, the hospital has been continuously serving for overseas patients.
  In 2010, Modern Cancer Hospital Guangzhou became cooperation partner of UICC (Union for International Cancer Control). Mr. Cary Adams, chief executive officer of UICC has highly appreciated the achievements and progress in the area of cancer treatment made by Modern Cancer Hospital Guangzhou.
  The offices provide free medical consulting services for Vietnamese patients
  Since the establishment of branch offices in Vietnam, Modern Cancer Hospital Guangzhou has been committed to providing the most effective and efficient services for cancer patients in Vietnam. Cancer specialists in the branch offices would enthusiastically and patiently provide professional treatment suggestions for the patients who came to the offices for consultation. To popularize cancer knowledge, raise awareness of cancer prevention, correctly face diseases and fight against them actively, the branch offices would periodically hold health lectures. On February 28, 2012, Ho Chi Minh Office organized the lecture of "love breast, love yourself" cared for women. The lecture has revealed professional knowledge about breast cancer prevention, nursing and treatment, and also helped patients and their families correctly build up anticancer concept and confidence. It would be an endless task to list such kind of lectures, through each lecture has been welcomed very much by local people. Besides, the Hanoi office often organizes cancer club activities which have provided cancer patients opportunity to have outdoor entertainments and share faithful anticancer exchange. It is worth mentioning that all these services are all free of charge. There are still some attentive services, such as visa application and flight tickets booking, medical quality assessment for returned patients after treatment, disease contraindications enjoinment, etc.
  The tireless dedication finally receives impressive returns over the years. Each time when patients, who had received good treatment in Modern Cancer Hospital Guangzhou, return home, they would go to the branch offices to express their gratitude to the staff, write letters of thanks, or send surface pennants or flowers; all these have become the power for every staff in the branch offices to continue to work hard!
  Concern about health and avoid falling into treatment errors
  With the development of the social economy, there are growing numbers of cancer patients from Southeast Asia come to China for seeking treatment, and the number of Vietnamese cancer patients who have come to Modern Cancer Hospital Guangzhou is numerous.
  For such a large scope of overseas cancer patients, Chairman Lin pointed out that the most important was early detection, early diagnosis and early comprehensive treatment, so that not only the therapeutic effect was good, but also the cost would be less. But most of the cancer patients admitted in Modern Cancer Hospital Guangzhou have reached advanced stages when they arrived at the hospital, which leads to many patients cannot achieve optimal efficacy, therefore, Chairman Lin urged people to be more concerned about their own health. In addition to health concerns, cancer patients should avoid three errors of cancer treatment: (1) Continuous treatment will be more effective, but in fact, following the doctor's treatment plan shall be able to achieve good effect; (2) select the appropriate treatment options without accordance with patients' actual condition; (3) no treatment at all. The three errors not only cannot bring good efficacy to patients, but also aggravate condition.
  Chairman Lin said that Bo Ai Medical Group was looking forward to setting up hospital in Vietnam to serve for Vietnamese cancer patients. After years of development, Modern Cancer Hospital Guangzhou has not only won the recognition and preference of cancer patients, but also has been welcomed by Vietnamese Ministry of Health. In order to bring the best therapies to cancer patients, setting up hospitals in Vietnam will be much helpful for achieving this purpose, which will facilitate the progress of Bo Ai's advanced technologies and excellent medical team entering into Vietnam.
  After the interview, Chairman Lin hoped the Vietnamese media from all walks of life reinforce the publicity of cancer treatment knowledge, and he also promised that Bo Ai Medical Group and Modern Cancer Hospital Guangzhou would make full use of the advantages to bring better treatment technologies and services for Vietnamese cancer patients. During treatment, in order to achieve better therapeutic effect, it can be started from many aspects: postoperative care, home care, psychological care, etc.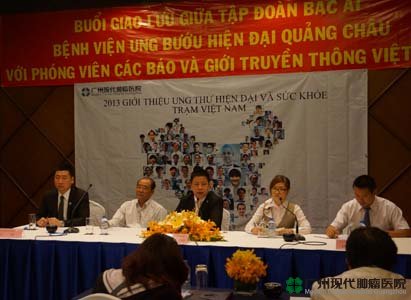 Chairman Lin Zhicheng of Bo Ai Medical Group accepted the exclusive interview of media from all walks of life
If you have any questions, please contact us via online consultation, email or phone call. If you find our website useful, please follow our FaceBook and YouTube, health information will be updated regularly.
Online Inquiry
CLICK HERE!
Let's Have A Healthy Life!
Video
To show you
what is cancer by
videos
Chatting on Facebook

Become a fan of us!
+Follow
We are waiting for you.