Sino-Vietnamese Cooperation Promotes the Prosperity and Development of Tumor Cause
  On April 24th, 2013, Chairman Vu Hoang Nguyen of Hung Viet Cancer Hospital, vice President Hoang Dinh Dung of Dong Do Heart Hospital and Le Khanh of An Thinh Obstetrics & Gynecology Hospital, leading Vietnamese tumor expert group, arrived in Modern Cancer Hospital Guangzhou and received warm welcome and reception from President Wang Huaizhong, vice President Chen Bing, Director Pan Min and Director He Liangqiong of the hospital.
  In the morning of April 24, vice President Chen Bing, Director He Liangqiong and other leaders of the hospital led the tumor expert team to visit the hospital's internal environment and equipments. Mr. Chen Bing specially introduced the "world map" consisted by smiling faces of cancer patients, and explained that these patients come from all over the world; he also emphasized that bring health and happiness for more patients was the goal that Modern Cancer Hospital Guangzhou has been trying to achieve. During the visit, experts were consistently praising and exclaiming the hospital's fantastic environment, advanced technology & humanized services, professional medical team, etc. After watching a minimally invasive interventional surgery of radioactive particle implantation, experts said that the surgery made them benefit a lot and also understand what the cancer treatments that Vietnamese hospitals don't have.
  In the afternoon, President Wang Huaizhong introduced development history of Modern Cancer Hospital Guangzhou. At present, Modern Cancer Hospital Guangzhou has just set up 8 branch offices respectively in Vietnam, Thailand, Cambodia, Indonesia and the Philippines, which has imposed great influence in southeastern Asia and won trust and praise of vast majority of cancer patients. 90% of cancer patients of the hospital are from southeastern Asian countries, and through comprehensive treatment of a variety of new minimally invasive technologies like cryotherapy, radioactive particle implantation, interventional therapy, etc., survival rate and life quality of cancer patients have been greatly improved. Meanwhile, Modern Cancer Hospital Guangzhou would commit itself to offering humanized and high quality services to bring warmth to every cancer patient.
  Modern Cancer Hospital Guangzhou has also hosted various kinds of tumor treatment academic conferences like the UICC tumor conference, CMITO Southeast Asian Tumor Forum of 2011, and has successfully attracted worldwide medical experts to participate. President Wang Huaizhong believed that through this visit of Vietnamese experts, medical exchanges and cooperation between China and Vietnam will be deepened and can achieve common prosperity and progress of the entire tumor medical industry in the near future.
  Finally, Chairman Vu Hoang Nguyen of Hung Viet Cancer Hospital expressed sincere thanks for the warm welcome and reception of Modern Cancer Hospital Guangzhou, and hoped that this cooperation can bring health for more cancer patients in Vietnam and more opportunities to visit the hospital for learning and exchange. President Wang Huaizhong said Modern Cancer Hospital Guangzhou would always welcome the arrival of the expert group, and hoped that the exchanges between the two sides would become better and better, at the same time, he also presented the handmade embroidery from Sichuan China as a gift.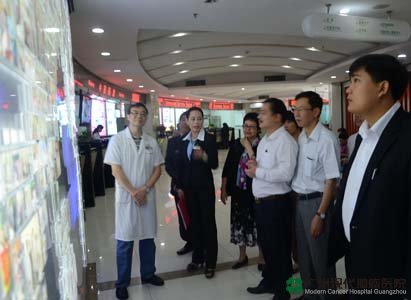 Vietnamese experts visiting the international wall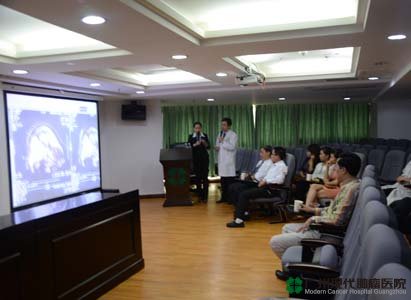 Watching minimally invasive surgery live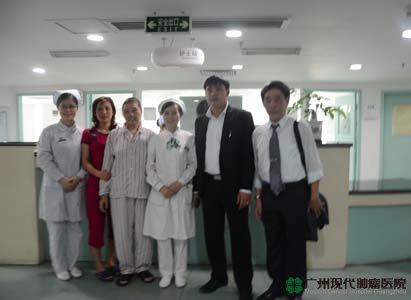 Joint photo with Vietnamese patients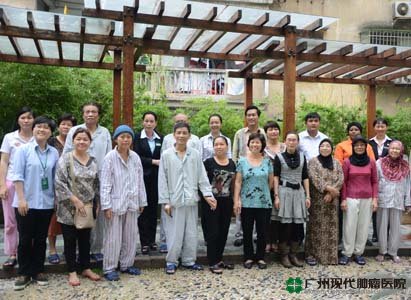 Joint photo with cancer patients and their families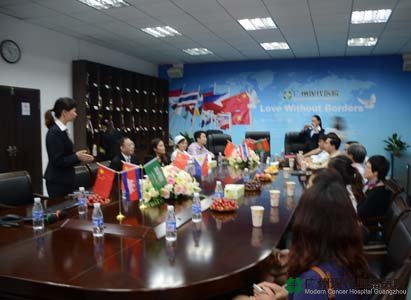 President Wang Huaizhong introducing the development history and current situation of the hospital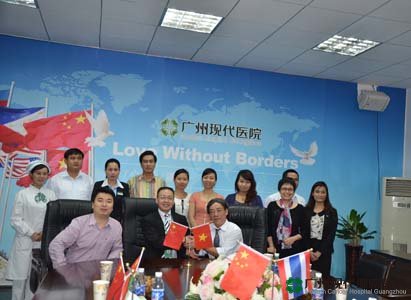 Joint photo of the leadership of the hospital and Vietnamese expert group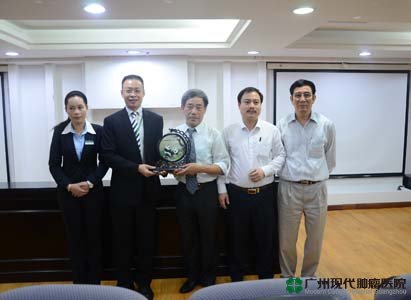 Presenting handmade embroidery from Sichuan China to Vietnamese expert group
If you have any questions, please contact us via online consultation, email or phone call. If you find our website useful, please follow our FaceBook and YouTube, health information will be updated regularly.
Online Inquiry
CLICK HERE!
Let's Have A Healthy Life!
Video
To show you
what is cancer by
videos
Chatting on Facebook

Become a fan of us!
+Follow
We are waiting for you.