Former Bangladesh President Hussein Met with Chairman Lin Zhicheng of Boai Group Director Board
  In the afternoon of March 5, 2013, Chairman Lin Zhicheng of Boai Medical Group accepted the invitation from the former President of Bangladesh -- Hussein Muhammad Ershad to visit presidential sites for talks. The retinue staff included Chief Inspector Lin Junxiong of Modern Cancer Hospital Guangzhou, Manager Li Hu of International Affair Department, Manager Chen Jianfei of Bangladesh office, etc.
  Mr. President Hussein highly approbated Chinese Medicine
  Chairman Lin Zhicheng and his party received a warm welcome at the presidential sites. Hussain Muhammad Ershad said that he has deep feelings to China because he is very fond of Chinese history, health preserving culture, harmonious cultural heritage and diet, for which reason he deliberately introduced to Chairman Lin Zhicheng and his party the collection of a variety of highly stylized Chinese goods in the presidential sites.
  As early as 80s and 90s when Mr. Hussein was in his presidency, he was invited 3 times to visit China. The President said it was really a miracle that China has experienced so rapid development in economy, science, medical technology, health care and culture in this few decades. He even said: "Chinese medicine has gone through thousands of years of development. It is truly extensive, profound and people-oriented. With the development of the economy of your country, the medical progress is really remarkable. Of course, these progresses are inseparable with pragmatic enterprises like your company, and you really have made great contributions". Mr. Hussein highly praised China's medical treatment as well as Boai Medical Group. He even told Chairman Lin Zhicheng that Chinese traditional medicine recuperation has become a part of his daily life, meanwhile, more and more Bangladeshi are willing to accept and approve Chinese medicine.
  New mode of integrated Chinese and Western medicine with minimally invasive targeted therapy will benefit cancer patients greatly
  Chairman Lin Zhicheng expressed gratitudes to Mr. Hussein for his affirmation and also introduced: "Chinese traditional medicine culture is our precious heritage. When protecting and inheriting TCM culture, we should introduce international new technology to create new mode and system of integrated Chinese and Western medicine". He specially illustrated current medical structure of Boai Group and main undergoing medical items, such as oncology, cardiology, uropoiesis reproduction, etc. Speaking of Dhaka office founded in 2011, Chairman Lin Zhicheng introduced to Mr. President:"this is the first step for Boai Group to carry out medical cooperation in Bangladesh. We hope medical services of Boai Group can be spread to Bangladesh so that we will be able to contribute our strength for Bangladeshi patients." According to the statistics held by branch offices of Modern Cancer Hospital Guangzhou, within a year, Modern Cancer Hospital Guangzhou has received nearly a thousand tumor patients consulting, dozens of whom travelled to China for treatment and have achieved good therapeutic effect. "'Combined with integrative Chinese and western medicine, minimally invasive targeted therapy' derives the advantages of both Chinese and western medicine to precisely kill tumor tissue and reduce pain, and finally prolong patients' survival period and improve their life quality", Lin Zhicheng explained to the President of technical characteristics of Modern Cancer Hospital Guangzhou.
  Look forward to the further development of Boai Medical Group in Bangladesh
  Chairman Lin Zhicheng also discussed with Mr. President about depth program of cooperation with the Bangladesh health sectors, such as medical care investment, the establishment of Chinese medicine clinic or hospital in Bangladesh. This proposal has gained strong support from Mr. Hussein, who said: "Welcome Chinese medicine treatment to enter Bangladesh. Our people and the government will be looking forward to setting up such clinics in Bangladesh." At the end of the meeting, Mr. Lin presented a calligraphy souvenir inscribed with "德艺双修" to Mr. Hussein. He explained: "It means "Excellent in both performing skills and moral integrity" which is also the spirit that Boai Medical Group has been living up to. Boai people would always devote high quality services for Bangladeshi people." The cordial talk with Mr. Hussein indicated that the medical cooperation of two countries will reach to a new altitude, which is of profound significance.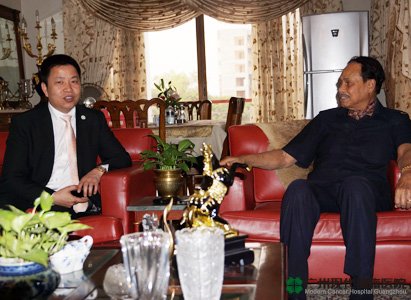 Chairman Lin was invited to visit Bangladesh former president Hussain Muhammad Ersha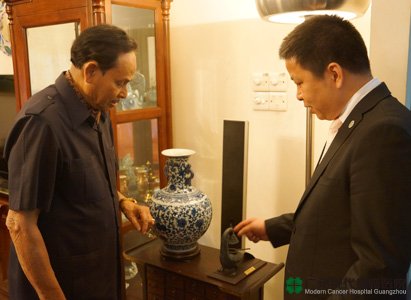 Mr. Hussain Muhammad Ersha discussed with Chairman Lin about Chinese culture
Chairman Lin presented Mr. Hussain Muhammad Ersha with the souvenir of"德艺双修"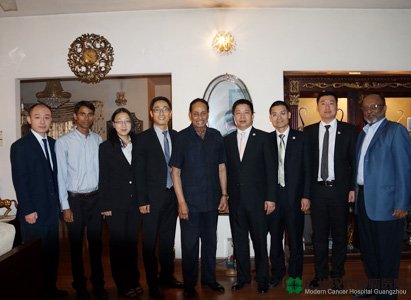 Joint photo of Boai Group party and Mr. Hussain Muhammad Ersha
If you have any questions, please contact us via online consultation, email or phone call. If you find our website useful, please follow our FaceBook and YouTube, health information will be updated regularly.
Online Inquiry
CLICK HERE!
Let's Have A Healthy Life!
Video
To show you
what is cancer by
videos
Chatting on Facebook

Become a fan of us!
+Follow
We are waiting for you.