Government Official of Bangladesh – Mr. Golam Moshi Visited Modern Cancer Hospital Guangzhou
  In the afternoon of April 10th, 2013, , Bangladesh government official -- Mr. Golam Moshi and his team visited Modern Cancer Hospital Guangzhou. They were warmly welcomed by President Lin Zhicheng of the board, Vice General Manager Tu Xiaoming, Vice General Manager Wang Zezhou of Boai Group (China) as well as by President Wang Huaizhong, Vice President Lin Shaohua, Vice President Chen Bing and other department heads of Modern Cancer Hospital Guangzhou.
  Lin Zhicheng and Wang Huaizhong first expressed a warm welcome to Mr. Golam Moshi's team for coming, and then introduced the general situation of Modern Cancer Hospital Guangzhou aboutits operating service concepts and other information. Golam Moshi said, he had been to China in 1986, and China has changed a lot for the 30 years. Not long ago he visited two hospitals in America. He found that Modern Cancer Hospital Guangzhou was as advanced as those two American hospitals or even more advanced than them. Since Boai Group was devoting to expanding international market, he was willing to share the experience of how he cooperated with other countries. Bangladesh government held special feelings towards China, so launching medical cooperation project not only can attract Bangladeshi patients but also some Indian patients. In Bangladesh, cardiac surgery has reached international level, but there is only one cancer hospital with very limited cancer specialists in this country. What's more, their assorted armarium is in great need. He denoted that it would be the best choice for Bangladesh to cooperate with Modern Cancer Hospital Guangzhou on cancer therapies. Recently many Bangladesh students come to China to learn medical treatment, and even many doctors in Singapore also come from China. He believed that China would not only play an important role in Asia but also in the whole world in the future in medical treatment.
  Director Wang Huaizhong expressed thanks to Golam Moshi for his trust on Modern Cancer Hospital Guangzhou. Then He said, Modern Cancer Hospital Guangzhou's eager for better curative effect and service would never be stopped, and as a general hospital, we have built our own features, especially the unique and outstanding one in minimally invasive surgical technology in oncology, medicine and surgery, gynecology and plastic surgery, etc. The technology and curative effect of Modern Cancer Hospital Guangzhou are comparable with those of Singapore hospitals. However, we have the advantage of competitive medical cost, that is why we could keep a foothold in Southeast Asia market. Setting up an office in Bangladesh could fully understand Bangladeshi sanitary and medical need and thus make full preparation about talents and technology. Modern Cancer Hospital Guangzhou is ready to offer qualified medical services for Bangladeshi people and hoped that both parts can developebetter cooperation in the future.
  At last, President Lin Zhicheng denoted that Boai Group has boasted a history of 24 years. Through it would be not bad to develop business in China, but abroad countries could offer wider space for development. He hoped that the communication and cooperation with Bangladesh could be enhanced to greatly boost cooperative progress and expanse more cooperative space for business, so that a more far-reaching development could be achieved by both sides through better comprehensive services from the hospital.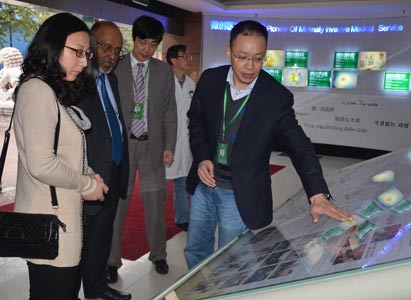 Mr. Golam Moshi visiting Modern Cancer Hospital Guangzhou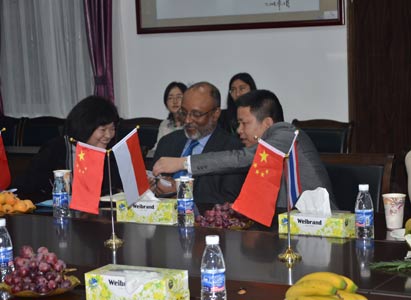 Golam Moshi having a cordial talk with President Lin Zhicheng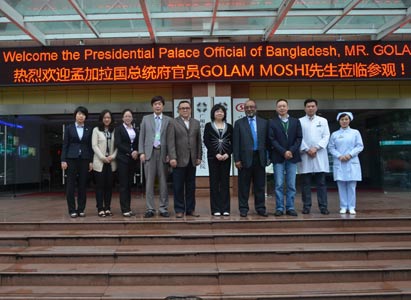 Joint photo of Mr. Golam Moshi and the leadership of Modern Cancer Hospital Guangzhou
If you have any questions, please contact us via online consultation, email or phone call. If you find our website useful, please follow our FaceBook and YouTube, health information will be updated regularly.
Online Inquiry
CLICK HERE!
Let's Have A Healthy Life!
Video
To show you
what is cancer by
videos
Chatting on Facebook

Become a fan of us!
+Follow
We are waiting for you.