Nursing Skills Competition of Modern Cancer Hospital Guangzhou Was Rounded Off
  On the afternoon of April, 26th, a two-day nursing skills competition of Modern Cancer Hospital Guangzhou came to a successful ending. After the first round tryout, 24 contestants make it into the final round. Final is divided into two parts, namely, cardiopulmonary resuscitation and intravenous infusion, among, in the intravenous infusion section, all the nurses completed the whole procedure with English dialogue. Staffs from the Nursing Department actively participated in this competition, and the atmosphere of learning techniques, training skills brought by them create a positive, harmony, and joy outset for the International Labor Day.
  It is learned that since the "English training seminar" was set up in Modern Cancer Hospital Guangzhou, the nursing staffs participated positively, which helps them a lot. The nursing skills competition is not only an overall review of the nurses ' technical skills, but also an intensive training for their quality skills.
  All the competitors performed calm, skillfully and fast. After a fierce competition, Yan Jingrong, an ICU nurse won the first place. Patients and their families from the hospital also watched the contest.
  The competition has enhancing the combat capability of the nurses' professional English and basic nursing skills, inspiring their enthusiasm for English learning, making the nurses provide better services for foreigners patients in the hospital, also, promoting the hospital's overseas medical services.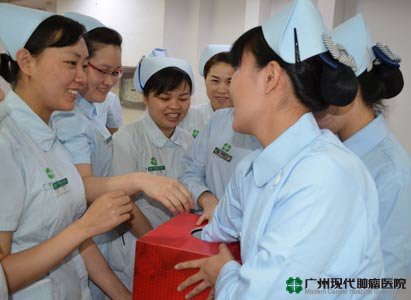 The nurses are drawing straws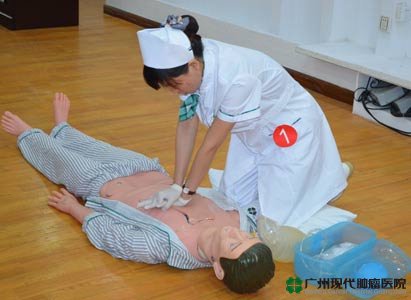 No. 1 contestant is having cardio-pulmonary resuscitation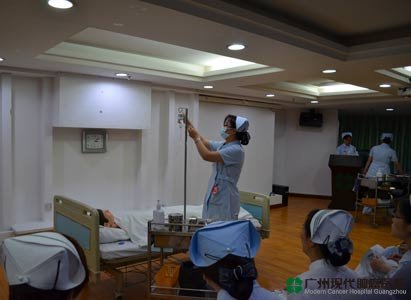 The scene of intravenous infusion contest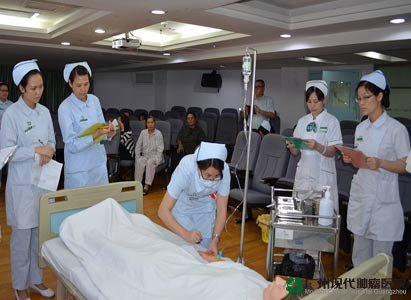 Patients and their families are watching the competition
If you have any questions, please contact us via online consultation, email or phone call. If you find our website useful, please follow our FaceBook and YouTube, health information will be updated regularly.
Online Inquiry
CLICK HERE!
Let's Have A Healthy Life!
Video
To show you
what is cancer by
videos
Chatting on Facebook

Become a fan of us!
+Follow
We are waiting for you.