Highlights on Advanced Cancer Treatments——Medical Doctors from the Philippines Visited Modern Cancer Hospital Guangzhou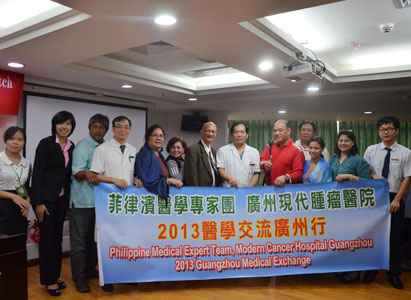 On August 3 2013, Medical Doctors from the Philippines namely, Dr. Edgar Halago、Dr. Leopoldo Calimlim、Dra. Maria-Delia Maluenda、Dr. Balagtas Dela Rosa、and Dra. Ervin Paz Dela Rosa, and others visited Modern Cancer Hospital Guangzhou. They had medical and academic discussions with the hospital's President Wang Huaizhong, Vice-President Chen Bing, oncologist Dr. Wang Ronghua, Dr. Liu Yuansheng and other doctors & specialist of Modern Cancer Hospital for 2 days.
  Upon arrival, President Wang Huaizhong of Modern Cancer Hospital Guangzhou gave the delegates a warm welcome and extended his best wishes. During the meeting, President Wang Huaizhong pointed out since the Modern Cancer Hospital Guangzhou was founded; it has always persisted on the principle of "Love without Borders, Medication beyond Boundaries". Also, Modern Cancer Hospital Guangzhou has already set up branch offices in Bangladesh, Indonesia, Vietnam, Philippines, Thailand and Cambodia, etc and has indeed achieved great results in admitting and treating cancer patients from all parts of the world. Through integration of various cancer technologies, the hospital has not only prolonged the life expectancy of cancer patients from various countries and regions, but has also improved patients' quality of life. These accomplishments not only prove the technical strength and international influence of Modern Cancer Hospital Guangzhou, but also lay a solid foundation for friendly cooperation between the said countries.
  In order to get an insightful understanding of the cancer treatments in Modern Cancer Hospital Guangzhou, the delegates also watched informative videos of cryosurgery therapy, particle knife, interventional therapy and biological natural therapy respectively. Detailed introduction of the technologies and testimonials from patients were shown in videos. These advanced treatment modalities gained approval and appraisal from Medical delegates of the Philippines. They were very much looking forward to further cooperation with Modern Cancer Hospital Guangzhou, which will include promotion of cancer treatments, carrying out medical lectures and discussions about medical technologies etc., so as to enhance communications and exchanges between both parties.
  The meeting ended with President Wang himself presenting a specially prepared souvenir to each member of the medical delegates. He is looking forward to further visits, exchanges, and cooperation between the two countries for greater contribution to cancer preventions and treatments.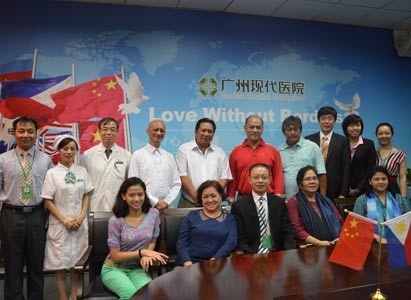 Group photo of Modern Cancer Hospital leaders and delegation members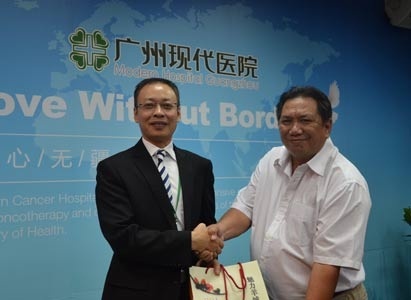 President Wang Huaizhong presented souvenirs to delegation members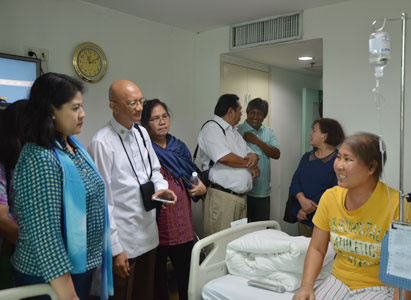 The patient
If you have any questions, please contact us via online consultation, email or phone call. If you find our website useful, please follow our FaceBook and YouTube, health information will be updated regularly.
Online Inquiry
CLICK HERE!
Let's Have A Healthy Life!
Video
To show you
what is cancer by
videos
Chatting on Facebook

Become a fan of us!
+Follow
We are waiting for you.